All about the Paris-Romainville shuttle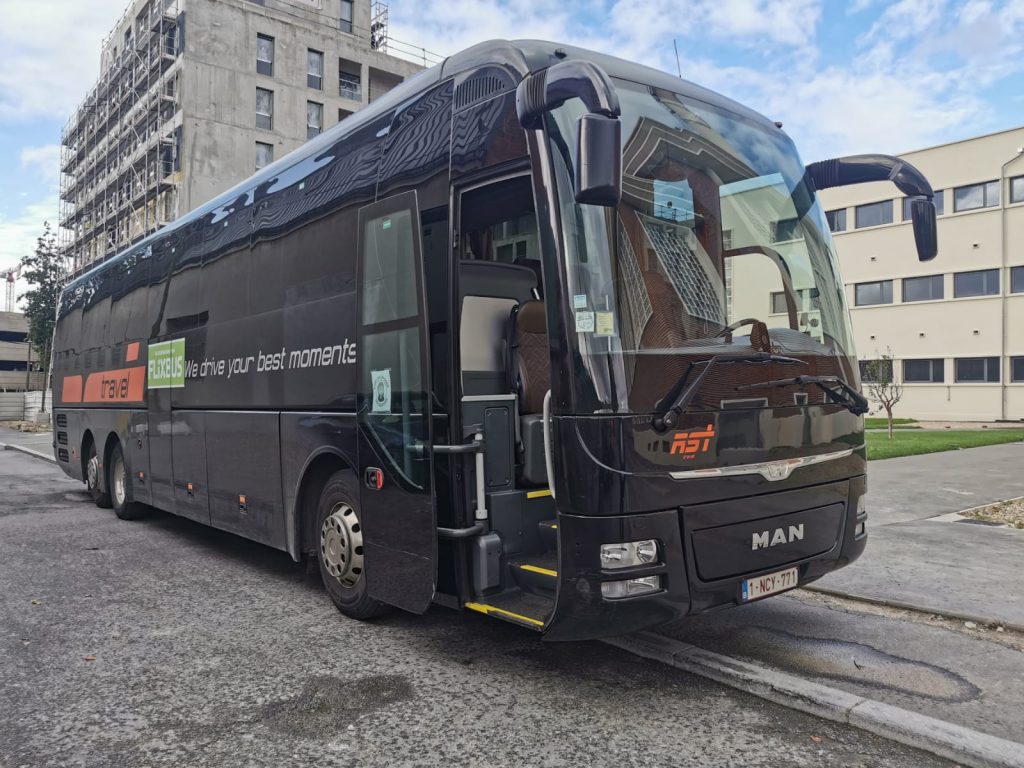 Did you know… There is a FREE private shuttle for Parsons Paris students and FIMINCO guests that travels between Opera and Fondation Fiminco. Students have the priority for this service.
The shuttle makes one stop in between at Paddock Paris, which is an outlet mall located only a few minutes down the street from the Fondation. The trip from Opera to the Fondation takes about 55 minutes.
Pickup Spots
Opera : 7 rue Taitbout 75009
Fondation Fiminco : In front of the Chaufferie 
Shuttle Schedules
Shuttle Service from October 5, 2020 to December 14, 2020 and January 15, 2021 to May 14, 2021
Monday-Friday
Saturday & Sunday
Opera
Arrival: 12:50pm
Departure: 1:00pm
Arrival: 12:50pm
Departure: 1:00pm
Fondation Fiminco (PP campus)
Arrival: 1:55pm
Departure: 3:00pm
Arrival: 1:50pm
Departure: 3:00pm
Opera
Arrival: 4:00pm
Departure: 4:10pm
Arrival: 3:55pm
Departure: 4:05pm
Fondation Fiminco (PP campus)
Arrival: 5:10pm
Departure: 5:30pm
Arrival: 4:55pm
Departure: 5:30pm
Opera
Arrival: 6:35pm
Departure: 7:00pm
Arrival: 6:25pm
Departure: 7:00pm
Fondation Fiminco (PP campus)
Arrival: 7:55pm
Departure: 8:05pm
Arrival: 7:50pm
Departure: 7:55pm
Opera
Arrival: 9:00pm
Departure: 9:10pm
Arrival: 8:45pm
Departure: 8:55pm
Fondation Fiminco (PP campus)
Arrival: 10:05pm
Departure: 10:15pm (last shuttle back to Paris)
No Service
Opera
Arrival: 11:05pm
No Service
Shuttle Service from December 15, 2020 and January 14, 2021 and from May 15, 2021 to August 31, 2021
Monday-Friday
Saturday & Sunday
Opera
Arrival: 11:50am
Departure: 12:00pm
Arrival: 11:50am
Departure: 12:00pm
Fondation Fiminco (PP campus)
Arrival: 12:55pm
Departure: 2:00pm
Arrival: 1:00pm
Departure: 2:00pm
Opera
Arrival: 3:00pm
Departure: 3:10pm
Arrival: 2:55pm
Departure: 3:05pm
Fondation Fiminco (PP campus)
Arrival: 4:05pm
Departure: 5:00pm
Arrival: 3:55pm
Departure: 5:00pm
Opera
Arrival: 6:05pm
Departure: 6:15pm
Arrival: 5:55pm
Departure: 6:05pm
Fondation Fiminco (PP campus)
Arrival: 7:15pm
Departure: 7:25pm
Arrival: 6:55pm
Departure: 7:05pm
Opera
Arrival: 8:25pm
Arrival: 8:00pm