Chloé at Parsons Paris
Each year, the Career Services department organizes info sessions with recruiters from the industry. The goal is that students have the opportunity to listen to the requirements of professionals, to understand how they recruit, and get some tips. This November started with three thrilling events for students of all majors.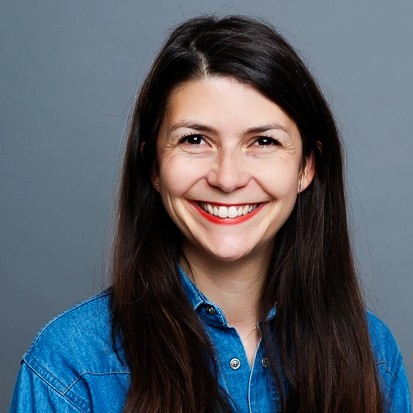 On November 4th our students had the opportunity to talk with Chloé recruiters. It's the 3rd consecutive year that we've been lucky enough to have Chloé come to campus. In additionn this year, one of our fresh graduates in Fashion Design just started her 6-Month internship at the brand!
Margot Quaderi, Chloé's HR Manager, and Rafaëlle Pommet, Chloé's HR assistant shared with our students the insights on the fashion brand. Students were able to talk with them directly during the event, asking them questions and talking a bit about themselves and their experiences. Margot and Rafaeëlle shared some very useful tips on interviews, applications, on the CV and on the portfolio. They also helped students understand what to highlight and how to make the most of the experience and unique talent they have. They generously shared their contacts to keep in touch even after the events.
The session ended with Rafaëlle sharing a positive message of hope that even during the pandemic, Chloé and the fashion industry are still looking for young talents! The world is changing so fast that they need young minds, young talents, new names, they are looking for people like our Parsons Paris students!
Here are some advices from the meeting:
The education session of the resume
Parsons Paris programs are very specific and need to be detailed sometimes on the resume. Here are the advice from CHLOE about the Education part:
If you think that describing your course is necessary for the application, you can do it. But it is not necessary. If a school project is important for the position you are applying for, insert the course. But there is no need to explain all the classes you do. But explain a little bit what your major is about. Recruiters don't have to fully understand what you are studying, they only need to know what are the classes that are relevant to the job position you are applying for. What recruiters need to understand from your studies and your past experience is that you are good for the job you are applying for.
The portfolio
A portfolio is not always expected. For example, here with CHLOE, the company will expect a portfolio only for a creative position. If you apply for a marketing or business job you don't need a portfolio. But if you are applying for a creative job you have to have a good portfolio and a strong creative background.
It is important to have a great portfolio that describes what you have done earlier and why it is linked to the position you are applying for. Don't try to make a Chloe portfolio, what they are asking you, is to show who you are and what you want to do.
Internships
In your application, show:
Who you are?
Describe what you have done earlier?
What do you want to do next?
Why is it linked to the position you are applying for?
Chloe offers usually full time, 6-months internships. So they are mainly for the senior students. They really need people to be full time on the job, because they believe that having a person part time would not be enough either for the manager or the trainees to be fully on the mission and fully understand the business today.
How did the covid impacted Chloe?
The pandemic will have a strong impact on fashion, but not on the way Chloe works. Chloe was already very digital, so the covid will not have a very strong impact on them.
They are looking for new people, new talent, young talents! Creative in fashion is still strong, despite the whole situation, and the world is changing so fast that they need young people to join their Maison. Don't change your plan for the situation we are living in. The industry is still looking for you!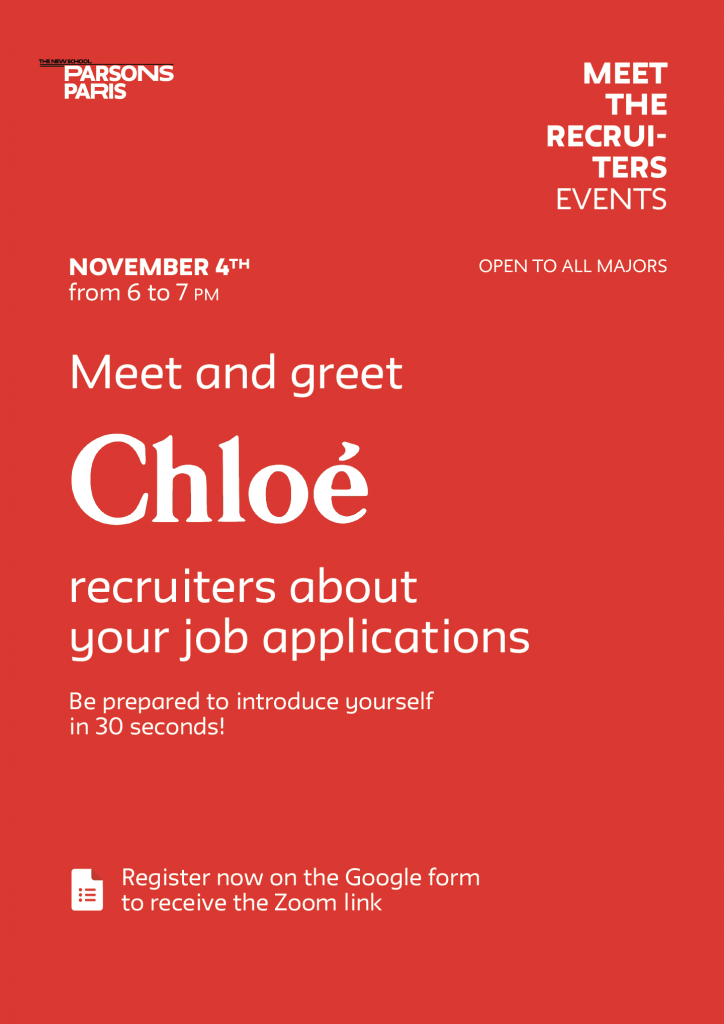 Find out more about the other events!