"Meet the recruiters"
Each year, the Career Services organises some info sessions with recruiters from the luxury industry. This November started with three thrilling events for students of all majors.
Two goals for employers:
to identify young talents
to understand the learning outcomes of each program and evaluate if their skills match with their requirements.

Two goals for students:
the first one is to listen to the requirements of professionals, to understand the different steps of the recruitment, and get some tips on Resume, applications, Interviews and Portfolios.
the second one is to understand how to get prepared for this kind of event, where, for the majority of our students, they are going to meet and introduce themselves, for the very first time, to talent acquisition managers.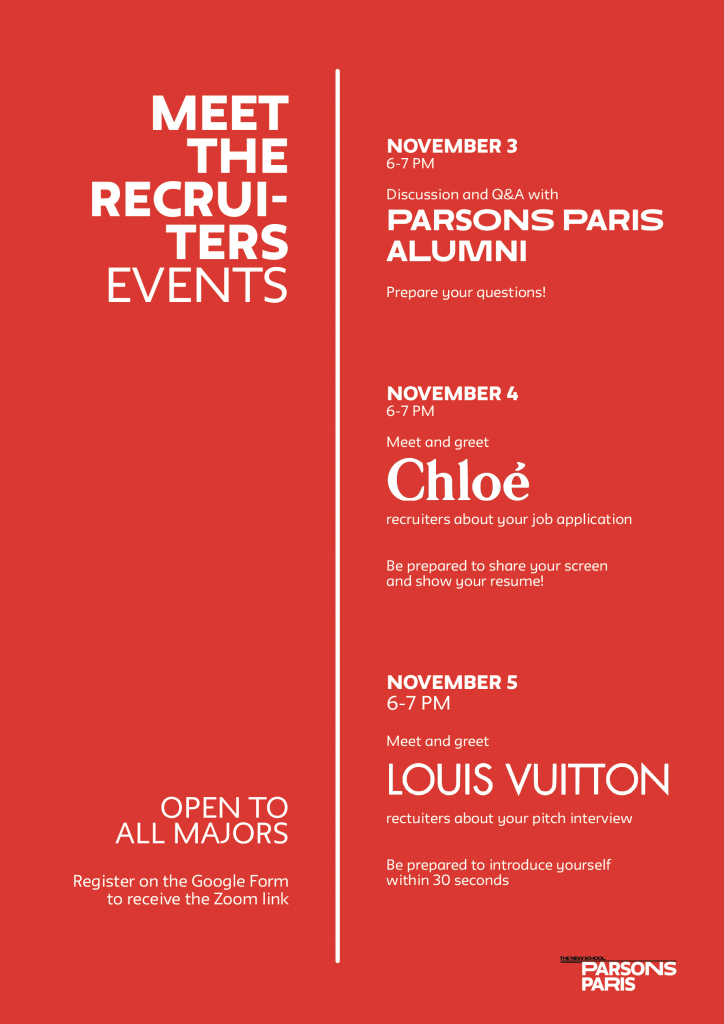 The Career Services gave instructions to be prepared for the 60-Minute event online. It is in fact a very similar preparation to an interview preparation.
➡︎ Write your pitch and practice practice practice.
Prepare your questions for the recruiters in advance and be ready to introduce yourself in 30 seconds. This is one example of the pitch template:
Hi, my name is — I am coming from —, I am graduating this year in (—your program—), which involves (—this kind of work & projects—). This Bachelor/Master teaches me everyday to improve (—your 3 main skills—) Thanks to my experience at (—2 different employers—), I strengthen some of my soft skills such as — and —. About your company, I am very thankful to meet you today and my question is —.
➡︎ Go through the checklist of things to cover before the session and write a report:
– DNA and Values of each company
– Instagram account
– Company website
– Current offers of this company on common job boards such as JobTeaser, Fashionjobs.com, etc.
– Gather information about the group which owes the company (e.g. CHLOÉ belongs to the RICHEMONT group, Louis Vuitton belongs to LVMH group, etc.)
– The heritage of the brand (e.g. Gaby Aghion for CHLOE, Mr Vuitton for Louis Vuitton, etc.)
– The different Artistic Directors names
– The last Fashion Shows and specific names of their iconic pieces inside the collection
– Names of their last Collections (all categories)
– Current Collaborations
– The celebrities who represent the brands
– Archives
Etc.