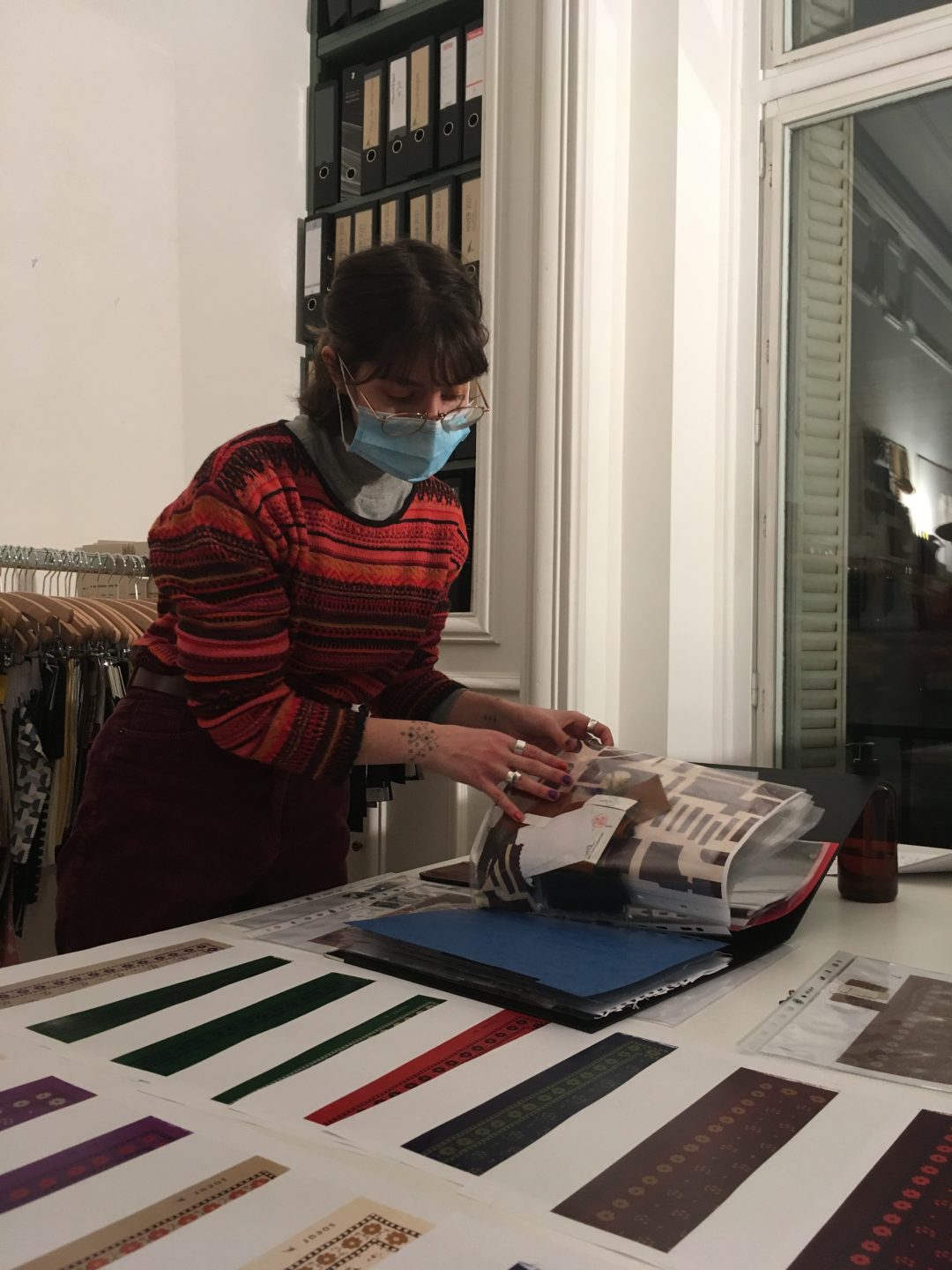 Meet Amanda Augusto Castanho, Fashion Design '20 Graduate interning at Soeur
I'm a fashion design graduate from 2020 and I'm currently interning as a print designer/collection assistant at Soeur!

I found this opportunity through Career Services, who contacted me around September 2020. I emailed the designer directly on Wednesday evening, and had my interview scheduled for the next day.

The Interview. I arrived at Soeur's HQ with a huge tote bag filled with my printed scarves and knitwear pieces. I had a few butterflies since I knew the interview, and the entire internship would be happening in French. I met with my boss and the studio coordinator.
They briefly explained to me the tasks and all their expectations, they wanted to make sure I was comfortable with the adobe suite and all the other things that might come up along the way. I reassured them that I feel very at ease on a computer, and that I'm not afraid of asking questions in order to do a good job.
I then showed my projects and explained my thesis collection. I opened all my pieces on the table so they could feel it and see the full scale of my work. I spoke about the techniques I implemented, not only print but also embroidery.
After a thank you email (very important!!), and a couple days later she told me I'd be starting early October.

My work. My first week was all about getting used to their system, memorizing people's names and who was in charge of what. I did loads of organisational tasks which are tied to the collection assistant part of the internship. Right after, things started picking up the pace and I was briefed on the print research and from there on it was a lot of work and learning new things at the same time.
What I'm most happy about this opportunity is being able to share the workspace with people who are always willing to teach you. From my boss I have learned how to make perfect repetition prints, how crucial it is to have your files properly named, and endless shortcuts for adobe. From the rest of the team, I learned how to properly interpret croquis and turn them into digital flats, how important it is to do things collectively, I picked on A LOT of french vocabulary, and as whole I learned how important it is to speak up and communicate (even if it's just a small change of buttons on a shirt).
Throughout this internship I have been able to provide my creative input and at the same time learn how the whole process of developing a collection works, step by step. I got to see the full picture just by hearing meetings. I also learned that I loved developing prints and drawing for days, but I also enjoy taking care of developing excel spreadsheets and indesign booklets for the sales team.

My main tasks. I'm building a digital archive of all the textiles used for the collection and a Book de Ventes with all the databases from the collection: fabrics, technical drawings, composition, made in, etc. I'm also doing some Iconographic research, some print and T-shirt serigraphy, technical drawings. Last but not least, I'm communicating between teams.

My advices for anyone who is looking for an internship after graduation. Be open to doing a 2 month internship if that's all you got at the moment. It might not be your favourite thing to do as soon as you graduate, but it might allow you to do some networking for the future and also it can give you the perfect timing to find a 6 months afterwards. Wear something you've made for the interview ! People always notice the clothes I have made. Have other people read your CV and comment on your portfolio, which by the way shouldn't be really long. Have a CV in the language that will be spoken at work (ex: French) !! Might seem obvious, but you should never assume that the HR person will fluently speak English. You have to adapt, not them ! Most important, be well connected with school and people with whom you have done internships before. Quite often, people ask around before posting jobs online, and the majority of replies and interviews I got were a result of networking rather than online job applications.
~ Amanda Augusto Castanho, 2020 Fashion Design Graduate (check her work here!)