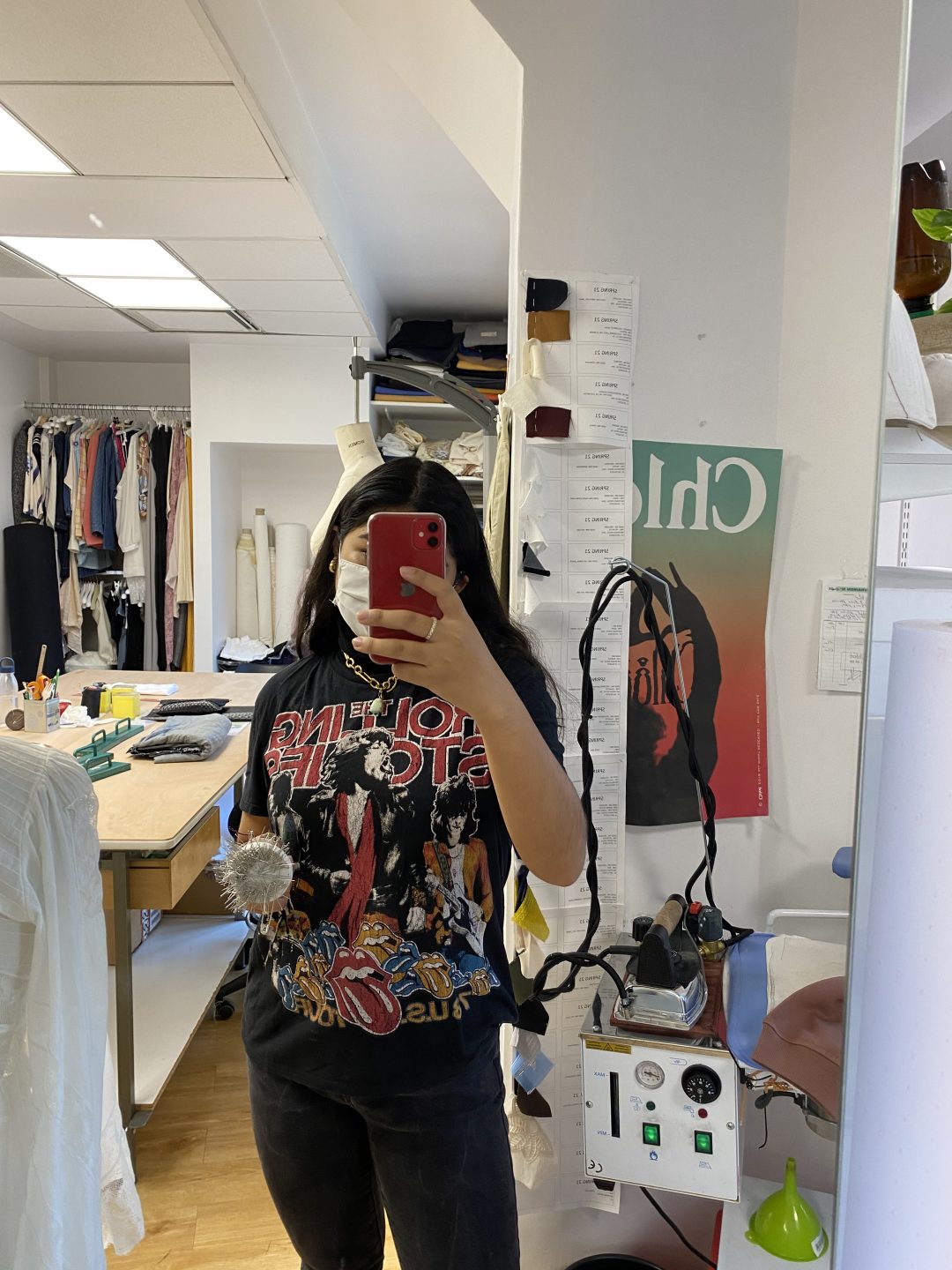 Interview with Daryl Baclig, FD '20 interning at Chloé
Who are you Daryl?
I am a young Filipino / Swiss designer living in Paris and currently interning at Chloé as an assistant designer! I studied Fashion design at the Parsons Paris campus for the whole four years of my degree and I've concluded that never want to leave this city!
Aside from that, I would say that I'm best described as a happy person. In fact, my approach to design is simple, I want to make people feel happy when they see or wear my designs.
What is your current internship?
I am currently interning as an assistant designer for See By Chloé, where I work for the three main designers. I assist with technical drawings, technical fittings, research development, draping and general administrative things.
How did you find it?
During the confinement and towards the end of my degree I was preparing and researching on the houses that interested me. I applied to many different houses, from haute couture to prêt à porter too! I spun upon this opening at Chloé through their website and applied directly on the Chloe career services.
How did you manage your interview?
After receiving the first email letting me know that I got the interview – I cried of joy and said: FINALLY !! SOMEONE WANTS TO MEET ME!
The interview was nerve-racking and exciting even after so many mock interviews with family and friends I still felt this pit in my stomach. I walked them through my full portfolio and then my thesis collection in where I brought my digital portfolio, sketchbook and all my textile samples for them to get a full idea of my aesthetic and design process.
How was your onboarding?
The first few weeks of the internship was exciting and scary, there's a lot to learn and grasp all at once – learning how the ''ecosystem'' works and emerging yourself into the projects takes a couple of months! But after a while you start to understand and learn! I was lucky to have the other intern (who is now my friend) and other people from the team who patiently helped me out and took the time to teach me things. I also was able to learn a lot of shortcuts and techniques in sewing and draping – thanks to the seamstresses!
Finally, Integrating the team wasn't difficult as I really think that the people in the team are always open and patient to help.
How is the relation with your manager?
I have three designers in which I help with daily tasks and projects, and I occasionally also help out the knitwear designer too! The beauty of being an intern in a small knit team is that you get to know everyone and also get to assist in various tasks! In general, everyone is always so open to help one another and it's a really good work environment.
How is the "ambiance" with your team and with other interns?
The ambiance is friendly and fun as well! I was able to get close to the studio assistant andit's great as we mutually help and support one another. She really also helped me understand how the studio functions and advised me on various things too!
Anecdote with Gabriela Hearst.
I arrived in my internship at a very interesting moment for the house. Natasha Ramsey Levi was leaving the house after 4 years and everyone at work was wondering who will replace her and when? And that's when the new creative director Gabriela Hearst came in! I remember the day of her arrival as the other intern/friend of mine were jokingly saying things like: ''imagine if we see her – or imagine if we get to meet her'' she even said '' lets go print something in the sixth floor and maybe – maybe we could bump into her!''
Okay – so during the afternoon, our boss comes into the atelier and tells us that she's going to introduce herself to the See By Chloe team. And this is where I got to meet her! She was impressed by the teams projects and saw my maquette in which I was working on for the designers and she asked me questions about the method and even tried it on and took a picture of it! I still cannot grasp the fact that I was able to meet her. That will for sure be one of the special moments of my internship.
What is your typical day? Tasks?
My day starts at 10:00 am and it begins with checking emails and communicating with the team and designers if they need any assistance or drawings for the week.
What's great about working in a small team is that I can help everyone , which means my everyday routine or tasks change according to who I'm helping!
My tasks range from drawing technical flats, making moquettes, draping and helping with launching files.
Advice for students who are looking for internships in Paris from June 2021?
Start applying and scanning the posts as soon as possible. Once you've found the posts which interest you I really recommend to write down three sentences or key words as to why you like the brand – this will help you with writing your motivational letter.
Have your portfolio, CV and motivation letter done and dusted before applying (at least a base in which you can adapt and modify depending on the houses) , this will really save you time.
Finally, I also suggest to not be too picky and to be flexible! The beauty of having a degree in fashion design from Parsons is that at the end of it, you become a multidisciplinary designer, which will allow you to apply to various posts in design!
~ Daryl Baclig, Fashion Design 2020 
https://darylbaclig.squarespace.com/@Daryl.baclig.art