Starting your Own Business During the Pandemic
This article is for any creative student who aspires and dreams to create a business of their own one day. With the right mindset, hard-working attitude and a little bit of luck, it's definitely possible.
Written by Sharon Brand, MA Fashion Studies 2020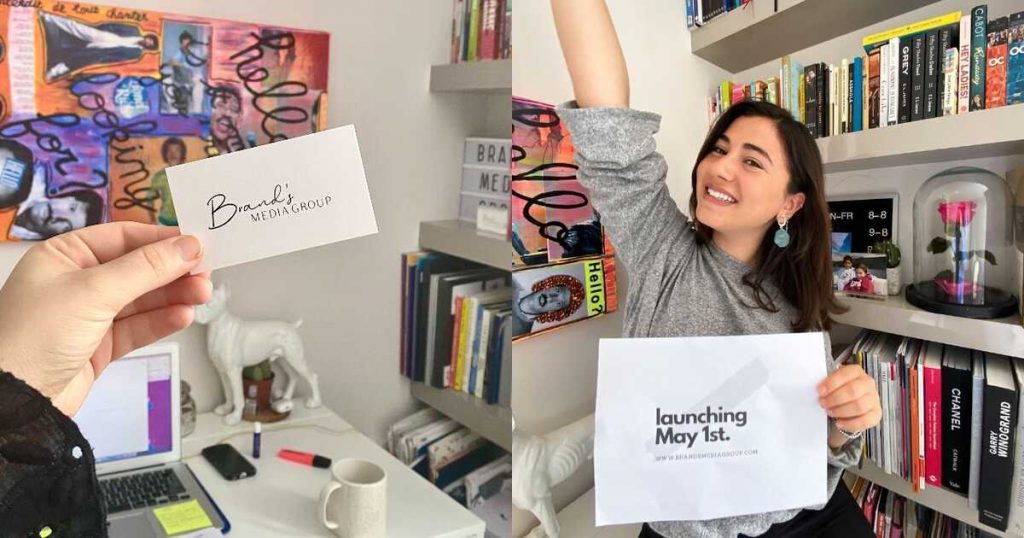 Born in Paris, raised in Montreal, having studied Communications and Marketing in Tel Aviv and Fashion Studies in both New York City and Paris, my international background led to everything where I am supposed to be today. I've had several internships in Communications departments at different brands. It is through these varied professional experiences that I realized I'd love to manage and help small businesses reach their full potential on social media.
Just like most students last year I graduated — from the Parsons Paris Fashion Studies program — over Zoom in May 2020 during a worldwide pandemic and international lockdown. I was comfortable back at home, surrounded by my family.
And I thought, wouldn't it be the perfect time to launch a business.
After vigorously studying communications, marketing and fashion, my love for social media was growing strong. I realized bridging all interests together would be a beautiful project for me to work on. After publishing and writing my thesis on influencer marketing, comparing American and French influencers, I also knew this was a service I wanted to include in the business. I was constantly being asked for advice on how to grow on social media and over the years, I've strengthened my network in four different countries, the demand was high.
And so, on May 1st 2020, I launched Brand's Media Group.
Brand's Media Group is a communication agency, helping you create beautiful content for your brand, guiding you to an understanding of social media that is more compassionate and healthier, working with talented influencers, elevating your business and growing your community in a very intimate approach.
BMG launched 9 months ago. We are now a team of 5 women, and have a dozen clients in the lifestyle, fashion, beauty sector. But it didn't all happen in one day.
The truth is, there are no right or wrong time to start a business. There is just now. Start little and grow it from there.
There is a direction you could follow to have more of a structure. All of the tips below some I've personally gone through or learned throughout these 9 months of entrepreneurship journey.
Have an understanding that nothing happens over night. Just like writing a thesis, it takes times, and you start by little texts and end up having over 100 pages put together. This is the same. Start searching a name to your business, sketch and design a logo, a website, and trademark it. Think deep about your brand identity; one that makes you stand out of all the others. The more administrative side of it is to open a bank account for the business and register the name as an official business in the country you live in.

Have a clear vision, mission and values for your business. When I launched BMG, I knew what my vision and mission were, but only in my head. It was a very abstract thought and it needed to be written down. I took a 6 hours workshop with a management consultant who helped me deconstruct those and put them on paper, which became the essence of the business and the core of everything we do today.

Examine and question. It's impossible you already know everything about your industry and accepting that you will never do is very important to the future of your business strategy. Be an active listener and ask the important questions. The network you build will always have an approach that differentiates yours and therefore, will help you have a different perspective on what you had in mind. It's always useful to get a different pair of eyes on the subject matter.

Ask for help. As I was finished my year at Parsons, BMG launched and our first three clients popped right in. I was starting a 6 months internship in Paris and knew I couldn't handle everything on my own. This is when asking for help came to mind. It's very hard letting go of your baby but I couldn't grow the business by myself and have made peace with that. The hardest part really, is to delegate; but it is also a beautiful things to do. When you ask for help, you grow faster, you are more efficient, and have some tasks taken off your plate which is the most gratifying and satisfying feeling. Ask for help if needed, and you will understand the power of collaborative work.

Learn how to say no. I've always been a big believer in saying yes to every opportunity that comes along your way, as long as you are aligned with what you are saying yes to. If an occasion comes up, and your gut is telling you not to do it, listen to what your body is trying to tell you. I've said no to brands who wanted to work with us, because our vision didn't align. I've said no to people who sent me their resume because the profile didn't fit and it wasn't what I was looking for. Trusting yourself and what your mind and body is screaming, is very important as a leader. And so far, every decision I've taken as part of the business lead me to where I am standing today.
Aside from these five tips, I've encountered multiple situations that made me anxious, stressed, nervous, embarrassed, and more. What's important, is what you do next. Will you get back up or stay in the fear of not chasing your dream?
It would be a lie if I wrote here that what I am doing is easy. Especially during a pandemic, we have lost multiple clients due to the limited budget brands have to put into digital and online communication.
However, I can only be proud of everything I've achieved so far and in so little time. This is only the beginning, and I'm glad I can share my story to the community of Parsons Paris, if ever a student is inspired to start a business of their own.
If you have any questions or want to discuss starting your business further, please don't hesitate to reach out:
IG: @sharonbrand , @brandsmediagroup