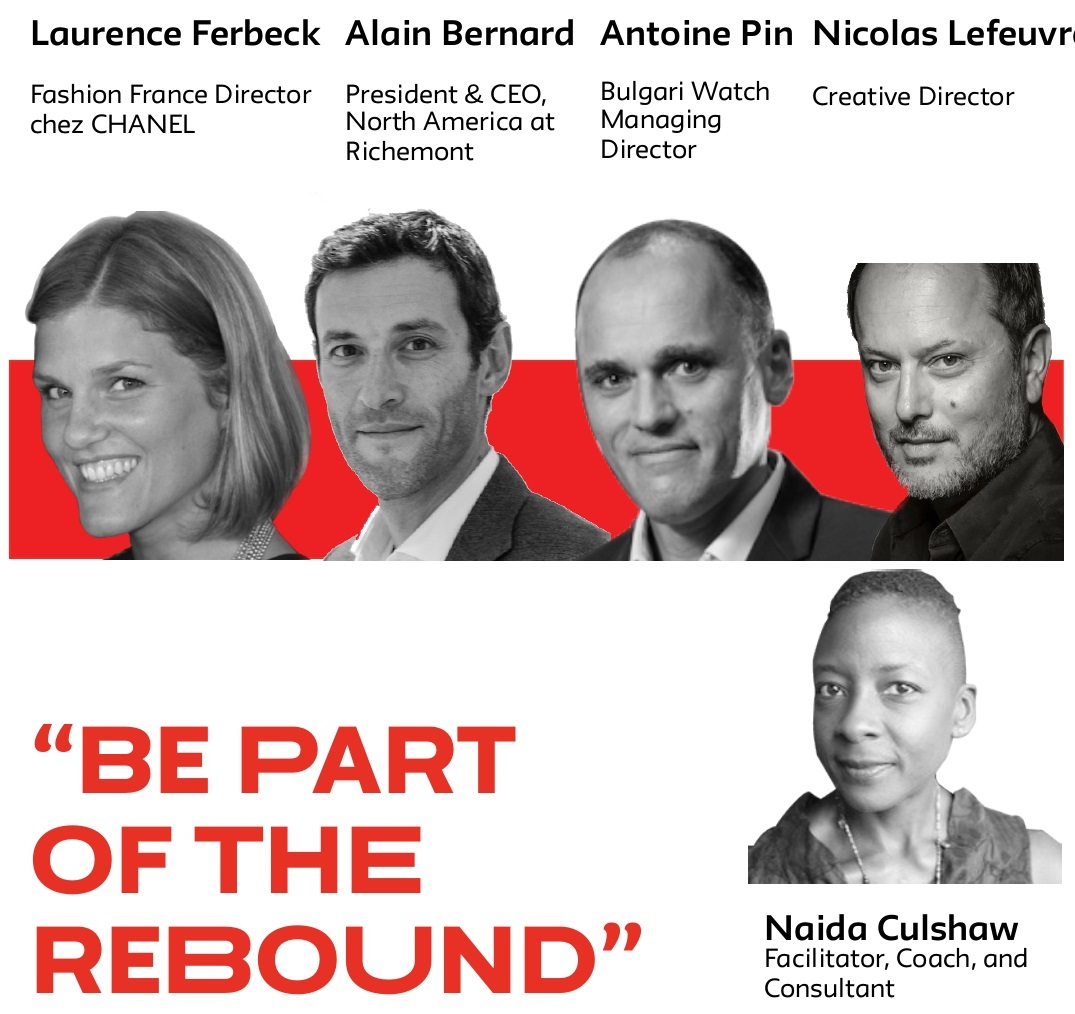 Luxury industry talk: be part of the rebound
During Career Week, professionals from the Luxury industry met our students and provided many great tips. Take a look at what Laurence Ferbeck (Fashion France Director at Chanel), Alain Bernard (President & CEO, North America at Richemont), Antoine Pin (Watch Managing Director at Bulgari), Nicolas Lefeuvre (Creative Director) and Naida Culshaw (Facilitator, Coach, and Consultant) had to say.
During this pandemic, what suggestions would you give to an emerging professional on how to own the recruitment process?
Networking is a quantity game, go wide.
Find your own difference.
Go and target not only the big brands.
For the interview, come with ideas.
Creativity, talent and differentiation is what we look for.
Show all the experiences you have been through. Highlight the added value that you brought during this moment.
Work on your talent, your identity, learn to know yourself, which is probably one of the most difficult things.
Make sure you show how much you're eager to learn, to discover, to be curious and how much you are ready to grow. 
It is very important when you meet people, to be positive! We are looking for positive people, it's super important.
For you, what does it mean to be resilient? Is there something you are taking out of this particular experience and that has maybe fueled your creativity or any other motivation for yourself? 
Never losing the people perspective, the social perspective, the long-term perspective. And when you have this wider vision, think of the glass half full rather than half empty. We go back to the basics : be positive, move forward, don't stop and look at yourself. Get out of this vicious circle. Rely on each other, we are not alone!
The beauty of COVID is that it is a big equalizer. We are all on the same boat. When you have a zoom interview, own it, you have the same size of square on your screen than the others, so own it.
Plan things, plan fake projects, curate fake exhibitions, make a list of projects you could do. Keep yourself busy and allow you to act and start fast when it will start again.
If you were a student now, about to graduate, with not so much career experience, what would you do differently than what you did to get to where you are now?
Don't look for the dream job, don't be afraid to go for smaller job opportunities that might not be a big satisfaction for you but it might be a moment where you learn experience, where a company can test you.
What is your advice about what to present in a portfolio and how to present it?
Clarity. Try to not put too many things. If I'm looking at a portfolio, I am looking for emotion, from myself but also emotion from yourself. It has to be clear, simple. It's not a catalog, it's something where you will try to inject emotion. Emotion shows me who you are.
Concerning networking, what tips would you have? During this pandemic, it's quite difficult to meet people.
When I was studying at Camondo, I was always trying to not only send my CV and resume but also add a small project I did about the brand. And it worked once. One day, I shot some YSL products with ink, paintings I had and sent the pictures to some people I knew at YSL. I didn't know them very well. And they called me back. Show your interest for the brand by doing something. 
If one day you want to be a part of a luxury brand, my best advice : go to a boutique and understand how the product is presented in a boutique. You learn who the customers are, and once you are in front of the recruiter, you know who their clients are, the heart of the business, the heart of what's happening, what you sell, the display of the products. The boutique is the stage.
How do you make yourself a stronger candidate next to people who have longer experience?
Stand out, sell yourself. Come with a proposition, an idea. If you love the brand, show them how big your interest is by preparing something. We are looking for individuals who are entrepreneurial creatives who are going to add something to the brand. Make our job easier.
To finish this talk, "being part of the rebound is…" :
Being unique, show yourself through your emotions.
Being able to adapt to your surroundings. Not putting aside ambition.