Sabri Ben Radhia on changing the world one life at a time
A central inspiration of your life is wanting to change the world one life at a time. Do you remember when this first became a part of your vision?
I grew up in a relatively modest environment and though they had limited resources, my parents and grandparents never failed to help those in need. My father eventually landed an amazing opportunity to work in the Gulf region and that changed our lives. He never forgot where he came from and not only did he keep on helping people but he also literally changed many lives by opening doors for them and helping them find the same opportunities he was offered.
I am a highly sensitive person and I tend to feel deeply for other people. That in turn also means that the feeling of satisfaction I get from a positive action is greater than average. Whenever I helped someone, that feeling of satisfaction felt as if I was high! My whole vision was inspired by the people around me but the greatest lesson I learned is the importance of focusing on one life at a time and not rushing into wanting to save everyone – because you will end up losing yourself.
A proverb you make reference to is "Nana korobi, ya oki" which means "Fall down seven times, stand up eight." What did you learn from falling when you moved to Paris? What might our students use as inspiration for standing up as they envision their career?
When I arrived in France from Tunisia in 2013 to work as a volunteer for AIESEC, I didn't realize how hard it was going to be. I was surrounded by international students doing what I love doing (helping people find professional opportunities in France). However, as soon as my term was finished, I faced the harsh reality that Paris unloads on many.
Although social integration was easy, professional integration was tough. I don't really know if it was related to my ethnicity or my background (as a former basketball player) but I sure needed to pick myself up eight times. I had to work twice as hard as my friends, had to accept unpaid jobs just to fill up my resume and mostly, I had to apply for jobs literally day in and day out and accept whatever came my way.
This pushed me to give up on some of my values – a line I could not bring myself to cross. Fortunately, along the way, my network had grown exponentially because I attended every single event, every single fair, every single conference that came my way. Because I was everywhere my face became familiar to people, and I then started building relationships with them, which eventually led me to many opportunities. I finally took my courage in both hands, resigned from my boring job and got my dream one (at the time).
My advice to any student is to build a network; invest time and money to build that network. Building a community and surrounding yourself with people who care about you and trust you is far more important than your resume! It will be the safety net that catches you when you fall or that you turn to when you need help.
In September 2020 you co-founded House of Ichigo where you propose nature inspired retreats for team building and training. What is the philosophy behind the company name?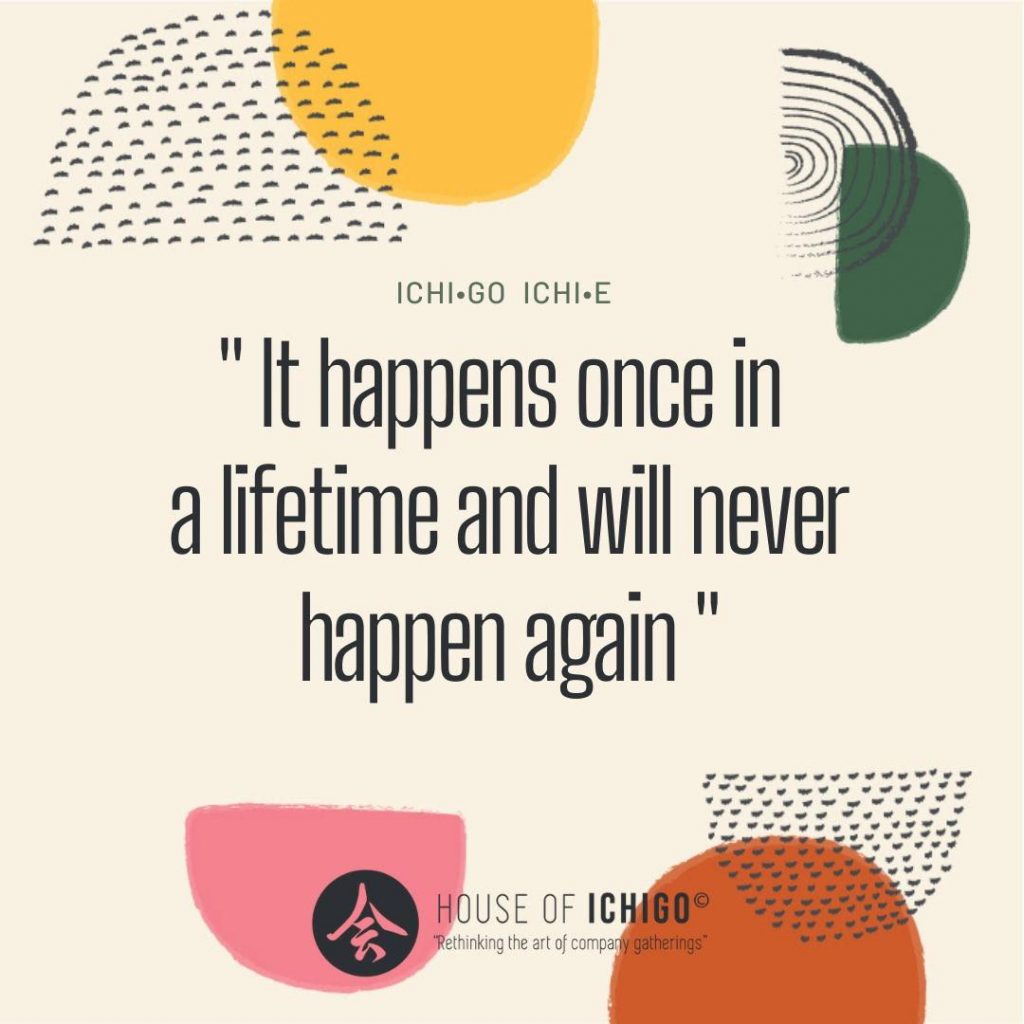 I have been organizing events and conferences in many different countries for almost a decade now. It's been an amazing experience. Some were successful in reaching almost a 1,000 attendees.
However, I discovered that I could lose my main purpose when I got caught in the numbers; it was easy to forget why I started doing the work and what the impact of what I was creating was.
I started questioning myself and I was fortunate enough to come across a powerful TED Talk by Priya Parker about the "Art of Gathering." I swallowed the video whole and soul, as well as the corresponding book. Each and every page brought a magical answer to my question. Priya Parker created a "manifesto of gathering" by studying and analyzing all types of events. She concluded that we think we know why we are organizing an event whereas in reality, we don't. Whether it is a business meeting, a baby shower, or a trial in court, Parker shared how you can make meaningless gatherings meaningful again.
It is also in Parker's book that I came across the Japanese philosophy of "ichigo, ichie", loosely translated as "one meeting, one encounter" or "it happens once in a lifetime and will never happen again". And that was the sign, the revelation I was looking for. That is the purpose I started with and the why of my very first events.
I decided to quit my job, stop most of the events I was organizing and start House of Ichigo. House of Ichigo is a home, a tribe and a global platform to make gatherings more transformational and experiences more memorable. We are taking the retreat approach because we want to add a holistic touch to all the gatherings we will organize, all to be hosted in our home in the Burgundy region.
How did you apply Growth Hacking to the creation of your new company?
I would say growth hacking is a mindset or an approach to the way we do business: testing, learning and implementing new strategies.
When you apply growth hacking, you should apply it to all the positions and departments of a company because it involves a certain way of thinking: how to find new, innovative ways to reach clients. It involves the way we do work: how to save time by automating recurring tasks. It involves understanding your end users and their psychology: using tools that will help you understand why your clients are not clicking on the buttons on your website and why they are not staying longer browsing. Most of all, it helps you find new ways to attract and retain new customers with creative and low cost strategies.
Growth hacking is a mindset of being curious, analytical and creative in your approach. Your tasks are mainly to hypothesize, prioritize and test innovative growth strategies, then analyze them and their outcomes to see what's working or not.
I applied this approach to my company mainly to understand if there was a need in the market. I created a landing page even before investing time or money in my project and promoted it across my network. I found that I had enough engagement to see that people were interested, so the second step was to interview some of them to see if they could become potential clients, and they were willing to be. And finally, I worked on different acquisition strategies to bring more people to my website and get even more feedback before taking the plunge. Today, I still apply the same mindset to all the things I do. I only take data and user approval into consideration when making decisions and not what I think or feel will work.
You started a weekly podcast series in January entitled 'Now I See Me'. What types of ideas do you hope to share with your listeners?
In 2018, I went on a road trip to meet strangers and I came up with the idea of asking them what they would tell their 15-year old selves. I found it to be a very deep and reflective question. It pushes us to reflect on the thing(s) we wish we had done, said or even thought. It also helps us to open up and have an honest conversation.
I am lucky to be in contact with many inspiring people, regardless of what they do in life, and my vision for this podcast is to have an honest and simple conversation about life. The goal is to hear about their life lessons, their stories of regret and hope, their failures and successes, and their own definition of happiness and fulfillment.
I believe that we need more and more of these simple stories that everyone can relate to and identify with the speaker. I also believe that the inspiration that could end up having the biggest impact on our lives is often overlooked, simply because it is disguised and hidden within the people around us. And that is why I am inviting guests not as blue, white or pink collars but simply as human beings who lived their own unique journey and want to share it with us.
You once mentioned that being jobless is the toughest job because of the inability to feel useful and to be productive. How are you managing employment during the current pandemic? Could you give our students a boost as they head out into the workforce in 2021?
It is indeed the toughest job! I had to be creative and find ways to make myself feel useful and like I was contributing to society in some way. I think what helped was to take a step back and analyze the situation. That process involves being honest with oneself to pinpoint the specific reasons for not getting a job.
Once that was done, I tried to get involved with some NGOs, do a lot of networking, take on some unpaid jobs and most of all, I 'crafted' my job applications. In my case, this was about crafting my dream job on paper and then knocking on doors to ask companies to not only hire me but to create a whole new position for me – and it worked!
When Covid happened, I was again left stranded without a job as I am an independent event organizer. This time, however, I was more ready for it. So once again, I jumped on that retrospective and reflective self-questioning train and in a matter of weeks, I had figured out what I wanted to do next. This time around though I got back up on my feet faster than ever.
The best advice I have is to allow yourself to be vulnerable and reach out for help. Whether it's on social media, by phone or by email, all roads lead to Rome. You just need to reach out to people and you will be amazed by how willing they will be to help, even strangers. Actually, especially strangers!
https://now-i-see-me.simplecast.com/
https://www.linkedin.com/in/sabribenradhia/
Sabri Ben Radhia teaches Collective Team Dynamics, and Ethical Decisions and Leadership in the Strategic Design and Management program.