Alumni Bio – Pamela Zameza Arellano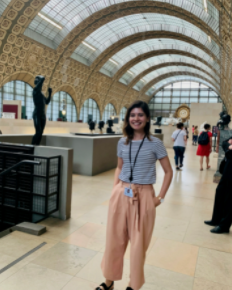 History of Design & Cultural Studies '18
Pamela has a background in Art History with a concentration in post-impressionist French art.
After her studies at Parsons Paris, Pamela had an internship at Musée d'Orsay, which she found through a Parsons Paris alumnae, Forrest Pelsue, in connection with the French Heritage Society. During her internship, she was helping the curator of 19th century paintings, Paul Perrin, prepare for the upcoming James Tissot exhibition, which debuted March 2020. She learned a lot of practical knowledge, such as research and archival skills, that she hopes to apply to future opportunities.
Afterwards, Pamela was presented with an opportunity by her program director, Emmanuel Guy, to intern with two performance artists, Ryan Kelly and Brennan Gerard. She found it really interesting to work with them at The Villa Savoye and The Appartement Atelier, designed by Le Corbusier, two highly discussed buildings in the conversation of Modern design from the HDCS program.
Today, Pamela is continuing to expand her network in Paris and is looking forward to the new and exciting opportunities that may come her way.