A Conversation with Alumni Alyssa Del Valle
I had the pleasure of speaking to Alyssa Del Valle, a 2020 graduate from Parsons Paris, with a major in Strategic Design and Management and a minor in Fashion Communication. We reflected on her senior year at Parsons Paris, and the progress of her venture Gleu.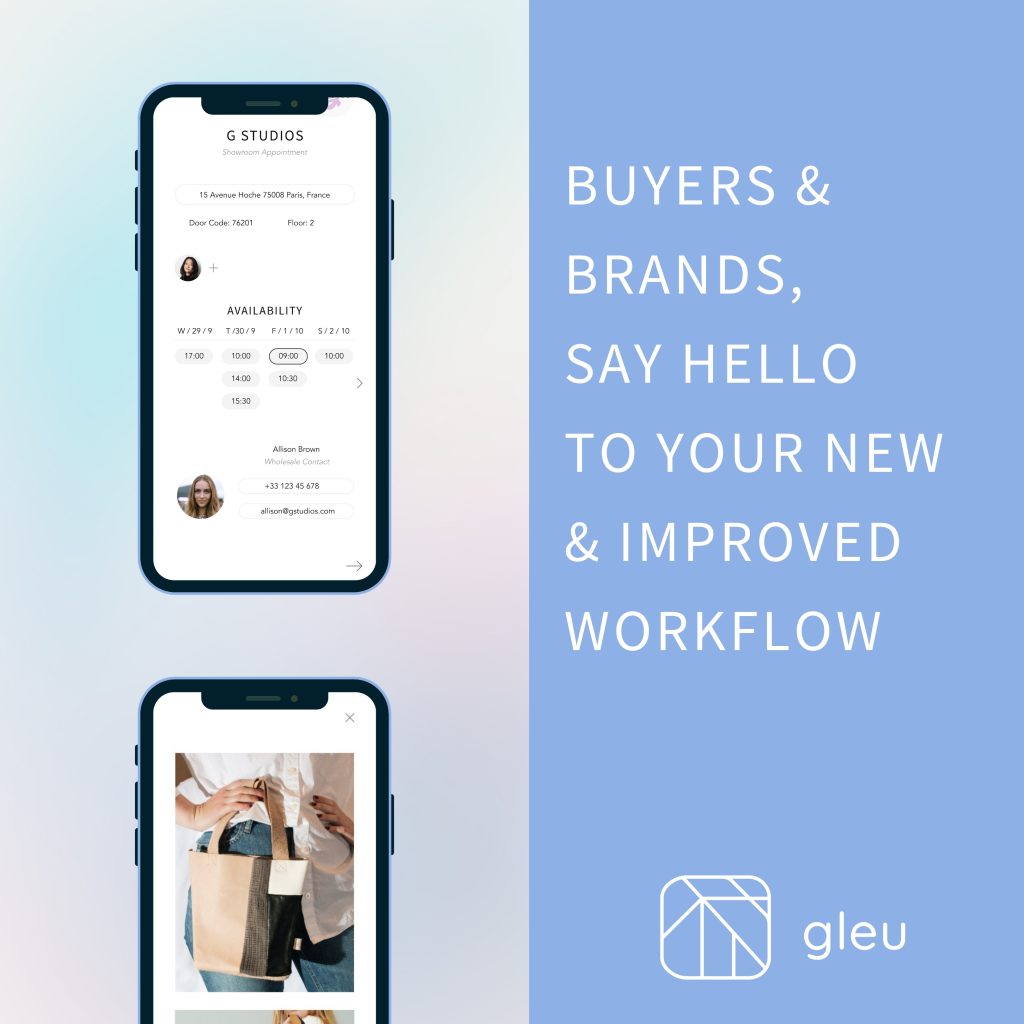 What was your experience with senior year being remote?
Senior year was hectic and the fact that I'm graduated still hasn't fully settled in. It was quite an experience but it really taught me a lot and gave me plenty of time to work on my thesis and focus on myself and my well-being. A bonus was I got to spend all that time with loved ones.
What was your final thesis on?
My thesis project was a platform that makes it easier for fashion retail buyers and brands to schedule their appointments and manage their workflow during fashion weeks and market weeks.
What was the inspiration behind your final thesis?
Before coming to Parsons Paris, I spent my first two years at the New York campus. During that time, I worked as an assistant buyer where I was going back and forth between showroom appointments and tradeshows during market week. That was my first exposure to the hectic side of this industry. When I moved to Paris, I started working in different showrooms during Fashion Week. I was able to experience the other side of wholesaling while working for these brands. Then, I worked at a fashion consultancy where I was the middleman during these market weeks and I was in charge of planning the schedules of the buyers that were coming in for fashion week. My biggest client was Bloomingdale's, based out of New York, which sent about 20 of their buyers to PFW and my job was to manage all of their schedules. This was when I got a complete insight into the nightmare of planning market week and fashion week schedules. Almost everything was managed on Excel sheets. The buyer would have their own spreadsheet that I would have to go in and manually type out the day of the appointment, the location, the door code, the wholesale contacts, and so on. The whole system was managed through emails between the buyers and the brand and it was such a tedious and time-consuming ordeal. At this time, it was my senior year and the idea clicked. That's when I started asking other buyers and brands if they had the same processes in place, and everyone said yes! That's how I knew that this was my thesis topic. I thought about what I would like to have in the midst of all the hectic market week planning and that's how Gleu started. Ever since then, I have continued working on it, as the feedback that I received during senior year was absolutely incredible.
Can you tell me more about Gleu and the progress of it?
Currently, Gleu is an application. I ultimately want it to be a website as well. During my time at Parsons Paris, I worked on developing the business plan, the prototype as well as the design of the platform. As of right now, Gleu is a fully-functioning prototype and is operated as a B2B SAAS (Software As A Service) platform. It will be used between retailers and brands. The next steps for my company are to develop the Minimum Viable Product and to grow my team. I am keen on getting some developers and marketers on my team, and I would love to work with current students at Parsons Paris. I would also love to have some investors and industry partners.
Did you experience any roadblocks on your way?
Absolutely. Entrepreneurship is a rollercoaster of a journey. COVID-19 was everyone's biggest challenge, and it was the same for Gleu since my app was meant to be used for in-person showroom appointments. The features of the app were designed while keeping in mind in-person elements such as scheduling appointments, storing photos and notes, navigating to and from the tradeshows, and so on. When everything became virtual, it surprisingly did not change the wholesale process. All buyers and brands were still having to schedule appointments online and that made it even crazier. I pivoted my business model completely as digital showroom appointments weren't a common practice until then. While it was a roadblock at first, it has proven to have been in my favor because now it is so apparent how useful the technology of Gleu is to the stakeholders.
What was your most important lesson from moving to Paris to study?
My biggest lesson was understanding the importance of being open-minded and taking up new opportunities. Moving to Paris was extremely out of my comfort zone and a big change in general. But I have no doubts that it was the best decision that I have ever made.
What do you miss the most about Parsons Paris?
What I miss the most about Parsons is the close sense of community. Having come from the New York campus, I really appreciated getting to know everyone. I also really miss being a student and sitting in class.
Do you have any advice for current seniors?
I would tell them to not stress too much. I know it is so much easier said than done because I remember until the last minute I had no idea what I was going to do for my project. But it all comes together in the end. My biggest advice would be to network with everyone and take plenty of advantage of all the internship opportunities and extracurricular activities. Following up with people and staying in touch with them is just as important as networking. It was because of all the people that I met along the way that I am what I am now. Using the connections that I made proved to be very helpful in the process of building my company.
Do you have any advice for incoming SDM students?
My advice to incoming students would be to travel and meet as many new people as possible. When I was living in Paris, travelling was the most memorable part of my experience. Exploring new places, meeting new people and experiencing different cultures was extremely enlightening and has reflected into the work that I'm doing today.
Where do you see yourself 3 years from now?
Three years from now, I would love to have Gleu on the market with buyers and brands using my app at market weeks and fashion weeks around the world. I'm also working as a freelance artist and designer and will continue making art as well as travelling as much as possible. Besides this, I am staying open-minded about the future and can't wait to see what's in store!
email: alyssa@gleu.app
website: https://www.gleu.app
instagram: @gleu.app
company linkedin: https://www.linkedin.com/company/gleu
personal linkedin: www.linkedin.com/in/alyssadelvalle