Fashionable Discourses: Rethinking today the WWD Archive (1990-2001): Opening Dec 3 at 6pm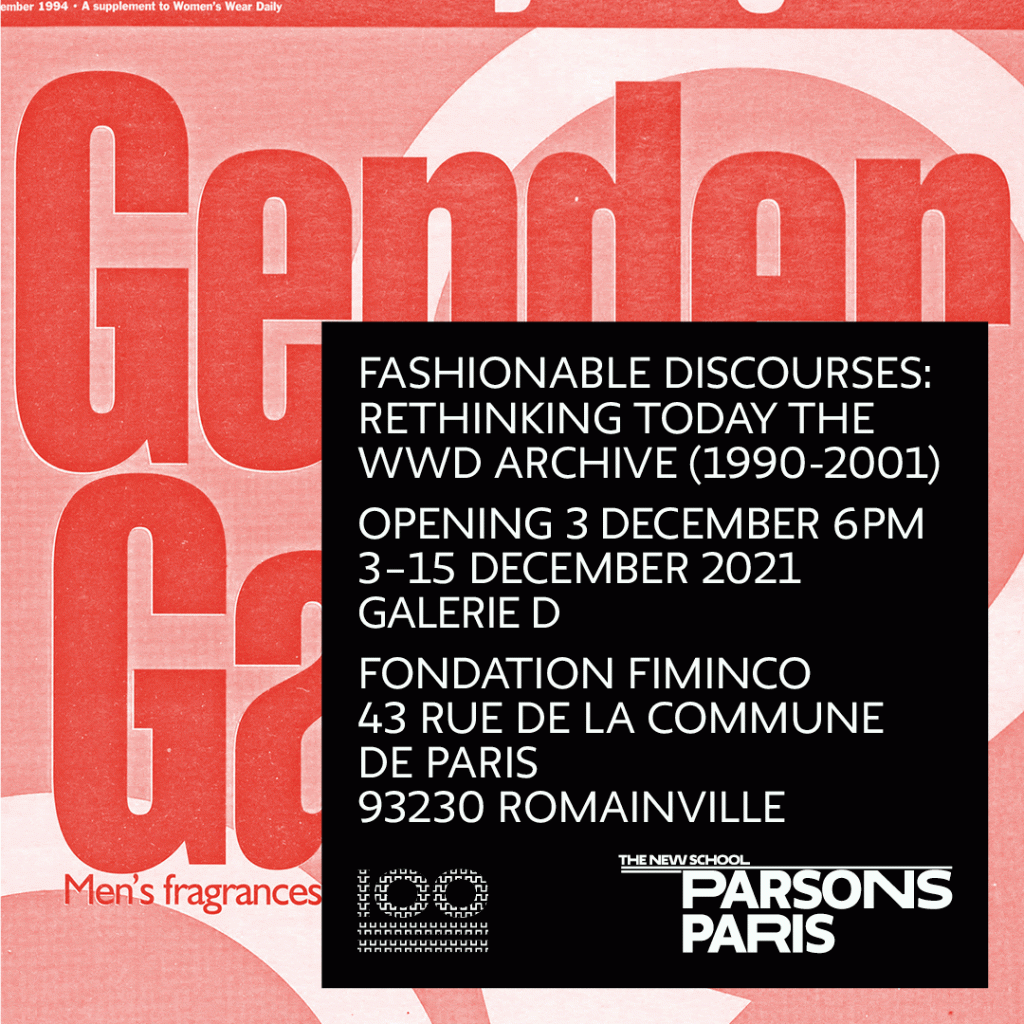 Fashionable Discourses: Rethinking today the WWD Archive (1990-2001)
An exhibition by MA Fashion Studies at Parsons Paris with Women's Wear Daily

December 3-15, 2021

Galerie D
43 Rue de la Commune de Paris 
93230 Romainville

In the last few years, there has been a wide-ranging discussion about the problems with regimes of representation in the fashion industry. Normative paradigms of representation have been scrutinized, with discourses about sustainability, race, gender and labour conditions being at the core of these critiques. What has also characterized these discussions is the active participation of mainstream media like Vogue or Harper's Bazaar which have evidently changed their rhetorics and moved towards practices of inclusion. 
At the same time, representational practices have become extremely fashionable thanks to the emergence of social media which have turned representation into a performative practice thus bringing us to question the ways in which these critiques of the fashion industry may be just the ultimate form of commodification exercised by the industry.
Fashionable Discourses brings students to reflect on the meanings of representations, pushing them to reflect on canons of representation and their historical contingency. Are these issues actually new? Were questions on sustainability, labour conditions, race and gender already discoursed in the fashion industry? If so, how were these representations constructed? And under what type of ideological regimes? Students were invited to explore these questions by looking at the digital and physical archives of Women's Wear Daily (WWD). Established in 1910, WWD is a daily published leading publication in the fashion industry which reports on the latest news in this field giving our students a unique opportunity to dig deeper into the quotidian deployment of discourses about the cultural value reigning in fashion. 
For this project, students focused on four discourses – gender, labour, sustainability and race –  in the 1990s and unveiled what languages and regimes of representation were adopted in the pre-internet era. During the research, students faced multiple difficulties and structuralized problems when researching online archives such as racial and gender categorizations and the ways in which they are embedded in the digitization practices. Each section, titled after one of the students' findings, showcases the different representational fashions in WWD via a selection of articles from the magazine's archive which are put in dialogue with news reports, documentaries, academic books  or even performances. Fashionable Discourses reveals how contemporary issues were discussed (or not) before the proliferation of a more globalised online media landscape and showcase an example of the ways in which the fashion discourse can be a thermometer to measure the fluctuating concerns in our contemporary society. 

The vernissage for this event will take place on Friday December 3, 2021 at 6pm. Exhibition open Fridays and Saturdays from 2-6pm, or by appointment through galeried@newschool.edu.  Please present your pass sanitaire upon arrival.
Concept and Direction: Marco Pecorari and Morna Laing
Curators: Anastasia Alikhanova, Annie Laurie Daniel, Antoinette Alba, Devin Toolen, Donna Nadeem, Emanuella Deberardine, Evan Delafose, Georgia McGill, Hafsa Ahmad, Helaina Hefner, Isabella Stern, Lori Sofian, Miguel Vargas, Milana Stewart, Samantha Hartmann, Sonya Parsons, Yvonne Wojtas
Exhibition Design: Justin Morin
Graphic Design Communication: Monica Fraile Morisson
Communication: Lisa Sarma
Project Management: Amanda Lewis 
Special thanks to: Miles Socha, Pascale Rajac, WWD, Parsons Paris Tech Lab, Alice Morin, Marlène Van de Casteele, Fiminco Foundation