Student Testimonial – Yvonne Wojtas
Fashion Studies MA, '23
Yvonne interned during Paris Fashion Week this spring with Dejima at their showroom.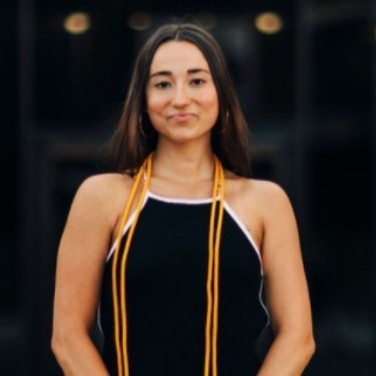 Yvonne Wojtas is a Fashion Studies MA student here at Parson's Paris. She was able to
secure an internship at Déjima Showroom for Paris Fashion Week 2022. Yvonne found and applied to the position on FashionJobs.com a week before the start of the internship, which is very common.
Yvonne corresponded with the Dejima team through an email exchange, and she received a response that same evening to conduct a Zoom interview the following day. She attended the interview with the showroom director, Michał. They chatted for about fifteen minutes, discussing Yvonne's past work history, and her interest in wholesale fashion and buying. Michal informed her that although their team was full, he would attempt to discuss an additional intern with his partner the following morning and would get back to me as soon as possible.
The following morning, Yvonne received an email from Michał noting that the internship was
confirmed and that she was to report the following week to their showroom. She quickly reached out to Career Services Director, Virginie, and her professors to inform them of her achievement, and completed the required paperwork. On an even more positive note, as soon as Yvonne confirmed her internship, she received two more emails with internship offers, but had to decline them due to this prior commitment.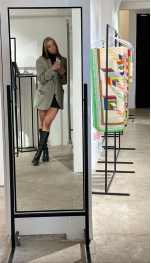 The hiring process was extremely simple and streamlined. Yvonne arrived on that first Tuesday, and immediately got to work setting up the showroom. The first day was dedicated to assembling the collections and preparing them for client visits. She organized the showroom space, steamed multiples of garments, and ran errands throughout the day. Due to the current state of worldly affairs, namely COVID and the war in Ukraine, Yvonne was informed that the influx of buyers would be much less than usual. Together, they hosted about fifteen clients throughout the whole week, and also did extensive research for prospective designers and stockists to carry the designers that they represented. Yvonne was able to meet buyers for La Samaritaine and communications directors for some of the brands they represented. The team was small and quiet, which allowed for efficient work, and the days went by extremely quick. Yvonne enjoyed her time at Dèjima Showroom, and has the potential to work for them again in June.