Sustainable Designer Spotlight Introducing: Later…
By: Anisa Williams, Fashion Design '25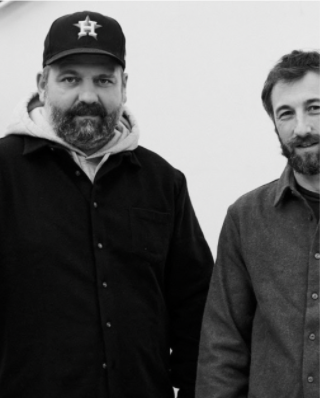 LATER… is a brand co-founded by Benjamin Hooge and Benoit Tardif over 3 years ago. They have created a brand set in urban and traditional fashion styles that transcends trend cycles and fast fashion. Rather than creating a copious amount of collections, they come out with simple versatile garments. Benoit has had an extensive history in the fashion industry and worked in luxury. He was a sales assistant for Hermes, Yves Saint Laurent, and Prada, then became a stylist, personal shopper, and photographer before making the switch to starting his own brand. Benjamin, while not previously working in the industry, worked to fight terrorism and anti-money laundering; later going on to working on developing innovative new fabrics and new materials.
Partnered with a small maker in the south of France near Castres, they collect old garments to create a yarn that is used to give life to a new line of clothes. The other mill they source from is in Spain. No raw materials, no extra dyes, and entirely designed to last to be worn for the next 20 to 50 years. After the new yarns are woven, the products are designed, and sent to their maker in Portugal; totalling three different outsources that come together to create a capsule collection of wool, and cotton shirts —  and soon trousers — that merges 90s-type style, classic & traditional, while staying modern with a unisex line. They like to play with shape, "not too straight, hidden embroideries", some of the clothes hiding anagrams of 'LATER' within the lining of the pockets of the shirts. One of the examples I was shown spelt out 'ALTER'. "We like all these little details that make the difference; spread messages without yelling."
I had the privilege of being able to meet and interview them at a popup in the Marais on April 1 featuring emerging sustainable designers. During this opportunity, they not only showed me their brand model, but also its future and growth.
When asked about what sustainability meant to him, Benjamin says, "[Sustainability] is a way of life, it's not one way. What is very important for us is that we don't want to judge any one initiative. Everything that has been done, [each] way to reduce the impact is good." Each and every detail in their brand is meticulous and transparent to the public; their process of manufacturing is open to questions on their website, the locations and the cost of making, wages, and logistics — there is no question that they will not answer in regards to their brand. One of the biggest challenges when it came to upcycling for their line was sourcing enough uniform notions — so in response, they found a groundbreaking solution of creating buttons from milk. Usually buttons are made from plastic, but they don't cut corners here. Using "casein: a milk protein processed to obtain Galalith". Galalith is a biodegradable, nontoxic, bioplastic that reportedly has a 75% lower carbon footprint to manufacture. The European Bioplastics state that the land used to grow the renewable feedstock remains at approximately 0.7 M hectares in 2021, which accounts for 0.01% of the global agricultural area. Pivotal changes towards renewable plant based sources make way for less waste and carbon emissions from several spheres in the life cycle of products.
"Transparency is what we are fighting for, and that's what we think will be the key to transformation in this industry."
For all future fashion designers, and for anyone who is aiming towards a more sustainable approach to art: "Determine what is sustainable for you". Sustainability is going to be a challenge until you commit to what your principles are and work towards those.
Be sure to check out LATER…on social media, and check out for future pop-op opportunities.
"LATER… is now".