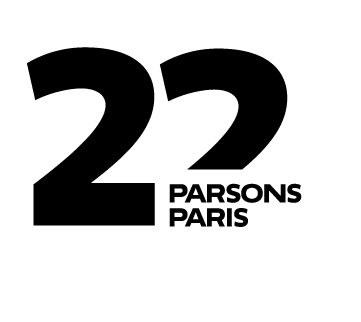 MA Fashion Studies Y2 – Thesis Defense Schedule
We are glad to announce this year's Graduation Week is finally knocking on Parsons Paris door!
MA Fashion Studies Y2 students' Thesis Defense will take place on:
Tuesday 17th and Wednesday 18th of May both at 45 rue Saint Roch and on Zoom.
Here you can find the full schedule for Tuesday and Wednesday.
DAY 1 TUESDAY 17 MAY
RUE SAINT-ROCH, ROOM 301
10.00-10.45 Jacqueline Lopez
Fashion for Sale: The Auction Space
Supervisors: Antoine Bucher and Laurent Cotta
11.00-11.45 Maria Ida De Ioanni
Shoes, Masculinities and Performance: The Case of Christian Louboutin
Supervisors: Antoine Bucher and Laurent Cotta
12.00-12.45 Renata Hernandez
Systematization of Thought and Body: The Fragmentation of an Idealized Masculinity in the Third Reich
Supervisors: Antoine Bucher and Laurent Cotta
13.00-14.00 LUNCH
14.00-14.45 Mary Kelleher
Poetry in Fashion: The Role of Performative Poetry in Fashion Shows
Supervisors: Marco Pecorari and Antoine Bucher
15.00-15.45 Jiaxuan Wu
Ancient Costume in Chinese Moving Image Productions: Constructed Selves in the Twenty-first Century
Supervisors: Morna Laing and Antoine Bucher
15.45-16.15 COFFEE BREAK
16.15-17.00 Natalie LaBarbera
Fettered Flourishment: The Effect of Restricted Creativity on the Mental Well-Being of Fashion Journalism Professionals
Supervisors: Marco Pecorari and Morna Laing
17.15-18.00 Jessica Clark
Discovering Fashion Ethos Through the West African Practice, Adinkra
Supervisors: Jonathan Square and Morna Laing
18.15-19.00 Aishwarya Pureti
The 'New Androgyny': A Discourse on its Effects on the Configurations of Gender and Identity in India
Supervisors: Morna Laing and Marco Pecorari
DAY 2 WEDNESDAY 18 MAY
RUE SAINT-ROCH, ROOM 301
10.00-10.45 Bethany Miller
Bangladesh as a Sacrifice Zone in a Neoliberal System
Supervisors: Morna Laing and Géraldine Blanche
11.00-11.45 Violet Thompson
'Trying Different Aesthetics': An Examination of Time, Gender, and Authenticity through Style Communities on TikTok
Supervisors: Jana Melkumova-Reynolds and Morna Laing
12.00-12.45 Ayaka Kitagawa
The Conservatory Turn in the Fashion Museum: The Digital Evolution of the Discourse and Display of Conservation
Supervisors: Marco Pecorari and Stéphanie Ovide
13.00-14.00 LUNCH
14.00-14.45 Jun Chen
The 'White, Immature, Thin' Woman: Modern Chinese Women's Experience with Body Image and Beauty Standards
Supervisors: Antoine Bucher and Morna Laing
15.00-15.45 Noyonika Sircar
Vogueing the Crisis: Glamorising the Pandemic
Supervisors: Morna Laing and Jana Melkumova-Reynolds
15.45-16.15 COFFEE BREAK
16.15-17.00 Ilaria Trame
Beyond the Library: A Study of Fashion Documents' Archival Spaces
Supervisors: Marco Pecorari and Miren Arzalluz
17.15– 18.00 Stephanie Lever
Curating the Gaze: Ways of Seeing in the Space of the Fashion Exhibition
Supervisors: Laurent Cotta and Miren Arzalluz
18.15-19.00 Rhea Saad
Staging the Self in Everyday Life: Studio Shehrazade During the Golden Age of Lebanon
Supervisors: Antoine Bucher and Miren Arzalluz
Password: 758940