"Theoretical Objects": MA Fashion Studies Exhibition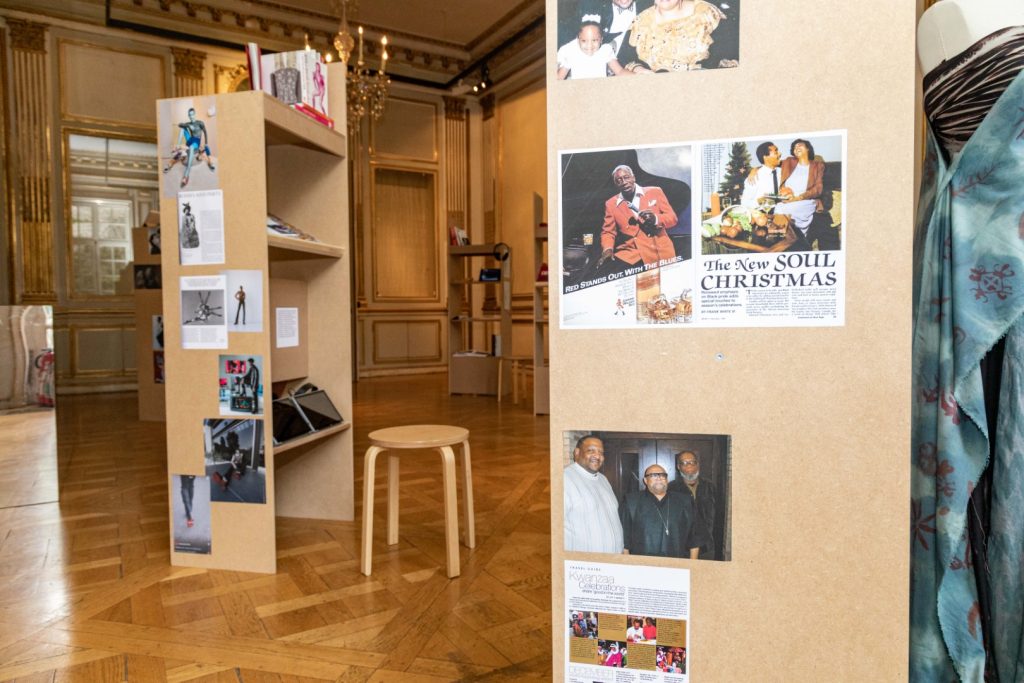 "Theories are dreams we learn to believe / To counter the empty truths / Which leave us cold."

Nick Piombino, 1999
In the series of poems Theoretical Objects (1999) American poet Nick Piombino navigates the nature of making sense of reality through theory. Adopting manifestos, talks, sayings, speeches, and autobiographical-like pieces, he challenges the idea of theory as something distant and immaterial, something that scares and creates boundaries. Piombino explores the acts of writing, speaking and reading; the pressure and the physicality of thought; the temporal and spatial aspects of ideas; the everydayness of reflecting. His poems are an ethnography of writing making visible rituals, paranoia, fears and ephemeral joy. In his 'Automatic Manifesto #1' he lists a series of self-impositions that show his ceremony of writing but also its rigidity and stereotypes. He says: 'I must divide my text in even more digestible subheadings. I must copy and plagiarize. I must appropriate. […] I must be published more, write more letters, be discussed more, be anthologized more.' 
Piombino shares the pressures but also of the exposures provoked by the act of writing that our Graduating Class 2022 have experienced working during this last academic year on their thesis projects. They embarked on the difficult task of making sense of different practices of fashion, learning how to recognize them, describe them, analyze them, discern them, contextualize them, love them, hate them. They wrote, rewrote and then wrote again. They experienced how writing can be a mediating tool for thinking about fashion but also a personal torture. Since August 2021, they have been working with their supervisors to grasp an understanding of their interests but also their limits and weaknesses.
To decide to embark on a MA in fashion studies and write about fashion is not an easy task. The public understanding of fashion and the culture surrounding the industry (and sometimes education) tend to diminish or simplify any form of theorization and intellectualization about fashion. This is true even today that we see a recurrent use of concepts and theories – from cultural appropriation to activism – by fashion brands and media.To decide to enroll, work and write a thesis in the field of fashion studies means to challenge these presumptions and combat what George Orwell called, in his Politics and the English Language (1946), the 'bad habits' of language, writing and uses of theory. Our students started their thesis' path with this reading where the English author unpacks some of these 'bad habits' and stresses that language 'becomes ugly and inaccurate because our thoughts are foolish, but the slovenliness of our language makes it easier for us to have foolish thoughts'. Once again, Orwell reminded us of the reciprocity between thinking and writing. He alerted us about their being performative, their capacity to make us who we are, while stressing the dangers of misusing ideas and theories. 'If thought corrupts language', he says, 'language can also corrupt thought'.
This publication and the exhibition that accompanies it, testifies to our students' attempt to find a cure to the current corruptions and simplification of theories and ideas about fashion in our everyday lives. Their theses explore the complexity of fashion as a cultural industry, an engine in the mechanism of identity formation and a telescope to look at our contemporary culture. Designed by Monica Fraile Morisson, this journal functions as a metonymy of their work gathering our students' theses' abstracts and extracts. The exhibition is continuing this evocation of research through the presence of individual cabinets designed by Justin Morin. These cabinets are islands for our students where they stage their research practice and the result of their thesis. In some cases, these cabinets become archives of evidence of: the possibilities of rethinking theories on race and fashion through the concept of ethos; the identitarian construction of Chinese identities in models in fashion magazine, film and costume design; the formation of masculinity and youth by the Nazi regime; the discourse on androginity in Indian fashion; and the role of portrait photography and studios in relation to female identity in Lebanon during the 1950s and 1970s. Other cabinets will lead us into the world of heritage, commercialism and knowledge with studies about: the personal and collective memories contained in fashion libraries; the role of auctions houses as gateways to experience fashion; the spectacularization of conservators in the digital sphere; the role of gaze in fashion exhibitions; and the festishist relation between men, shoes and performances of gender. Ideas of sustainability, production and representation in the fashion industry were also central to the work of some students who unpacked the capitalization of the covid pandemic by fashion media; the global industrial fashion production system and the relationship between Bangladesh and its trade partners; the role of well-being in fashion criticism; the role of Tik-Tok in forming identities. This journal and the exhibition stand as the final statement of their path in our MA program but I strongly believe that it will be the starting point in their task to show us the necessity of creating a bridge between the inaccessibility of fashion theory and its importance in revealing how fashion and clothing affect our lives. To disclose fashion as a theoretical object.
Congratulations Class of 2022!!
Dr Marco Pecorari, Director MA Fashion Studies
The New School Parsons Paris
A big thank you to all the Faculty and supervisors that dedicated time, love, and their expertises to our students. Thanks to Miren Arzalluz, Géraldine Blanche, Antoine Bucher, Laurent Cotta, Morna Laing, Jana Melkumova-Reynolds, Justin Morin, Stephanie Ovide, Jonathan M. Square. A special thanks to Morna for the constant presence and strength, Antoine for his omnipresent knowledge and generosity, Justin for his unstoppable work and for working on the installation. A big thank you to Fabienne Maitre who is always there for our students; Lisa Sarma for her support with communication; and Monica Fraile Morisson who kindly designed this journal. Thank you Loren RInger and Karen Decter for the constant help. And a final big thank you to our Dean Florence Leclerc-Dickler who always trusts and encourages us in all our activities.