Parsons Paris Orientation Week – 22/23
This year's orientation week was a brilliant success! With the constraints of covid behind us, we were able to welcome over 120 new students to Parsons Paris with food, parties, events, workshops and more.
Monday was check-in day. Those that had chosen to organise housing through API Study Abroad were met by our staff and student workers to settle into their new apartments and student housing. Students and parents flooded in from across the globe to settle into their new homes in Paris (some having flown in that very morning!). From the 8th to the 15th arrondissement, we were able to hand over keys, give out welcome packs and Navigo passes and share our tips and tricks for the best local boulangeries and cafes.
Tuesday kicked off with the Orientation Breakfast in the spacious halls of INHA Institut National d'Histoire de l'Art for our vibrant cohort of First Years, Mobility & Visiting Students and Masters Students. The first hour was spent enjoying a generous spread of pastries and coffee whilst collecting Student ID cards and meeting new class mates and some of our student representatives. Next was a welcome speech from the Dean, Florence Leclerc, introductions from the Student Success Team and the First Year Directors Emmanuel Cohen and Francesca Bonesio.
This year, Student Success tried something a little different to usual and held a Mentimeter Quiz session for the students: an ingenious real-time, interactive way to get a sense of our new cohort. From favourite TV shows through to hopes, dreams, aspirations and the ideal internship placements, students were able to anonymously share their answers for the whole room to see. Funny, enlightening and galvanising, these answers made it abundantly clear that everyone is in the same boat.
After a very delicious and leisurely buffet lunch in the INHA halls (thank you, Karen!), the students headed off to the St Roch campus for some introductory workshops and Florence Leclerc, Virginie Grillet, Mike Fakih and Loren Ringer met parents and families at INHA for Parents Orientation.
Wednesday was a continuation of introductory workshops led by staff and faculty at the St Roch campus. These session were specifically focused on the practicalities of working and interning whilst studying. From the logistics of health insurance and immigration through to meeting the Career Development and Internships team, the students got the whole morning to get their head around the steps needed in order to work and intern in Paris.
After lunch we took a leisurely walk through downtown Paris (Jardins des Tuileries, Le Louvre…) to the Bateaux Mouches for an afternoon tour along the river Seine!
Thursday started off with our Intercultural Activity workshops. With over 45 different countries represented by our students, it is vital to Parsons Paris to establish a strong culture of inclusivity and on-going open dialogue. Students worked collaboratively with the Student Services Team – Laetitia and Geoff, met with guest speaker – Grace Ly – then had a session with Director of Student Support and Crisis Management, Fabienne Maitre, and the Student Government Team to discuss scenarios and how to problem solve these. Emmanuel Cohen then introduced and led a discussion group around the Parsons Paris' Community Agreements.
The afternoon was hot, sunny and perfect for a lunch on the riverside. We were lucky enough to have this wonderful event organised and hosted by Karen Decter – Parsons Paris' Administrative Services and Events Manager. Students had the opportunity to relax, get to know one another better and play some afternoon bingo hosted by Karen herself along with one of our current students. After winning some spot prizes and indulging in some delicious, Parisian desserts the students headed off into the city to enjoy Paris.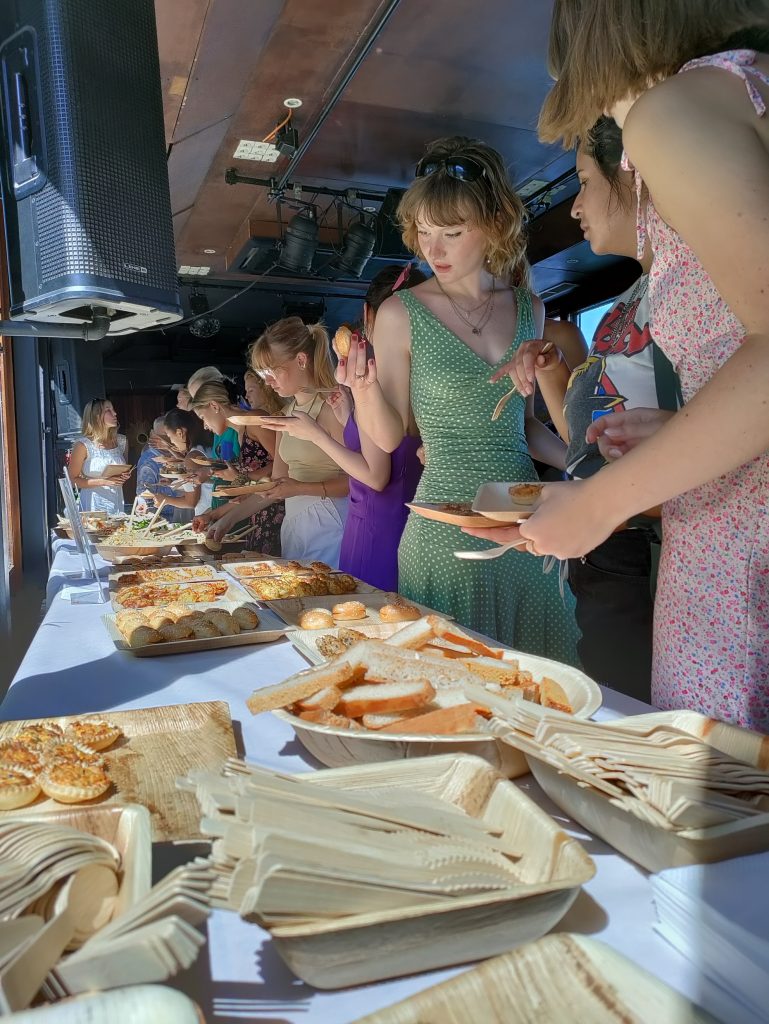 Friday took us to the glorious and palatial gardens of Versailles. A private bus took everyone across Paris (passing some of Paris' most famous landmarks) to this historical palace, just in time for lunch and a boat ride in the gardens. The morning had started off cloudy and cold but by the time we reached the gardens, the sun had come out and our students were able to soak up the sun and some essential French history. On the way back to St Roch, we were even treated to a bespoke tour from Laetitia (our resident Parisian). The perfect way to finish the week!
We would love to say a huge thank you to everyone who organised and participated in this fabulous orientation week, particularly Fabienne and Karen who went above and beyond to make it all happen! What a brilliant start to the academic year.