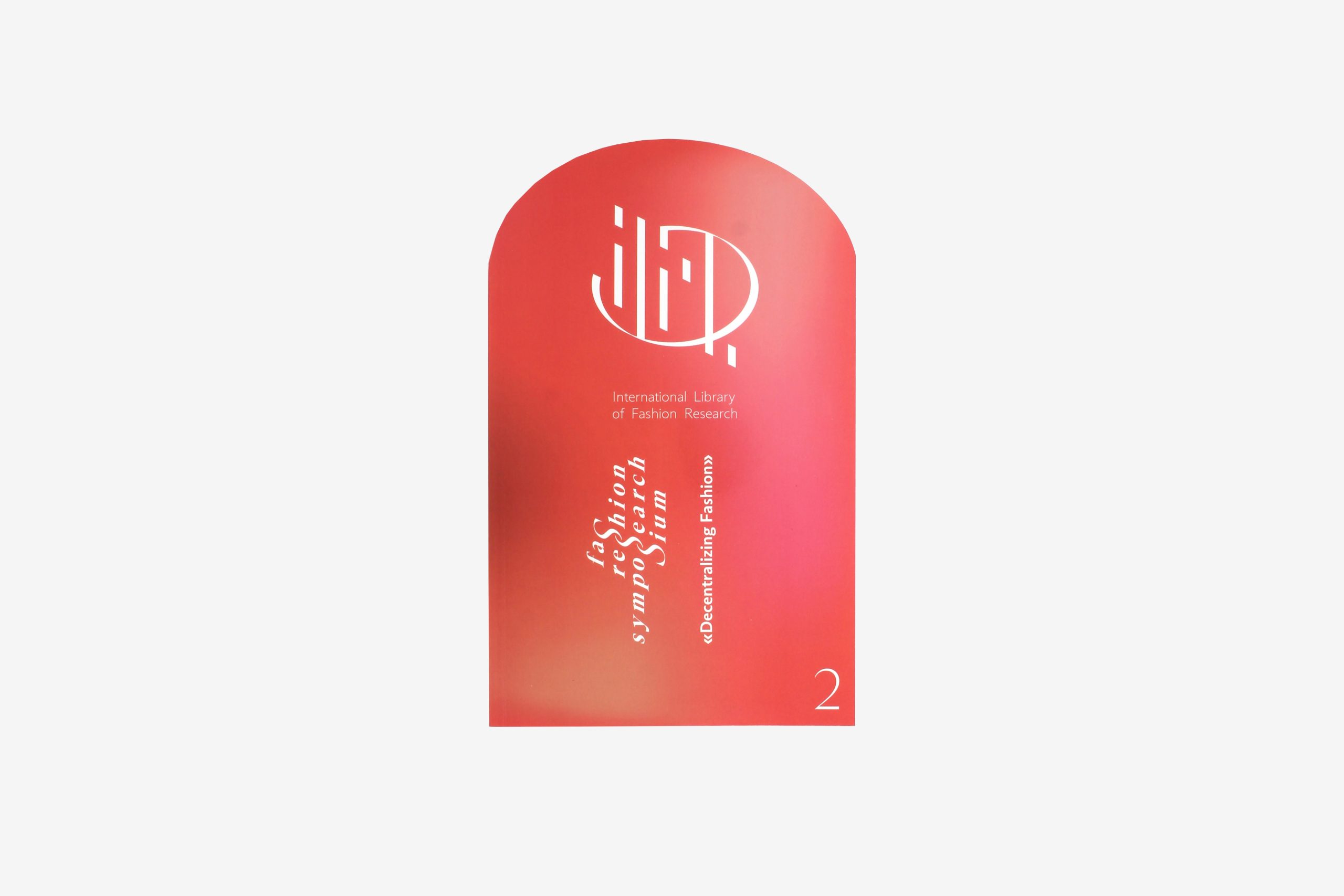 "Decentralizing Fashion", ILFR x MAFS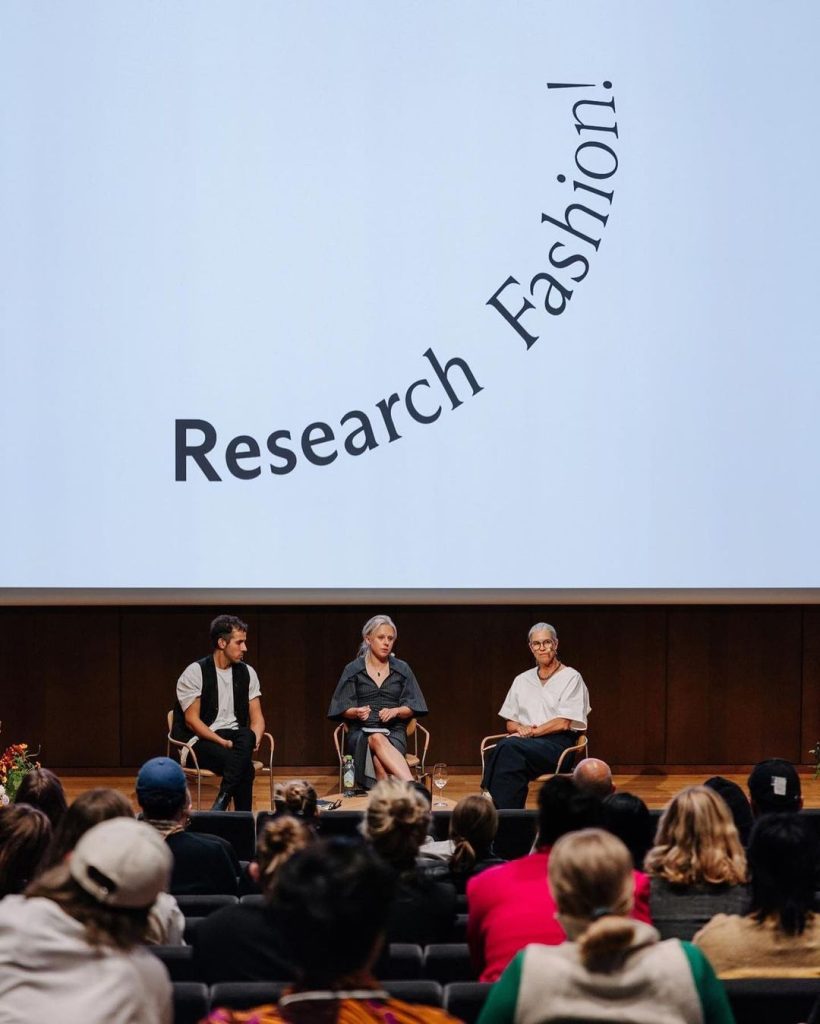 On the 2nd and 3rd of September 2022, the International Library of Fashion Research hosted its inaugural symposium titled 'Decentralizing Fashion' in Oslo, co-organized alongside the National Museum of Art, Architecture and Design of Norway. Many figures from the academic field including Marco Pecorari – MAFS Program Director, but also from the publishing and design industry, were invited to speak and give their perspective on the topic. These discussions were then transcribed and collected in a publication that was co-edited in collaboration with the MA Fashion Studies at Parsons Paris, out now via KD Presse.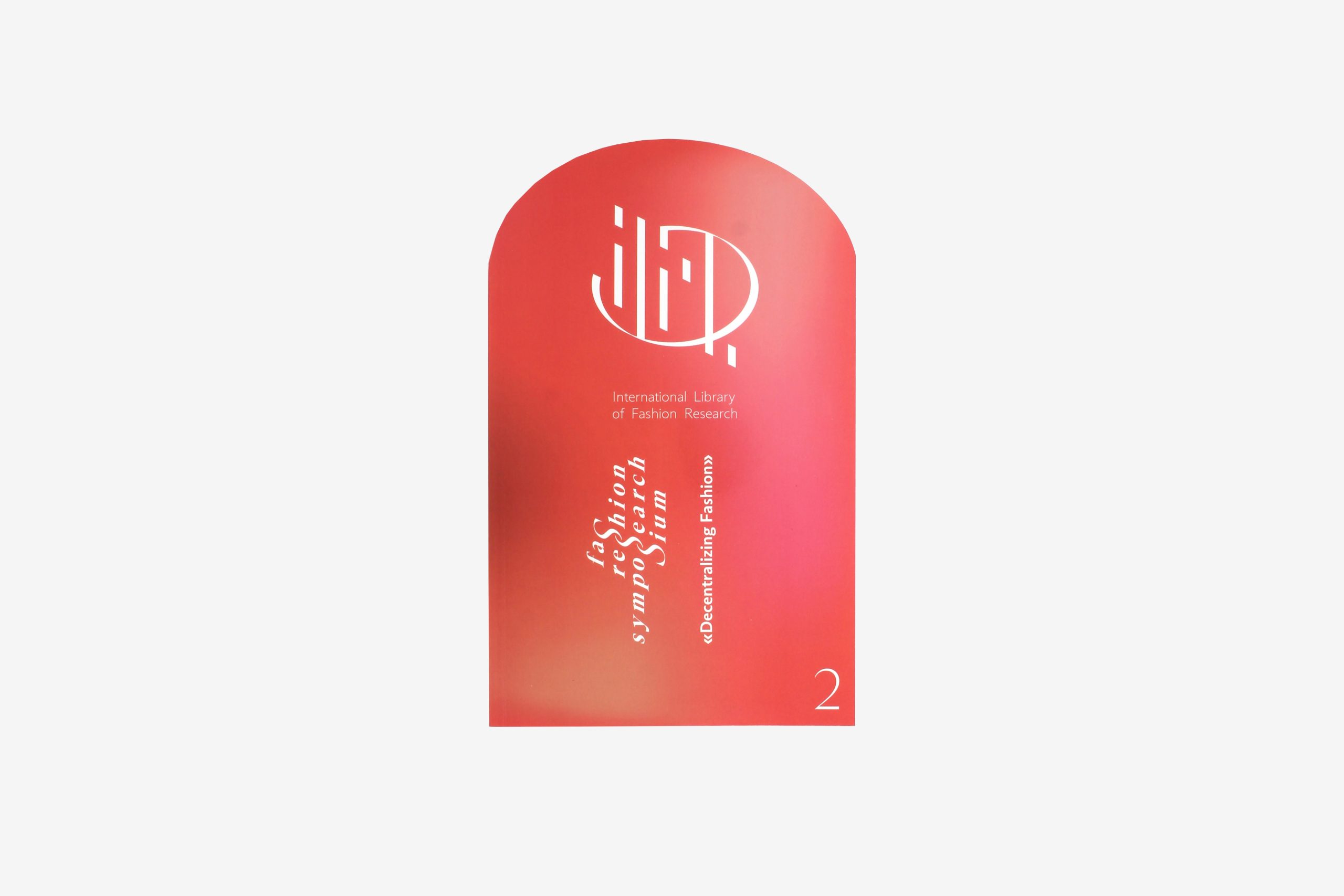 On this occasion, the MAFS students were asked to contribute to this publication by collecting a series of quotes that, in their perspective, would speak for a practice of 'decentralization' in the fashion field. In addition, the Parsons Paris librarian Ilaria Trame made a selection of books and magazines from the collection of the school library that could enrich, visually and conceptually, the discussion regarding decentralizing fashion. All these contributions are now also on display until the end of the semester in the Parsons Paris front window.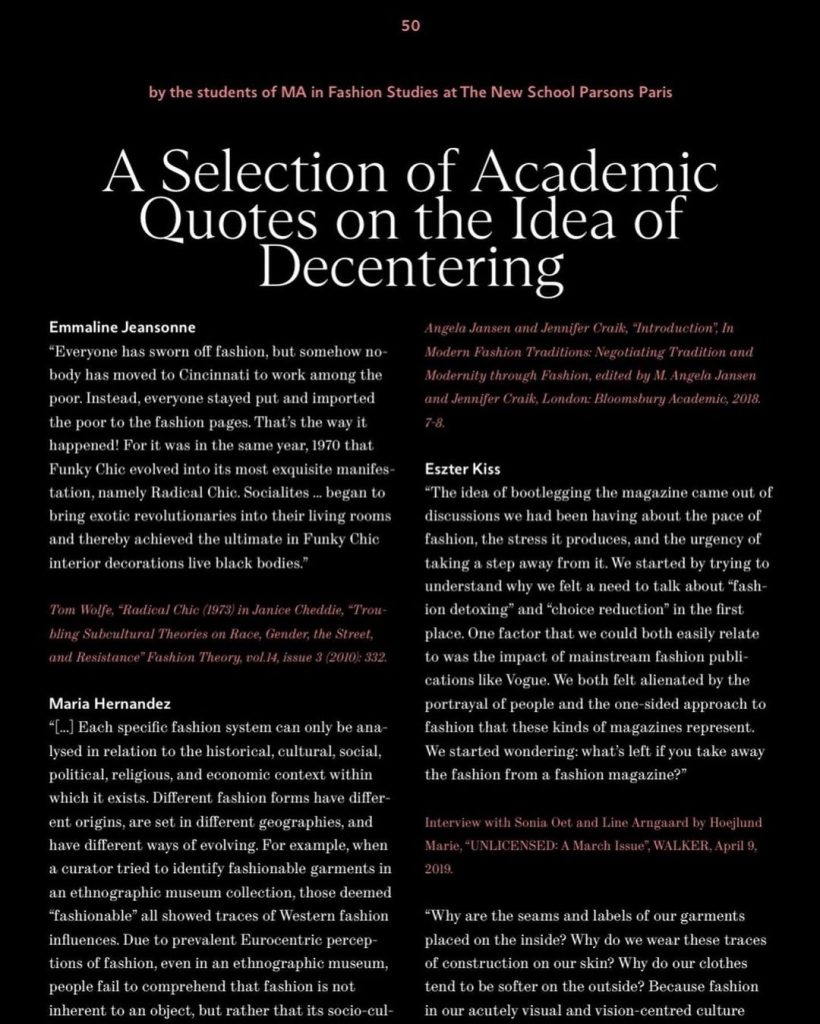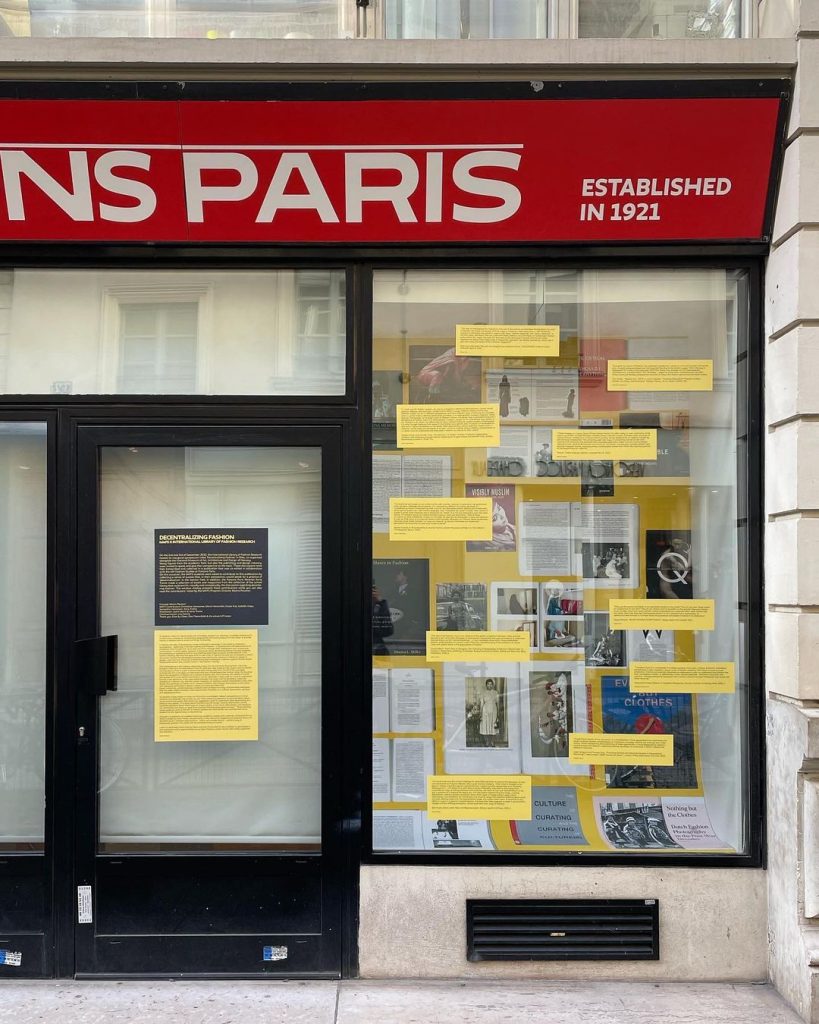 Here is an extract of Marco Pecorari's introduction to the publication:
To decenter means to dynamically and constantly question our positions, privileges and visions. It is more than a simple act of rethinking geographies and moving away from the center. It actually means to displace and re-orient our focus. Constantly.
In fashion, the idea of decentering carries ambivalent meanings. In the industry, it became synonymous – especially in the late Eighties and Nineties – to globalization and delocalization of production from Europe and US to Asia and Africa through labor exploitation and conspicuous consumption. In recent years, however, a discourse about decentering fashion has also explored the possibility of unmaking fashion and reverting hierarchies of power and dominance in the fashion industry. Not only this gave birth to new cities of fashion but also has stimulated a critical discussion against the stereotypical powers exercised by the industry in relation to issues of gender, class and race. Practices of decentering have stimulated a reaction against female abuses, institutional racism and colonial control in the fashion industry.
This ambivalence is still relevant, especially today. On the one hand, the economic crisis has brought a new form of centralization that, for example, sees many brands, buyers and journalists moving back to Paris in order to economize both money and time. The PFW has now been transformed into a ten days no-stop event that has cannibalized other fashion cities. On the other hand, the recognition of fashion as a creative industry and, more recently, the advent of COVID has pushed all of us to rethink how fashion can be subverted or even used as a tool for subversion, forcing a new definition of the relationship between the center and the periphery. Cases like Antwerp as a fashion city, and the current migration of creatives outside metropoli- tan cities, have shown the possibility to create micro-centres of fashion that propose alternatives to the values and ideologies performed in fashion centers like Paris and New York. Power hierarchies, pretentiousness, snobbism and privilege are today un- fashionable ideologies that are under-attack towards a new way to think of fashion as a cultural, identitarian, spiritual and aggregating force.
To decenter today means to move our focus from a privileged, Western perspective to a more inclusive and unbiased view of who we are. When exploring questions of race and black culture, social activist and author Bell Hooks has suggested a path to understand what decentering as a practice may signify. "It is [also] about transforming the image, creating alternatives, asking ourselves questions about what types of image subvert, pose critical alternatives, and transform our worldviews and move us away from dualistic thinking about good and bad." These inspiring words guide our work at the MA in Fashion Studies and have led the two contributions of our students to this Special issue on decentering.
Through a compilation of academic (and non-academic) quotes and a selection of books from our library curated by Ilaria Trame, we participate in this discussion suggesting to embrace the act of decentering as a constant daily practice – within and outside fashion – and as a way to perpetually question the center and its inevitable forms of control.
I want to personally thank Elise by Olsen and Else Thorenfeldt for the invitation to participate in this publication and a special thanks to our Dean Florence Leclerc-Dickler who kindly supported this initiative.
Window display credits
Concept: Marco Pecorari
MAFS Contributors: Emmaline Jeansonne, Maria Hernandez, Eszter Kiss, Isabella Volpe, Samantha Hartmann, Ilaria Trame
Installation: Justin Morin & Ilaria Trame
Communication: Lisa Sarma
Thank you: Elise By Olsen, Else Thorenfeldt & the whole ILFR team