Exclusive Visit of La Galerie Dior
On Friday 18th November 2022, 10 of our students were lucky enough to be taken on an exclusive visit of La Galerie Dior. This incredible opportunity was orchestrated by Virginie Grillet and Alisa Volskaya, CEO of A.V.E.C. PR agency + Parsons Paris board member. Read on to see what our students thought…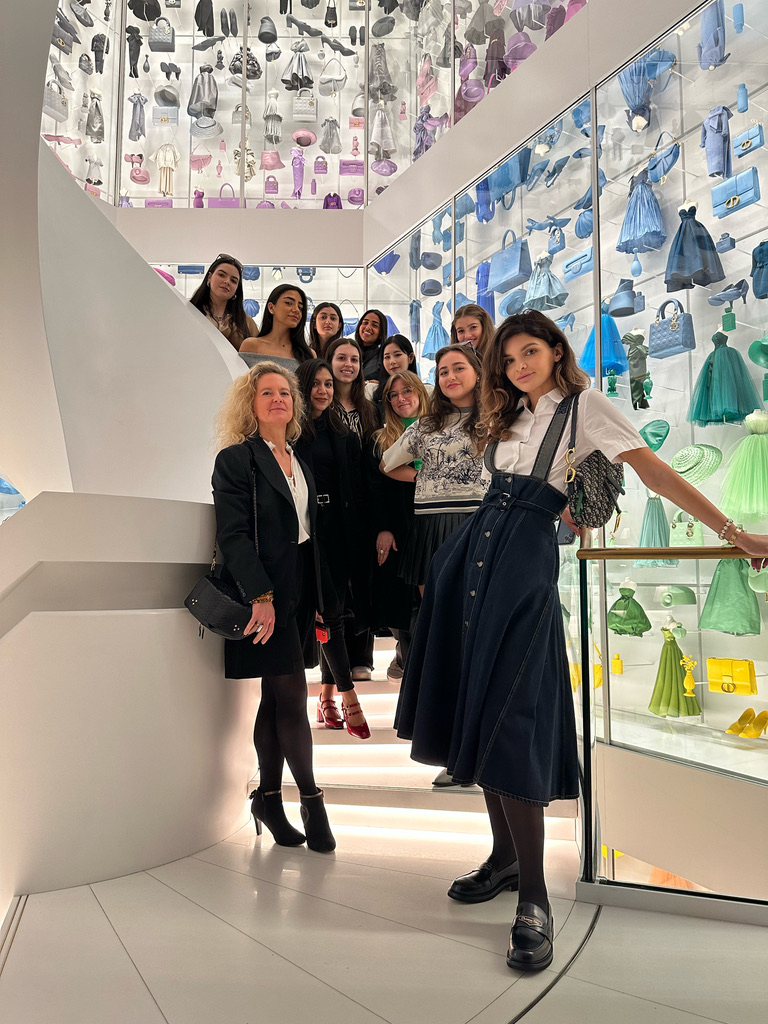 "Visiting La Galerie Dior was such a privilege! As students in Paris, it's important to take advantage of a city full of resources and we're so grateful to Parsons and to Alisa Volskaya of AVEC for coordinating the perfect opportunity to do so! As Masters of Fashion Studies Y2 students, this was a great experience to not only enjoy the beautiful fashions of Dior, but to really learn more about the construction of French heritage, private museums, and exhibition practices.
We were so inspired by the garments themselves and the spaces. The spaces consisted of thirteen rooms that embodied the history of Dior. We were lucky enough to receive an introduction by the Head of La Galerie Dior, Olivier Flaviano and have a private tour given by Amelie LEMARCHAND. She walked us through every room and explained the narrative behind garments and the process behind the exhibition choices. One room included the absent body mannequin technique for some of the garments. Another displayed draped toiles to demonstrate the process of design. Our favorite room by far was a peek into the original atelier Monsieur Dior worked in! No spoilers allowed, so we definitely recommend that everyone makes a visit and stop by the cafe on the way out!
A huge thank you to everyone involved and especially to Alisa who took extra time to connect with each of us personally."
Lori SOFIAN and Antoinette ALBA, FST MA '23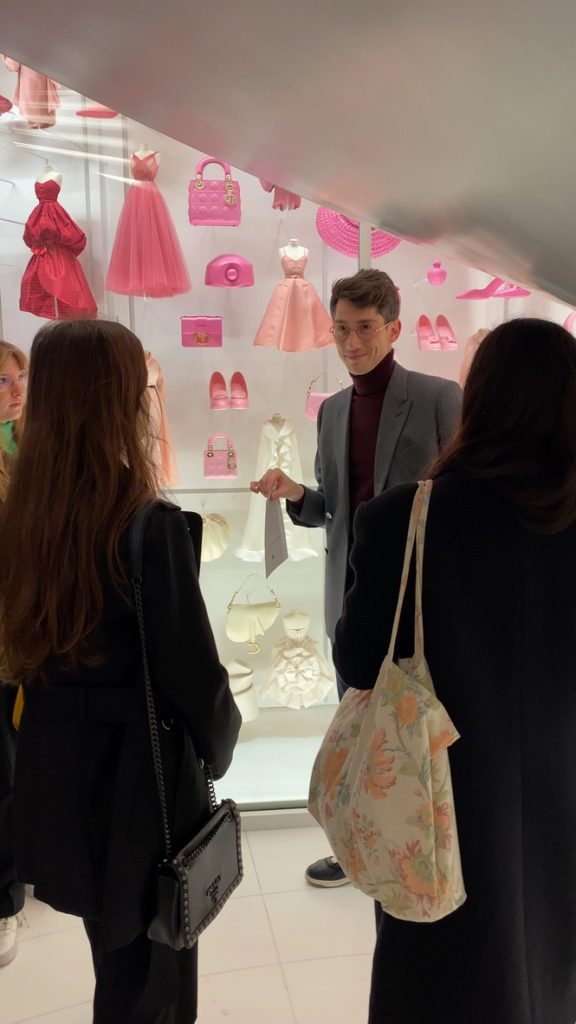 "La Galerie Dior, situated on 11 rue François 1er, exclusively opened its doors to 10 Parsons Paris students. We were warmly welcomed by the Head of La Galerie Dior, Monsieur Olivier Flaviano, who gave us a brief, yet eloquent introduction on this new Parisian wonderland. Spiralling stairs, descending past multi-coloured displays of doll-sized Dior designs through-out the decades, passed from black through to white, and every colour in between. Right from the start, it was certain that this was going to be a Dior experience that would take our breath away.
Each room was devoted to the designer's personal and professional history. Many beautiful dresses, his office which was untouched and deeply nostalgic and just next door, a glass floor where just below your feet was a recreation of the old model cabin, the backstage space where mannequins would dress before a show. Petticoats and gowns were placed on hangers and racks – you could half expect to see the ghosts of Bettina and friends rushing in at any moment…
We were guided into all 13 rooms of the museum, listening to the extraordinary history of one of France's most legendary maisons de couture, from its founding by namesake Christian Dior in 1946 through to the present day. Taken by one heart-stopping dress after another the exhibition came to an end, La Galerie Dior had a truly otherworldly feel. Inspiring and head-spinning in the best of ways!"
Noran MEDHI ABDULLA AGEEL, SDM '24