Alumni Talk – 'How Did I Find My Job'
Written by Iman Salem AMT'23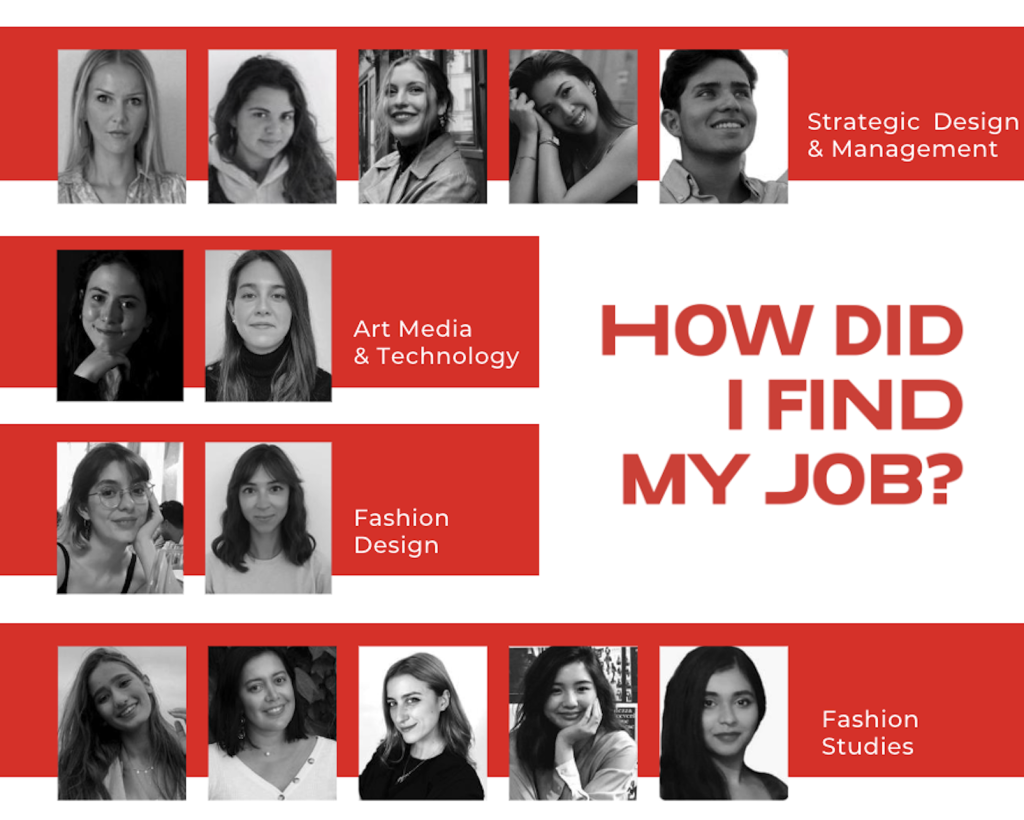 On November 21st, current students at Parsons Paris reunited over Zoom with Parsons alumni for the talk "How did I find my job?". After a quick introduction from our alumni, students were divided into breakout rooms based on their major which allowed them to have a more first hand interaction with alumni.
The most frequent question that came back during the talk was how do you present Parsons Paris and the program you study in. All answers were about adaptability. Parsons offers such a broad range of skills, techniques and possibilities for students that it's important to create a hierarchy of these skills and interests depending on the people you're talking to.
The SDM breakout room answered questions around the NYC mobility program, skills to learn, classes to take etc… However, all three SDM alumni agreed on the power of LinkedIN and insisted on approaching people despite the fear of rejection and building a consistent network. Azul Diaz Parsons NY'18, project manager at L'Oréal, Michelle Rios SDM'21, production manager at Diggers Factory, and Valeria Torres Rodriguez SDM'20, social media manager and content creator, shared with current students the keywords that are necessary in orienting your career path and finding the right positions for you. Moreover, they put forward the advantage of being a business major in an art school that shows your creative side which highlights even more the edge of Parsons.
One of the many lessons fashion students learned from alumni: Camila Abisambra FST'17, creative agent and producer at ARTISTRY, Noyonika Sircar FST'22, brand content junior at Publicis Luxe and Celine Hsu, communication coordinator at BYREDO, is that no internship is too small to get out there and reach out to the network Parsons provides for you. Whether it's through the "New School Network" or the friends and classmates you meet at school, you should explore all your options. Camila said that she found her job in Paris through one of her friends that recommended Camila as her replacement. This shows that friendships created in college get more meaningful when these friends become contacts in an industry or sector. They also advised to focus your energy on what you love and center your thesis around your professional and personal interests, for instance, Noyonika added that since she was very interested in magazine publishing she made sure to focus her thesis on that.
The AMT breakout room was full of contrast with freshly graduated Giulia Tacchi AMT'22 and Amanda Lewis AMT'18. It offered different perspectives that were both interesting and enlightening to current students. Giulia, who now works at Estée Lauder as a social media designer highlighted the many tasks and missions in which she uses skills such as graphic design and art direction. She insisted on the chance students have to have access to that many machines and techniques thanks to the tech lab and encouraged students to get familiar with them as they prepare to enter the work world. Along with Amanda who is the gallery coordinator at Galerie D, they covered what is essential to a portfolio, how to apply to art residencies, how to get a client base for freelance work and the communication of your thesis.
In the fashion design breakout room, the stage was given to Livia Schriber FD'20 and now junior designer at Isabel Marant. Sharing her job experiences clarified questions around work culture, relationship between colleagues and employees and ethics of the industry, she noted that with working in fashion comes great density. After clearing the misleading stereotypes of the designer job and reassuring students, Livia followed by highlighting how significant it is to brand yourself and know how to present yourself well even if you are not working for your own brand. Concerning finding a job and application process, she recommended to customize and strengthen your application.
Overall, the alumni panel allowed not only for students to get extended knowledge about the work world but also allowed alumni to practice presenting themselves and gain confidence. Within the Parsons community, alumni are an asset and with students they constitute a diverse and abundant network.