Meet Lisa Sarma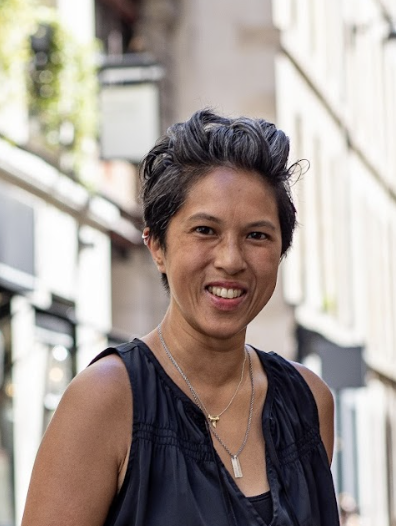 What do you do at Parsons Paris?
As Director of Communications and Marketing Initiatives, I work on a range of subjects including managing our website, blog, and social media platforms; developing photo and video content; and documenting the student experience. I love that I get to work transversally across all Parsons Paris teams, from the academic programs to Student Success, Careers, Admissions and Tech.
How long have you worked at Parsons Paris?
Since 2018
Your nationality?
American and French
How long have you lived in Paris?
Since 2005
What is your favorite thing about this city?
I love that I can walk everywhere and always feel like I'm discovering new things along the way.
Name one of your favorite places to eat near campus.
Omusubi Gonbei: My favorite is their spicy chicken onigiri! They're only 2.50€ each, so for 5.00€ you're full. It's takeout only, so on nice days I like to walk over to Palais Royal and eat there. Just plan around the lunch hour rush with a huge line along the sidewalk.
What is your favorite arrondissement and why?
I've lived in the 2nd arrondissement since 2006 and love it there. It's central without being too touristy, and connected to major metro lines which makes getting around easy. I love the "small town" feel of my particular area: I've been seeing the same friendly faces at neighborhood businesses for years, and am always running into people I know in the street.
Name is your favorite cultural spot(s) in Paris.
I love live performances, and have a soft spot for musicals, and in Paris there are tons of beautiful venues with so much choice for shows to see. I saw Singin' in the Rain at the Grand Palais (when the Théâtre du Châtelet was showing there in 2017), Varekai – Cirque du Soleil at Accor Arena, Romeo and Juliet and Mamma Mia! at La Seine Musicale, and Chicago and Grease at Theatre Mogador.
Who is your favorite musician/band? Favorite album? (It can be French, but does not have to be!)
The music I like totally depends on what I'm doing… I listen to electronic for running and working out (Maceo Plex), 80s/90s hip hop for apéros and dancing, on relaxing days I look for something more mellow (Cigarettes After Sex), binaural beats for working and meditation, and I go for folk / pop rock / country when I'm learning songs on the guitar.
In terms of French music, I have Ben Mazué's "Paradis" album on repeat at the moment.
What is your favorite activity to do in Paris?
I started boxing last year and am addicted! It's the first time I have the real "pushing my limits" feeling and have (almost!) gotten over my fear of getting punched in the face.
Do you have a secret tip/advice/spot to share with new visitors to the city?
This is totally not a secret, but I think everyone should go for a walk or run on the quais de la Seine… you pass by so many beautiful bridges, monuments, and parks, and it's calming to be next to the water. Plus it's very central, while far enough from traffic that you don't feel the car pollution.
Last year, the Tuileries tunnel was transformed into a street art "gallery," which makes for a nice, constantly evolving distraction while running through it; and thanks to the new lighting it no longer has that creepy horror movie feeling it had previously.