Internship Testimonial – Grafikmente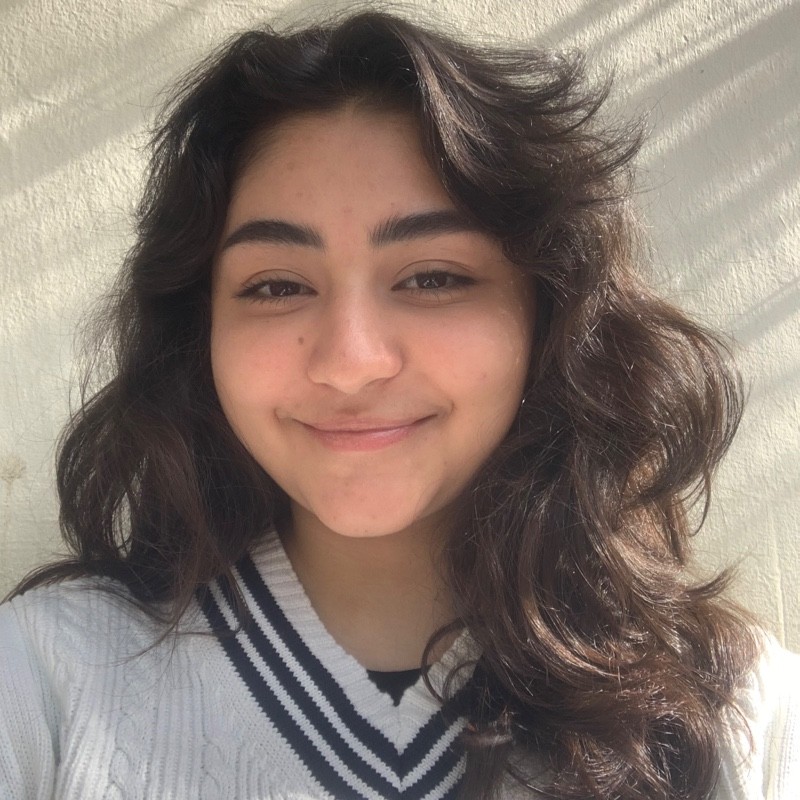 This summer Art Media and Technology student, Rita Saliba, had the opportunity to intern with Paris-based print and communications agency, Grafikmente. Discover the journey she took through this incredible learning experience.
In the summer of 2023, specifically during the month of June, I had an incredible opportunity to be a part of Grafikmente, a print and communications agency. This internship was particularly special for me as it was my first experience of its kind in Paris. Comparing my time at Grafikmente with my previous internships at marketing agencies, I noticed a significant difference in the level of professional treatment and support I received. The person mainly responsible for guiding me at the agency was Mme Arancha Vega, a highly organized director with extensive experience in the luxury sector. She has worked on numerous print projects, particularly for Louis Vuitton, including designing invitation cards, book covers, and packaging boxes. Not only is she exceptionally talented, but she also treated me with great kindness and care during my short month at Grafikmente.
The team at the agency was composed of remarkable individuals who constantly checked up on me, provided valuable advice to improve my work before presentations, and took an interest in getting to know me and my hobbies outside of work. I always felt included in their discussions and meetings, with them seeking my opinion and asking how I would approach specific design projects. It was a truly collaborative and supportive environment.
My main responsibilities at the agency involved creating animations, storyboards, and visuals for brands looking for videos and prints for their upcoming releases, such as a Christmas-themed video, for instance. I had the opportunity to showcase my storytelling skills and develop unique narratives that aligned with each brand's identity. It was incredibly enjoyable to work with such a diverse range of brands under one roof.
One notable experience was working with the Hotel Mandarin Oriental Paris. I had the chance to attend discussion meetings held at the hotel with their marketing department. During these meetings, we shared a storyboard I had worked on, allowing them to review the concept and request any necessary changes. It was a fantastic opportunity to witness firsthand how the exchange of ideas takes place with the brand itself and to also have the pleasure of meeting several members of the hotel's marketing department. During this meeting, Mme Arancha Vega, who supervised my work at the agency, didn't overshadow me but instead expressed to the marketing department that the presented work was my idea. I felt an immense sense of pride in that moment and truly felt involved in the project both within and outside the meetings.
Another project I thoroughly enjoyed working on, and one that remains a personal favorite, was for the chocolate brand Alléno & Rivoire. They were planning to open a new store in Paris and required prints for their posters. I had a great time delving into their close-up pictures of chocolates and developing stories based on each unique piece. Here are a few examples of my work I did on photoshop, adding little characters and envisioning scenarios: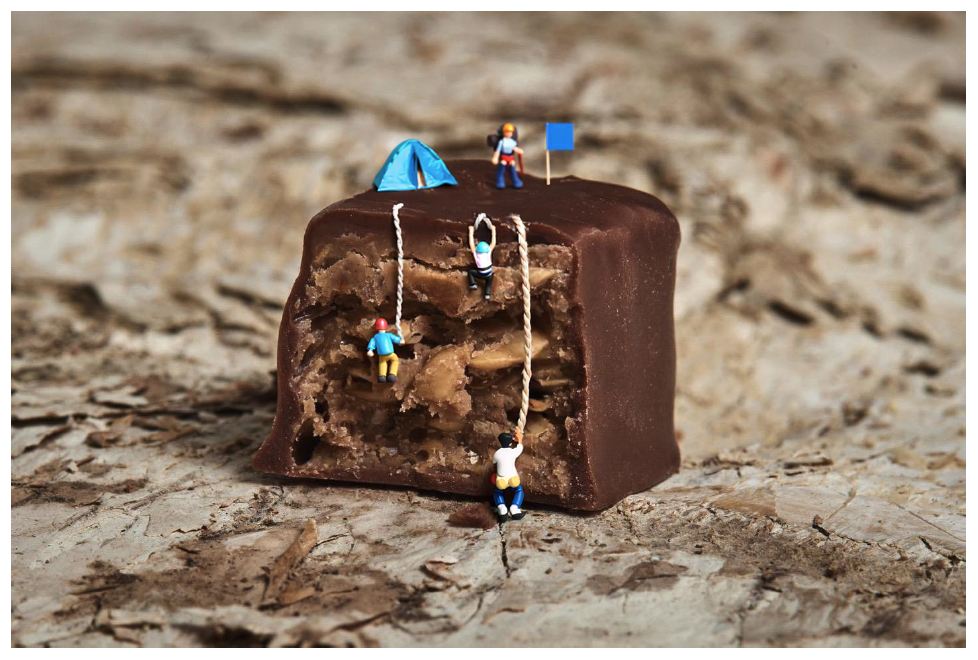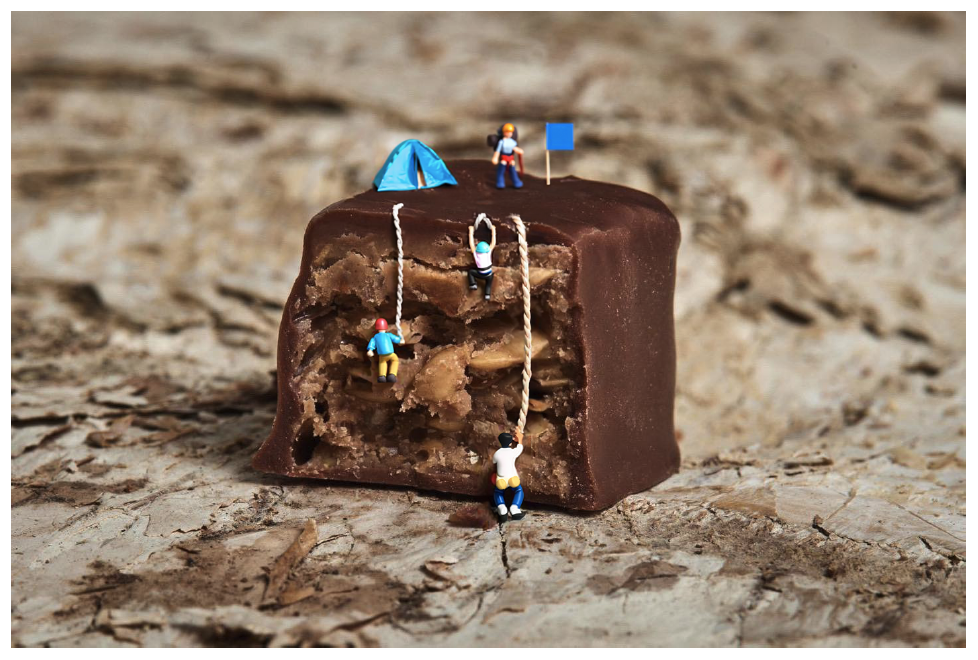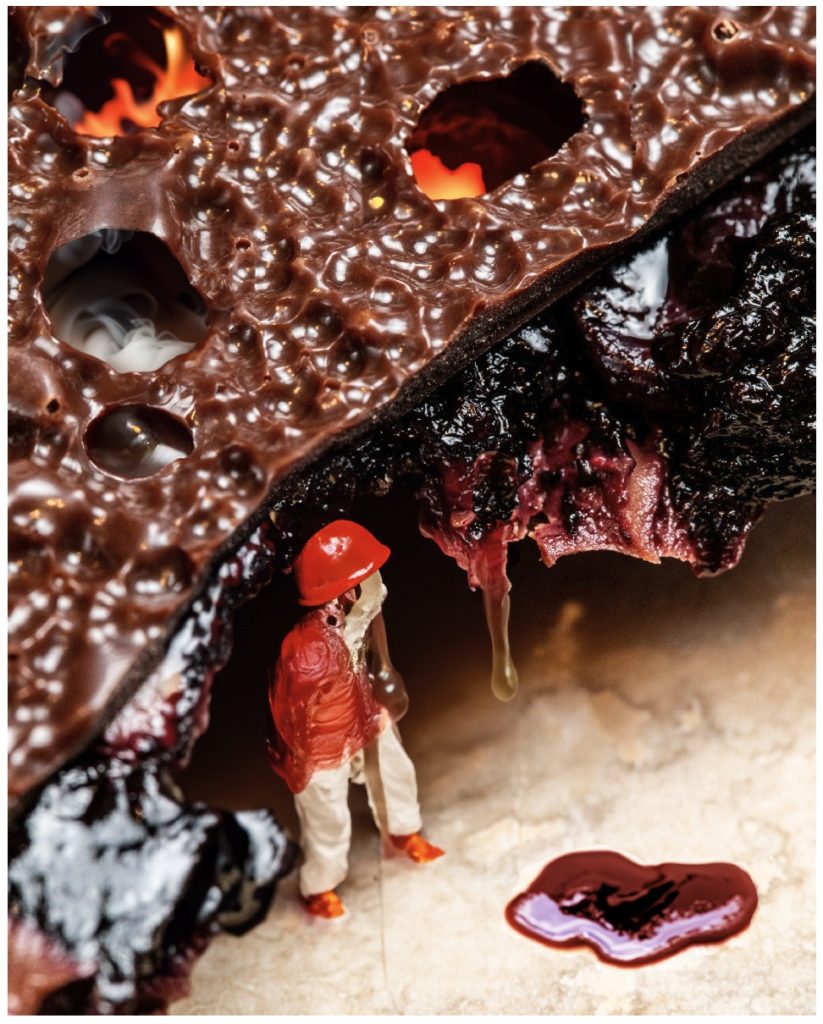 My experience at Grafikmente left a lasting impression on me. It provided me with valuable insights into the world of luxury and deepened my understanding of the relationships between agencies and the brands they collaborate with. I also learned to navigate and overcome challenges that arise in such environments, including misunderstandings, failed projects, and the investment of many days of work on a project only to have it rejected. Importantly, I discovered that working independently in such a setting is not feasible; seeking the assistance and advice of others is essential. It was fascinating to hear the perspectives of my colleagues, particularly because I had the least experience among them, and their feedback was invaluable to my growth.
On my final day, Mme Arancha Vega organized a farewell lunch for me. She wished me luck for my upcoming exchange year at Parsons New York and also celebrated the successful project of another intern. Her generosity and kindness deeply touched me, and I will definitely stay in touch with her as she played a significant role in making my experience at Grafikmente a resounding success.