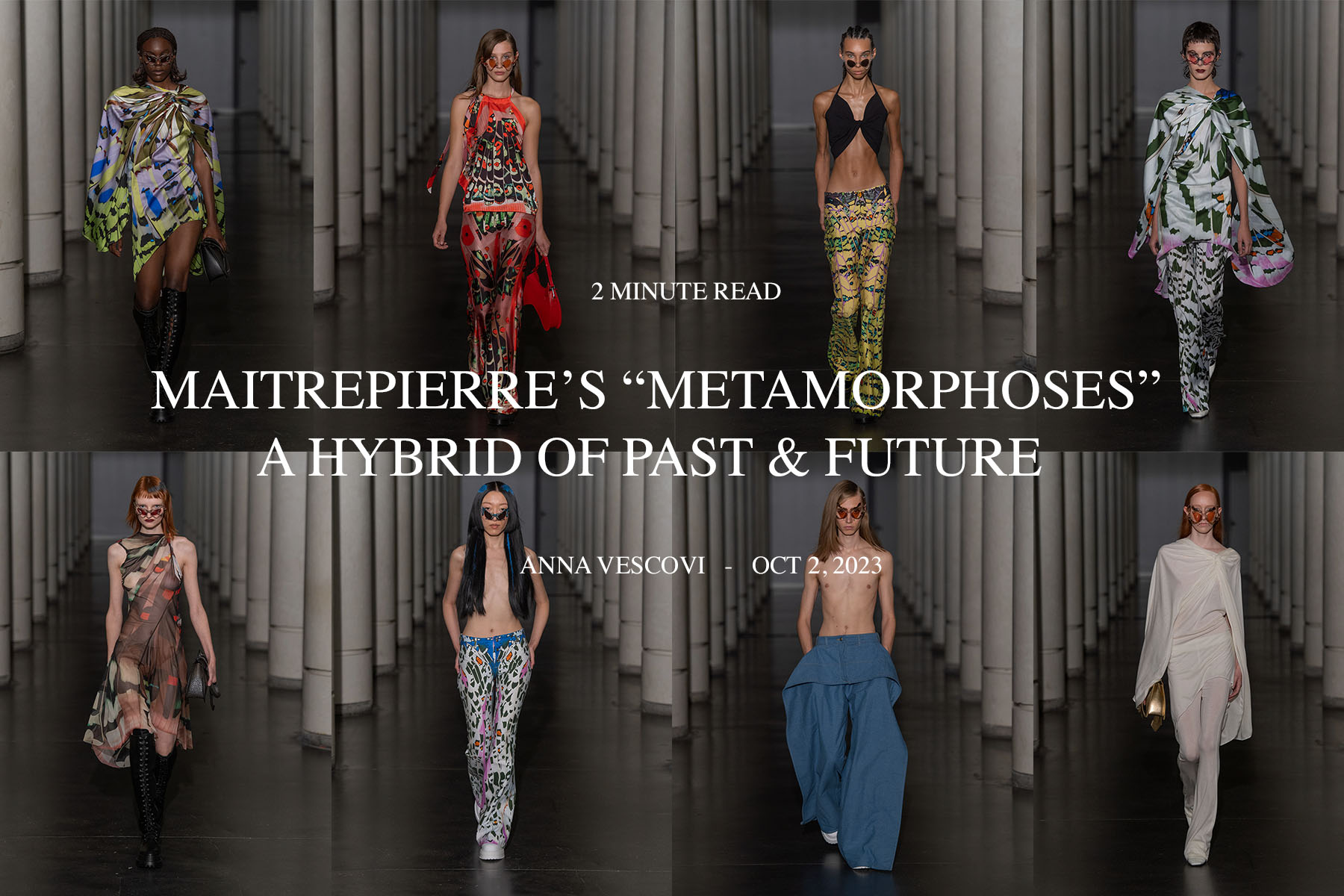 PFW Review – Alphonse Maitrepierre "Metamorphoses" SS24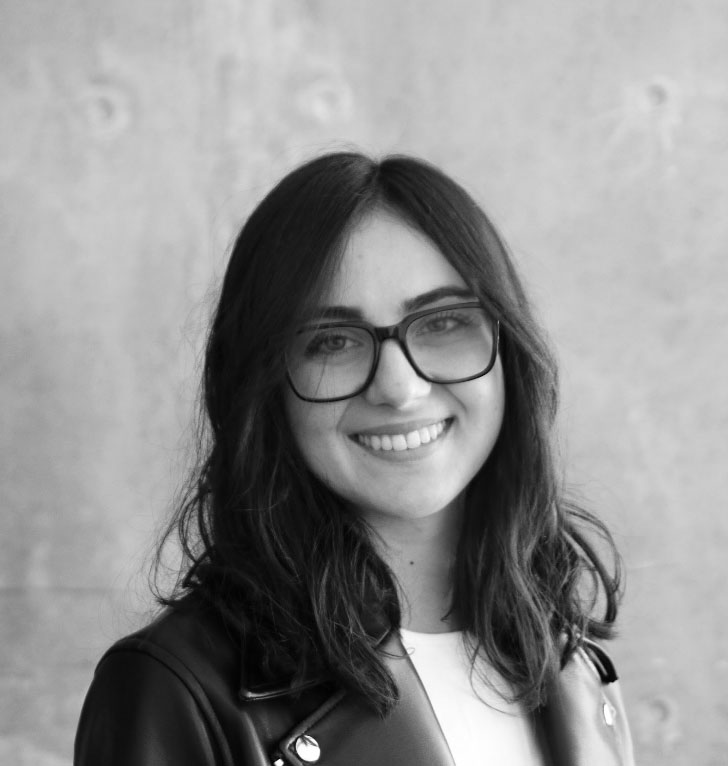 by Anna Vescovi
MFA Fashion Design & The Arts, 2025
The cinematic aura of the show's closing was unforgettably sentimental as if transcending into an alternate universe.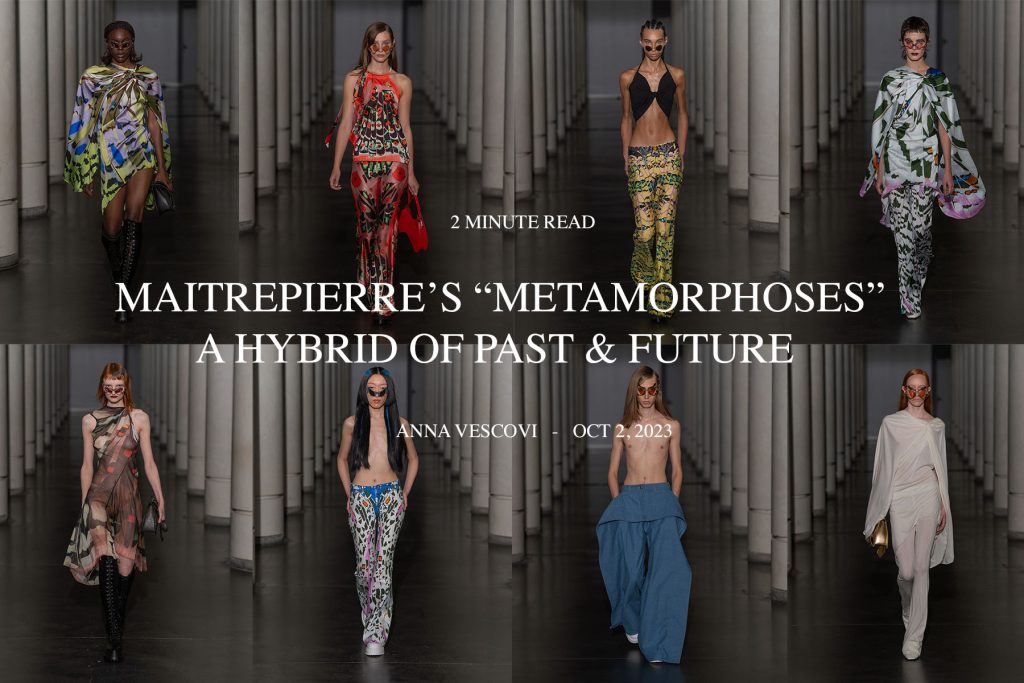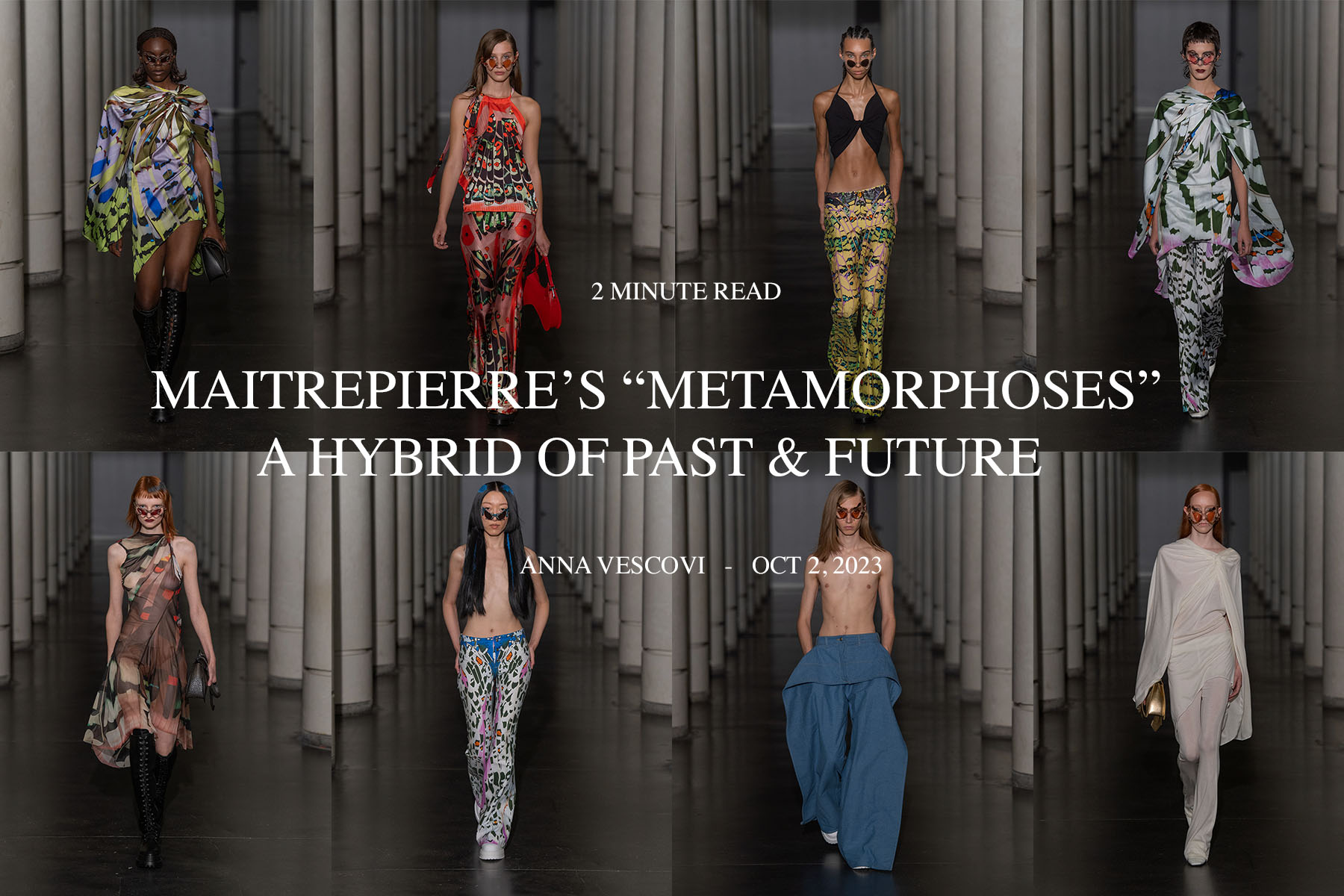 ALPHONSE MAITREPIERRE'S "METAMORPHOSES"
THE SS24 COLLECTION – A HYBRID OF PAST AND FUTURE
Alphonse Maitrepierre's latest SS24 collection has struck a chord between a futuristic paradise and nature's complex cosmos. The Paris Fashion Week lineup consists of 33 complete looks ranging from bold utopian silhouettes to intricately printed fabrics constructed with exquisite technical complexity.
In 2016, Maitrepierre graduated from Brussels' La Cambre with a degree in Fashion and Visual Arts. He began his professional career as an assistant stylist to Jean Paul Gaultier Haute Couture and departments of Chanel and Acne studios. Two years later, he officially launched his Paris-based RTW label, swiftly recognized through press and internationally acclaimed awards such as the 2020 Yinger Prize and coveted Paris Prize for "Emerging Brand."
Jean Paul Gaultier's Hollywood-infused collection was one of the first runway shows which piqued Maitrepierre's interest in haute couture. His present-day expression derives from cinema's paradisal characters and fantastical plots. Each designed collection is curated with storytelling in mind, merging his visionary fantasy land with exceptional compositional detail.
This season's venue welcomed a star-studded presence of celebrated stylists, a-listers and press for the anticipated showing of the SS24 collection. The excitement behind Maitrepierre's new vision is a result of his celebrated genius amongst industry aficionados from global celebrities to young design students. 
"METAMORPHOSES'" collaborations and upcycling initiatives remain a core aspect of collection development. Textiles are often sourced from designer fabric waste centers where forgotten materials are granted a second life. His consecutive collaborations with Parisian material recycling center, Le Relais, continues to put discarded bed sheets and linens to use.
The collection's futuristic eyewear was designed in collaboration with La Cambre masters graduate Clara Besnard and Brussels-Based Bidules Eyewear. The whimsical metal frames and oblong lenses reference Y2K infusion with a touch of polished futurism. The meticulously crafted accessories paired effortlessly with the collection's sleek silhouettes and neoteric textures. Models sported new renditions of the brand's iconic Manette and Diablo clutches, now reimagined in new colors, silhouettes and finishes which will soon be available for purchase.
METAMORPHOSES' sophisticated application of surface innovation pulls reference from nature's bounty. Pleats, butterfly prints and textured leather are referenced as core notes throughout the collection's entirety. This season's lineup incorporates 12 jewel-tone looks amongst a palette of black and earthen hues. Maitrepierre's curated application of color is distinctly bold, strategically balanced by natural textures and elegant draping. Low-rise pants, halter cuts and asymmetrical hemlines mark another nostalgic homage to references of the early 2000s. The fusion of juxtaposition between past and future eras has become a recognizable staple of the brand over recent seasons.
The show closed with a breathtaking cameo from opera singer Dima Bawab who drifted slowly into the glow of a warm spotlight as the acoustics from the venue amplified her voice. The cinematic aura of the show's closing was unforgettably sentimental as if transcending into an alternate universe.
In pulling from such cinematic ingenuity, "METAMORPHOSES" has accomplished yet another enchanting lineup which pushes boundaries of conventionalism in a way which has become, and will continue to be, distinctly Maitrepierre.