Category

| Parsons School of Design
RSS feed for this section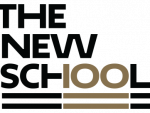 The New School today announced the public phase of its New Century Campaign, the largest campus-wide fundraising effort in its history. The university has set a goal to raise $250 million to mark The New School's Centennial anniversary as a dynamic center for scholars, artists, and activists.
Media Contacts
FOR IMMEDIATE PRESS INQUIRIES:
Amy Malsin
Senior Director, Communications and Public Affairs
212.229.5667 x3094
malsina@newschool.edu
David Koeppel
Associate Director, Communications
212.229.5667 x3794
koeppeld@newschool.edu
Will Wilbur
Manager, Communications
212.229.5667 x3990
wilburw@newschool.edu
Merrie Snead
Manager, Communications and Community Relations
646-909-4684
sneadm@newschool.edu
For all general inquiries, please call 212.229.5151 or email communications@newschool.edu.
OFFICE
Marketing and Communication
79 Fifth Avenue, 17th floor
New York, NY 10003
212.229.5151
Communications@newschool.edu
Categories
Archives
In the Headlines
Katya Ekimian, BFA Fashion Design '21, designed a dress for the Met gala (The New York Times)

A study by NSSR/Milano faculty member Darrick Hamilton sheds new light on America's racial wealth gap (Think Progress)
A study by NSSR's Shai Davidai confirms that you're really going to regret not chasing your crazy dreams (Inc.)

Susan Rubin, Illustration '82, is an accomplished pet trainer, and gives her recommendations for a healthier life for senior dogs (Consumer Advocates)
Alexandra Délano, chair of Global Studies, penned an op-ed on how the Mexican government supports its 'migrant heroes' while shunning individuals who are deported back to the country (The Los Angeles Times)