Home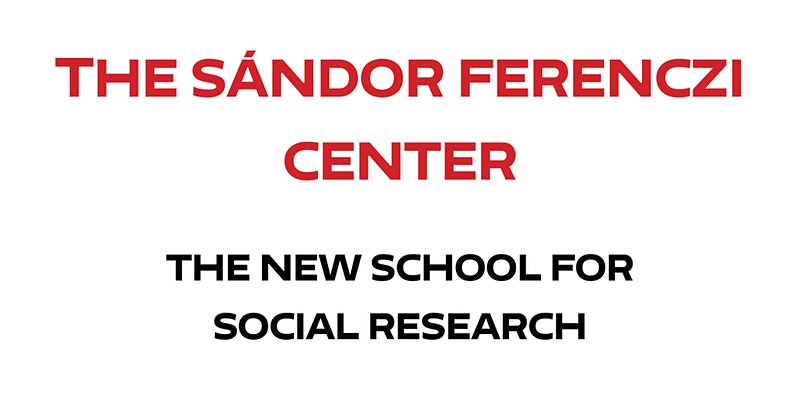 ---
---
2021 Symonds Prize
Studies in Gender and Sexuality: An Interdisciplinary Journal
Submissions Deadline: November 1, 2020

Studies in Gender and Sexuality, thanks to the Alexandra and Martin Symonds Foundation, invites submissions to its annual competition for the best previously unpublished essay on gender and/or sexuality.
Studies in Gender and Sexuality is one of the leading journals in the transdisciplinary field of gender and sexuality studies. Situated at the interface of psychoanalysis and social/cultural theory, it aims to further our understanding of how we live, theorize, and transform gender and sexuality.

The essay may engage clinical, critical, empirical, or theoretical questions that relate to gender and sexuality, in particular in the context of contemporary struggles and crises. The writer may be new or seasoned. The topic may be cutting-edge or venerable. We welcome essays that vary in form and content, including transdisciplinary work.
Submissions will be judged by members of the Editorial Board. The winner will receive $500, and the essay will be published in SGS.

Now in its 20th year, SGS has continued to publish a wide range of critical perspectives on gender and sexuality. It has a particular (though not exclusive) interest in approaches that use psychoanalysis to complicate and deepen our conceptualizations of gender and sexuality, whilst using theories of gender and sexuality to complicate psychoanalytic theory and practice. In doing so, SGS opens debates about the tensions between subjective and affective life and social and political formations.
Submissions should be Word files and include an abstract. Send, with the subject line "Symonds Competition," to: SGandS@earthlink.net
---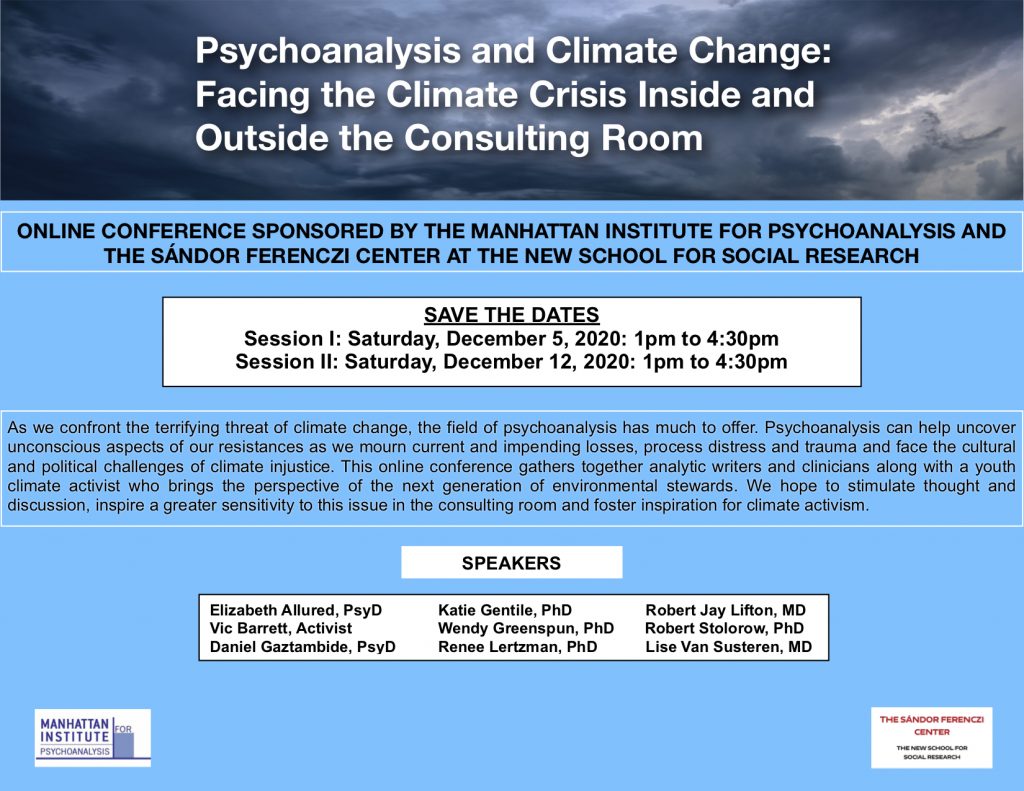 PSYCHOANALYSIS AND CLIMATE CHANGE: FACING THE CLIMATE CRISIS INSIDE AND OUTSIDE THE CONSULTING ROOM
AN ONLINE CONFERENCE SPONSORED BY THE MANHATTAN INSTITUTE FOR PSYCHOANALYSIS AND THE SÁNDOR FERENCZI CENTER AT THE NEW SCHOOL FOR SOCIAL RESEARCH
SAVE THE DATES
Session I: Saturday, December 5, 2020: 1pm to 4:30pm EST (10am-1:30pm PST)
Session II: Saturday, December 12, 2020: 1pm to 4:30pm EST  (10am-1:30pm PST)
We are besieged daily by images of fire, flood, and drought, by news of massive species extinctions and destruction of ecosystems, and by terrifying stories of displacement and loss. In our clinical work, we share this traumatic context with our patients and are profoundly affected, whether consciously or without awareness. Historically, psychoanalysis has struggled to integrate the social, the political and the clinical into our theory and practice. We have too often retreated in the face of massive social problems. We cannot let this happen in response to this existential crisis. This conference brings together clinicians and psychoanalysts who are actively engaged with the climate emergency, as well as a youth climate activist who represents the essential perspective of the next generation. We present this conference in order to explore the crucial role that psychoanalysis can play in confronting the climate crisis and to encourage our community to oppose the embedded social and political challenges of environmental injustice. Our goal is to initiate a conversation that will inspire thinking, feeling and action.
SPEAKERS
Elizabeth Allured, PsyD
Vic Barrett, Activist
Daniel Gaztambide, PsyD
Katie Gentile, PhD
Wendy Greenspun, PhD
Renee Lertzman, PhD
Robert Jay Lifton, MD
Robert Stolorow, PhD
Lise Van Susteren, MD
---
NYU Postdoctoral Program for Psychotherapy and Psychoanalysis
&
The Sándor Ferenczi Center, New School for Social Research
are excited to invite you to join us as we celebrate the publication of

When Minds Meet: The Work of Lewis Aron
Edited by Galit Atlas

An online book launch

Sunday, October 25th, 2020
1:30-3pm EST


Speakers:

Galit Atlas
Jessica Benjamin
Adrienne Harris
Steven Kuchuck
Donnel Stern

Moderator
Spyros D. Orfanos

This volume offers a sampling of Lewis Aron's most important contributions to psychoanalysis. It includes both seminal papers on the vision and method of contemporary clinical practice, as well as cutting-edge newer writing from the years just before his death. Edited and with a foreword by Galit Atlas, new introductions precede each chapter, written by: Jessica Benjamin, Michael Eigen, Jay Greenberg, Adrienne Harris, Stephen Hartman, Steven Kuchuck, Thomas Ogden, Joyce Slochower, Donnel Stern, Merav Roth, Chana Ullman, and Aron himself.

For registration, please click here.
To Order the book, please click here.
20% Discount Available – enter the code FLR40 at checkout*
---
New issue available of the online journal psychoanalysis.today, co-edited by Sándor Ferenczi Center co-director Adrienne Harris: http://www.psychoanalysis.today/en-GB/Home.aspx
---
In conjunction with the New School for Social Research Department of Philosophy


A Lecture
The language of the mother and the language of the father: Sabina Spielrein's anticipation of the concepts of Jacques Lacan, Hélène Cixous and Luce Iragaray
with Klara Naszkowska
FREE EVENT
Online via Zoom
Register HERE
Thursday, October 1, 2020
6 – 8 PM
Sabina Spielrein (1885–1942) was a Russian-Jewish forerunner of child analysis. This lecture will focus on her model of the development of language and thought first formulated in the presentation delivered at the International Psychoanalytic Congress held in The Hague in 1920, and then expanded in a number of papers. This lecture will show how Spielrein's model anticipated by thirty years Jacques Lacan's concept of the three orders, Real, Imaginary and Symbolic, and how her concept of the autistic primitive language associated with the mother anticipated the theories of Hélène Cixous and Luce Irigaray who postulate a non-symbolic feminine language associated with the mother, corporality and feminine jouissance.
—
Presenter:
Klara Naszkowska, Ph.D
Moderator:
Adrienne Harris, Ph.D.
—
Klara Naszkowska, Ph.D., cultural historian specialising in the early history of psychoanalytic thought, founding director of the International Association for Spielrein Studies (www.spielreinassociation.org), and 2019/2020 Fulbright Visiting Scholar at Union Theological Seminary (Columbia University). Recent and forthcoming publications: "Passions, Politics, and Drives: Sabina Spielrein in Soviet Russia" in: Sabina Spielrein and the Beginnings of Psychoanalysis: Thought, Word, and Image (Routledge, 2019) and "Sabina Spielrein: Searching for her own path" in: Psychoanalysis in the Shadow of War and Holocaust (in Polish, Universitas, 2020). Klara is the head of the scientific and organising committee of the first International Conference "Sabina Spielrein and the Early Female Pioneers of Psychoanalysis" (13-15 April 2021, Warsaw).
---
Clinical Ferenczi
Ferenczi's Contributions to Clinical Technique and Their Applications to Contemporary Therapeutic Work
A seminar with Anthony Bass, Ph.D.
Mondays 10/26, 11/30, 1/4, 3/1, 4/5, and 5/10
7:30 to 9:15 PM, US Eastern Time
Online via Zoom
Tickets available HERE
General Admission for all six sessions: $400
General Admission + CE credits: $500
New School/NYU Postdoc students: Free (email NSSRFerencziCenter@gmail.com with your student N# to reserve a spot)
CE Credits (10 hours) available
for Social Workers and MHCs
In this seminar, we will consider Sándor Ferenczi's groundbreaking work on the role of countertransference in psychotherapy and its uses in the therapeutic situation. We will read Ferenczi's Clinical Diary, and other of his late work including The Confusion of Tongues between the Adults and the Child: the Language of Tenderness and of Passion and Tenderness, Child Analysis in the Analysis of Adults, and the Elasticity of Technique. We will also discuss contemporary works which consider the application of these ideas in clinical practice.

We will consider Ferenczi's many contributions to the development of a clinical theory of technique, in the light of challenging moments that seminar members and the seminar leader will present. We will take up the therapist's conscious and unconscious uses of her or himself in light of our understandings and experience of countertransference, unconscious communication between therapist and patient, enactment, and a variety of other clinical therapeutic phenomena as they emerge in our discussions.
**********
Anthony Bass, Ph.D. is an associate professor and a supervisor at the New York University Postdoctoral Program for Psychoanalysis and Psychotherapy. He is on the teaching faculty and a training and supervising analyst at the Columbia University Center for Psychoanalytic Training and Research. In addition, he is on the faculty at the Institute for Contemporary Psychotherapy, and the National Institute for the Psychotherapies National Training Program. He was a founder and is president of the Stephen Mitchell Center for Relational Studies, and a founding director of the International Association of Relational Psychoanalysis and Psychotherapy. He was a founding editor and is an editor in chief emeritus of Psychoanalytic Dialogues: the International Journal of Relational Perspectives. He leads study groups and conducts clinical workshops around the US and Europe on the therapeutic relationship, and Ferenczi studies. He is on the board of the Ferenczi Center of New York.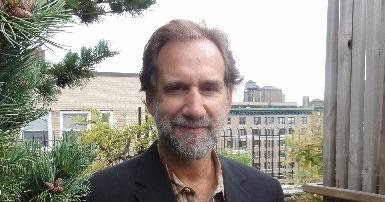 ---
Steps towards an embodied psychoanalysis and psychotherapy
From Dissociation-Enactment to the Fracturing of Embodied Wholeness
Saturday, October 24, 2020
10:00 a.m. – 3:00 p.m.
Online via Zoom
Book your ticket HERE
General Admission: $50
General Admission + CE credits: $75
Students: $25
New School/NYU Postdoc students: Free (email NSSRFerencziCenter@gmail.com to reserve a spot)
CE Credits (4 hours) available
for Social Workers and MHCs
Presenters:
Jon Sletvold, Psy.D.
Doris Brothers, Ph.D.

Moderator:
Adrienne Harris, Ph.D.

In this workshop, we will invite participants to join us in developing a fresh understanding of traumatic experience that makes use of contributions from self psychology, relational psychoanalytic theory and the work of the Boston Change Process Study Group. Using clinical examples, we will show how a flow in the embodied sensing of oneself, others, and oneself in relation to others tends to disintegrate in the aftermath of trauma. The benefits of using a new experiential language that replaces traditional psychoanalytic terminology with the words, "I," "you," and "we" will be explained.

As we have done in previous workshops, experiential exercises and embodied supervision will be offered.

Adrienne Harris will again be the moderator.
**********
Program

Welcome by Adrienne Harris

Introducing "I," "You," and "We"

Instead of "ego" or "the self" we suggest the word, "I." Instead of object(s) we suggest the word, "you." And instead of object relations, selfobject, the third or the field we suggest the word, "we." We believe that by adopting these words, we more closely express the embodiment of relational experience.

I-Centeredness and You-Centeredness

People who are relatively well-functioning and free from ongoing trauma tend to experience a rhythmic flow in their sensing of "I," "you" and "we." However, in the face of strong emotional challenges and traumas, an I-centered or you-centered position tends to dominate experience. In these circumstances one's sense of we is weakened and, in some instances, lost. We suggest that healing in clinical psychoanalysis goes hand in hand with the analytic couple's enhanced ability to move freely among the sensing of "I," "you," and "we."

Re-envisioning the dissociation-enactment model

An alternative to the dissociative self-state model is offered that emphasizes unconscious memory processes in bodily comportment and style of relating with others. The emphasis shifts from mental storage to the body in its relations with others. We suggest that the loss of a shared direction in an enactment can be understood as a breakdown in the sense of "we."

The Sense of "We" and a New Focus in Therapeutic Relating

To the extent that psychoanalytic therapy provides healing from trauma, it enhances a person's capacity to tolerate uncertainty and consequently to maximize the flow of "I," "you," and "we" experiences that are complexly embodied. It might be said that psychoanalytic healing results in a greater experience of embodied wholeness.

Experiential Exercises and Embodied supervision

A variety of exercises will be introduced that are designed to help participants understand how the sensing of "I," "you," and "we" deepens experiences of self and others and self with others. An embodied approach to supervision will be explained and demonstrated, and some participants will get an opportunity to be supervised on cases of their own choice. In this model of supervision, the supervisee will be asked to roleplay his/her interaction with the patient, taking on "I", "you", and "we" positions. All the participants will be asked to register their embodied experiences of the supervisee and the patients they present. They will then contribute to discussions of the clinical examples.

Discussion led by Adrienne Harris
10a-12p: First session
12-1p: Lunch
1-3p: Second session

**********

Jon Sletvold, Psy.D. is faculty, training and supervising analyst at the Norwegian Character Analytic Institute. He teaches embodied perspectives on psychoanalysis and psychotherapy in Europa, USA and China. He has written articles and book chapters on embodiment in psychoanalytic theory, practice and training. He is the author of The Embodied Analyst: From Freud and Reich to Relationality, Relational Perspectives Book Series, 2014, winner of the Gradiva Award, 2015.

Doris Brothers, Ph.D. is a co-founder and faculty member of the Training and Research in Intersubjective Self Psychology Foundation (TRISP). She co-edited Psychoanalysis, Self and Context with Roger Frie from 2015 to 2019. She serves on the advisory board and council of IAPSP. She is the author of three books and many journal articles. Her latest book, Toward a Psychology of Uncertainty: Trauma-Centered Psychoanalysis was published by Analytic Press in 2008. She has presented workshops on embodiment with Jon Sletvold in New York, Beijing, Shanghai, Dublin and Vienna. She is in private practice in Manhattan, New York, USA.

Adrienne Harris, Ph.D. is Faculty and Supervisor at New York University Postdoctoral Program in Psychotherapy and Psychoanalysis. She is on the faculty and is a supervisor at the Psychoanalytic Institute of Northern California. She is an Editor at Psychoanalytic Dialogues, and Studies In Gender and Sexuality. In 2009, she, Lewis Aron, and Jeremy Safran established the Sándor Ferenczi Center at the New School University. She, Eyal Rozmarin and Steven Kuchuck co-edit the Book Series Relational Perspectives in Psychoanalysis. She is an editor of the IPA ejournal psychoanalysis.today.
---
Lewis Aron (1952-2019)
Written by Adrienne Harris
On Thursday, February 28, 2019, our dear colleague and friend and leader and brave man, Lewis Aron, died in New York City. It was the end we had all feared and mostly denied, as we accompanied Lew on a long and courageous voyage fighting and living with a life-threatening cancer.
There is so much to say about Lew's life and work but I want to begin with his way of combatting and living with his illness. He was brave but most powerfully he was generous with family, friends and colleagues. He has provided an amazing lesson in how to be open and available and at the same time continue to work for health and survival. We badly need, in our field, to be able to face difficulty, support each other as life and work patterns are put in question, and to create a climate of honesty and responsibility.
Yesterday I taught a class in which we were reading Ghent's great paper on submission and surrender. I feel such admiration and love for Lew as he went through the health circumstance and death he had been handed. Surrender is not giving up. It is acceptance. It is opening to experience and what it will teach you.
When I think of his work life and when I read the wonderful messages of love and admiration, I am struck by the mixture of pleasure and admiration in so many reminiscences. He had a rock band. Sig. He could build and maintain a serious psychoanalytic institution. He could work in systems – local and national. He built structures.
Our work together included the Ferenczi Conferences starting in 1991, the Sandor Ferenczi Center beginning in 2008 with Jeremy Safran and me, the Relational Perspectives Book Series, with Steve from the inception, later with me, and adding Steve Kuchuck and Eyal Rozmarin. That series is closing in on 100 volumes.
The work we did to bring the first conference on Sandor Ferenczi to the US was motivated – dictated one might say – by Steve Mitchell. Cannot speak for Lew but I had no idea who Ferenczi was. Steve was so amazingly good at empowering people, sending them on various errands, and so we did a conference – held in NYC – and sat in the audience, amazed at the European analysts, who in so many ways had kept the tradition and writings and work of Ferenczi alive. Judit Mészarós, André Haynal, György Hidas, Judith Dupont joined with American analysts; Stephen Mitchell, Bromberg, Shapiro, Therese Ragen, Arnold Rachman, Benjamin Wolstein, Jay Frankel, Christofer Fortune and William Brennan.
For me, it was an astonishing and life-changing introduction to Ferenczi and his work. I know Lew was technically my colleague in that venture but for me it was so new. I do think of him as also my guide into a new and amazing world. My image for that event is that it was like plate tectonics. Continents that were now far apart had once been joined. I knew my ancestors in psychoanalysis. I knew where object relations came from. Grandfather Ferenczi. Being part of that discovery with Lew was really wonderful, unexpected and surprising. Really so much of his work life and career had that effect and involvement.
In 2009, with Jeremy Safran, Lew Aron and I inaugurated the Sandor Ferenczi Center at The New School. Over a decade we developed programs, lectures, workshops devoted to Ferenczi's model of interaction, elasticity of technique, trauma focused treatment and other psychoanalytic projects. We thought of this project as the site of ideals and projects at the heart of the historic mission of The New School and as a site for innovations in psychoanalysis along the lines of Ferenczi. It is shocking beyond measure that both my colleagues died within this past year. Miriam Steele has joined the center representing The New School faculty. We have enlarged the board and we go in remembering Lew and Jeremy and working within their vision. But it has been overwhelming to absorb both these losses. With regard to Lew, I/we are at the beginning.
There is a lot to remember and hold tight to as we register our loss of this amazing person. His career as a psychoanalytic educator, his director of institutions and so many structures: Psychoanalytic Dialogues, Div. 39, IARPP, and for over two decades, NYU Postdoc.
His career as a psychoanalytic educator, director of institutions and so many structures: Psychoanalytic Dialogues, Div 39, IARPP and others were handled with efficiency and grace. And of course there was his ability to take on so much of the continuation of Mitchell's very premature death, through mentorship of students – local, national and international and an astonishing vocation as a teacher of psychoanalysis in a series of study groups which continued to meet right into January of this year.
Talk about playing well with others. He had fun. He was playful and funny, all the while accomplishing a stunning array of tasks, books, and creative endeavors.
We are all wishing that he could have had more time. There was more to do and more love to participate in. I think of the wonderful pleasure of Lew's being with Galit's children, Yali and Emma, at their bar and bat mitzvahs last summer and how much he helped with their preparation. And I know from my last visits with Lew that he was incredibly proud of how deeply his children Kiara, Raffi and Benjamin were participating in his care.
We hold him close as we say goodbye. We can only sit with such admiration and care for Galit Atlas who has held so much in these past years AND created with Lew a life of work and love.