Steps towards an embodied psychoanalysis and psychotherapy: Narrative, Memory and an Embodied Vision of Transference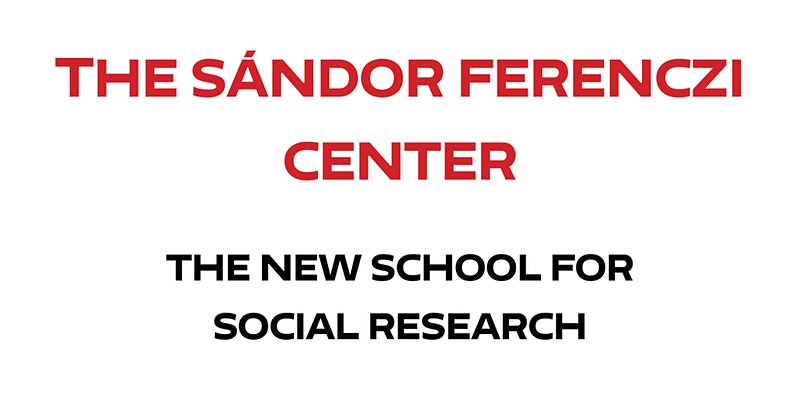 Presents
International Sándor Ferenczi Center Weekend Webinars
Listening with Ferenczi
A Six Session Webinar Series
Weekends in 2021:
September 25 & 26
November 6 & 7
December 4 & 5

12:00 PM – 2:00 PM Eastern
Online via Zoom
Tickets available soon
General Admission for all six sessions: $25
General Admission + CE credits (12 hours): $200
Current NSSR/NYU Postdoc students: Free (email NSSRFerencziCenter@gmail.com with your student N# to reserve a spot; limited number of seats available)
CE Credits (12 hours) available for
New York Social Workers and MHCs
APA CE credits available for Psychologists
**NOTE FOR PSYCHOLOGISTS: The New School for Social Research Clinical Psychology Department is approved by the American Psychological Association to sponsor continuing education for psychologists. Please confirm with your state licensing board that APA CE credits are accepted in your state. (Approval from the New York State Board of Education to provide CE credits to licensed Psychologists in New York is pending.)
For students and practitioners of all levels
After the successful 13th International Sándor Ferenczi Conference in Florence, Italy, the ISFN had planned to host the next International Ferenczi Conference in São Paulo, Brazil, in May of 2021. However, when the COVID-19 pandemic hit, our plans for in-person meetings had to be postponed. Despite these challenges, our desire to bring clinicians, scholars, researchers, students and colleagues together for stimulating and interdisciplinary discussions had not diminished. As a result, the ISFN decided to develop and offer a new 2021 Webinar series that will make use of Ferenczi's work to examine the many social, personal, political, environmental and clinical disruptions we have all had to endure recently.

Ferenczi, more so than Freud, was interested in understanding how environmental stimuli impacted the self and, conversely, how aspects of the self could be projected onto the external environment. He perceived the developing self as being influenced by the dynamic interaction of introjective and projective processes, and he saw how one's projections could also influence one's external environment. More broadly, Ferenczi's vision of this mutual influence could be applied to societal events in the sense that these events are able to influence self development, and in turn, an individual can also influence society. Today we are facing many of the same challenges that our psychoanalytic forebears faced over a century ago: war, pandemic, authoritarianism, racism, sexism, abuse, and conspiracies of silence and oppression. Ferenczi has provided us with many tools to explore the dynamic forces that affect our psyches, our society, and our culture. Perhaps applying his principles to our analysis of these crises may lead us to a more enlightened navigation of the inevitable catastrophes confronting our species.

This new Webinar series will explore such contemporary issues as the authoritarian personality, the phenomenon of Trumpism and mass hypnosis, the collusion of silence and socio-political denial, how a pandemic impacts clinical work, trauma theory in traumatic times, and gender theory during the #MeToo movement.
* * * 

SEPTEMBER 25TH & 26TH
Session 1: The Trump Phenomenon
Presenters: Endre Koritar, MD and Robert Prince, PhD, ABPP
Moderator: Ian Miller, PhD
Session 2: Leaning Towards Authoritarianism
Presenters: Jay Frankel, PhD and Samir Gandesha, PhD
Moderator: Christopher Fortune, EdD

NOVEMBER 6TH & 7TH
Session 3: Gender Matters/Thalassa
Presenters: Adrienne Harris, PhD and Jô Gondar, PhD
Moderator: Aleksandra Wagner, PhD
Session 4: Disavowal, Confusion of Tongues and Social-Political Denial
Presenters: Daniel Kupermann, PhD and Raluca Soreanu, PhD
Moderator: Clara Mucci, PhD

DECEMBER 4TH & 5TH
Session 5: Theories for Traumatic Times
Presenters: Eugênio Canesin Dal Molin, PhD and Judit Mészáros, PhD
Moderator: Antal Bókay, PhD
Session 6: Elasticity Today
Presenters: Judit Szekacs, PhD and Giselle Galdi, PhD
Moderator: Kathleen Kelley Lainé, MA
* * *
For more information, including descriptions for each webinar and presenter bios, visit ferencziconference.com
---
Learning Objectives
At the end of each webinar, participants will be able to:
Session 11. Understand the underlying dynamics of Donald Trump's influence on the populace.
2. Discuss what techniques Trump uses in his hypnotic suggestions to the populace.
Session 2
1. Describe the dynamics through which particular social traumas foster the development of authoritarian movements.
2. Elaborate on the narcissistic structure of authoritarian movements.
Session 3
1. Describe and analyze the creative contributions of Ferenczi to better understand sexuality and development.
2. Compare and contrast models of sexuality and gender in which biology, social phenomena, and developmental process may all contribute to developmental outcomes.
Session 4
1. Understand the relational, social and political dimension of the Ferenczian theory of trauma.
2. Recognize the potential of Ferenczian thought to understand contemporary forms of social bonds.
Session 5
1. Discuss and compare the main characteristics of different trauma theories in psychoanalysis and related fields of knowledge.
2. Discuss how acceptance of reality and living with uncertainty are central to understand a traumatic situation.
3. Differentiate between challenging situations and trauma.
Session 6
1. Identify key aspects of the Ferenczian method of "elasticity."
2. Discuss effective uses of telepsychology.
---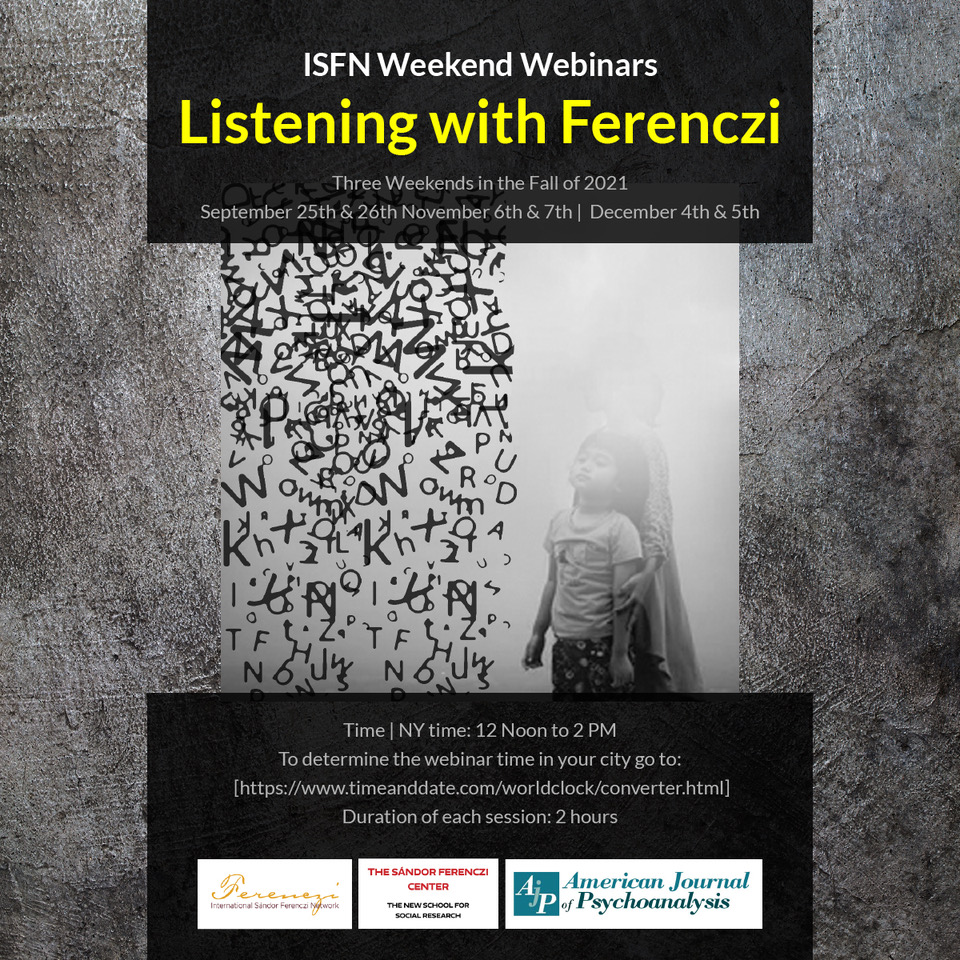 ---
Participants who wish to receive CE credits must attend the event (each seminar meeting) in its entirety; attendance will be recorded to track each participant's entry and exit time. Participants who wish to receive CE credit sign in and out to each session under the monitoring of a student volunteer who remains at the door of each event.  If the event is held virtually, the participant list is recorded at the start and end of each session by a student volunteer.  

Participants with physical or sensory disabilities are encouraged to contact the CE committee members at least 2 weeks in advance of the event to plan for appropriate accommodations. Please contact us via phone or email:
Nichelle Horlacher (Department Secretary) T 212.229.5727 x3223
aller454@newschool.edu (Richelle Allen, Ph.D.)
SteeleM@newschool.edu (Miriam Steele, Ph.D.)
LittlL@newschool.edu (Lisa Litt, Ph.D.)

Participants may also contact CE committee members with any concerns.

Tickets may be refunded up to 24 hours prior to the start of the event. Please email NSSRFerencziCenter@gmail.com to cancel your ticket and request a refund.
The New School for Social Research Clinical Psychology Department is approved by the American Psychological Association, the New York State Education Department's State Board for Social Work, and the New York State Education Department's State Board for Mental Health Practitioners to sponsor continuing education for psychologists, licensed social workers, and licensed mental health counselors, respectively. The New School for Social Research Clinical Psychology Department maintains responsibility for this program and its content.
Narrative and Memory: Toward an Embodied Vision of Transference
Saturday, December 11, 2021
10:00 a.m.  –  3:00 p.m. Eastern
Online via Zoom
Tickets available soon
General Admission: $50
CE credit add-on: $25
Students: $25
New School/NYU Postdoc students: Free (email NSSRFerencziCenter@gmail.com with your student N# to reserve a spot; limited number of seats available)
CE Credits (12 hours) available for
New York Social Workers and MHCs
APA CE credits available for Psychologists
**NOTE FOR PSYCHOLOGISTS: The New School for Social Research Clinical Psychology Department is approved by the American Psychological Association to sponsor continuing education for psychologists. Please confirm with your state licensing board that APA CE credits are accepted in your state. (Approval from the New York State Board of Education to provide CE credits to licensed Psychologists in New York is pending.)
For students and practitioners of all levels
Presenters:
Jon Sletvold, Psy.D.
Doris Brothers, Ph.D.
Miriam Steele, Ph.D.

Moderator:
Adrienne Harris, Ph.D.

In our workshop last year, we focused on dissociation which often involves the forgetting of traumatic experiences. This year our focus is on remembering. In our view, mind, from birth on, involves the creation of narratives, both verbal and nonverbal, that are based on embodied memories. We believe that even when narratives are conveyed without words, they are never created and possessed by one person but reflect the interweaving of the familial, cultural, historical, and political situations of all involved. Stories of race, class, ethnicity, gender and sexuality are all interwoven into the narratives that organize our lives.
Ever since Freud's earliest efforts to develop his theory of transference, memory has played a key role. In this workshop we will try to show how narratives, and the embodied non-verbal memories on which they are based, contribute to a new understanding of transference. When viewed from the perspective of the ever-changing embodied memories of both patient and therapist, transference is seen as a shifting flow of I, you, we and world. We propose that transferences often become rigidified in the context of trauma. Clinical material as well as exercises that illustrate the ubiquity of memory will be offered. We will conclude with embodied supervision focusing on the interplay of therapist's and patient's memories.
As we have done in previous workshops, experiential exercises and embodied supervision will be offered.
Adrienne Harris will again be the moderator.
Program
10:00 – 10:15 Introduction by Adrienne Harris
10:15 – 10:30 Opening Exercises: Participants will sit comfortably in their places as they scan the surround. They will then be asked to pay attention to any memories that occur to them. They then will be invited to comment on what aspects of themselves or the group or the surroundings seem to have stimulated their memories.
10:30 – 11:15   Paper presentation by Doris Brothers and Jon Sletvold on narrative, memory and transference followed by Q & A

11:15 – 11:30   Break
11:30 – 12:15 Paper presentation by Miriam Steele followed by Q & A
12:15 – 1:00 Lunch
1:00 – 1:45 Discussion among presenters and participants led by Adrienne Harris
1:45 – 2:45 Embodied Supervision focusing on narrative and memory
2:45 – 3:00 Closing Exercise. Participants are asked to become aware of any thoughts and feelings that they may have at the close of this workshop.

– – – – –

Learning Objectives
At the end of the workshop, participants will be able to:

1. Discuss and explain the role of memory in transference from Freud´s earliest formulations
2. Describe and demonstrate how narratives are based on embodied memories
3. Explain and analyze how transference is formed by rigidified traumatic memories
4. Describe and identify the role of memories in embodied supervision


**********

Jon Sletvold, Psy.D. is faculty, training and supervising analyst at the Norwegian Character Analytic Institute. He teaches embodied perspectives on psychoanalysis and psychotherapy in Europa, USA and China. He has written articles and book chapters on embodiment in psychoanalytic theory, practice and training. He is the author of The Embodied Analyst: From Freud and Reich to Relationality, Relational Perspectives Book Series, 2014, winner of the Gradiva Award, 2015.

Doris Brothers, Ph.D. is a co-founder and faculty member of the Training and Research in Intersubjective Self Psychology Foundation (TRISP). She co-edited Psychoanalysis, Self and Context with Roger Frie from 2015 to 2019. She serves on the advisory board and council of IAPSP. She is the author of three books and many journal articles. Her latest book, Toward a Psychology of Uncertainty: Trauma-Centered Psychoanalysis was published by Analytic Press in 2008. She has presented workshops on embodiment with Jon Sletvold in New York, Beijing, Shanghai, Dublin and Vienna. She is in private practice in Manhattan, New York, USA.
Miriam Steele, Ph.D. is Professor of Psychology, at the New School for Social Research where she co-directs (with Dr. H. Steele) the Center for Attachment Research. Dr. Miriam Steele is also an Anna Freud Center trained psychoanalyst. Miriam initiated the London Parent-Child Project, a major longitudinal study of intergenerational patterns of attachment whose outcomes included the development of the Reflective Functioning concept and manual. Dr. M. Steele has also carried out longitudinal attachment research in the context of child maltreatment and adoption. Miriam, with Anne Murphy and Howard Steele, has pioneered the development and delivery of the Group Attachment-Based Intervention (GABI) aimed at preventing child maltreatment, and promoting secure child-parent attachments. Dr. Steele is among the 2017 Bowlby-Ainsworth Awardees so recognized by the Center for Mental Health Promotion. She is co-editor of the 2008 book, Clinical Applications of the Adult Attachment Interview, and the 2018 Handbook of Attachment-Based Interventions, both published by the Guilford Press, New York. Dr. Steele is a member of the Adult Attachment Interview Trainers' Consortium.

Adrienne Harris, Ph.D. is Faculty and Supervisor at New York University Postdoctoral Program in Psychotherapy and Psychoanalysis. She is on the faculty and is a supervisor at the Psychoanalytic Institute of Northern California. She is an Editor at Psychoanalytic Dialogues, and Studies In Gender and Sexuality. In 2009, she, Lewis Aron, and Jeremy Safran established the Sándor Ferenczi Center at the New School University. She, Eyal Rozmarin and Steven Kuchuck co-edit the Book Series Relational Perspectives in Psychoanalysis. She is an editor of the IPA ejournal psychoanalysis.today.