Listening with Ferenczi: A Six Session Webinar Series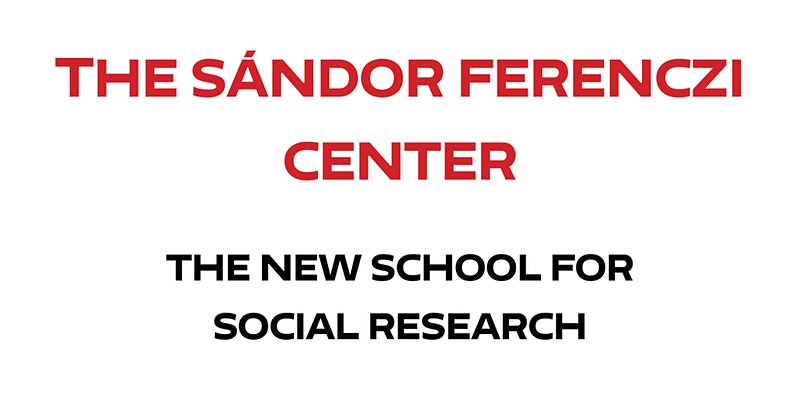 Presents
International Sándor Ferenczi Network Weekend Webinars
Listening with Ferenczi
A Six Session Webinar Series
Weekends in 2021:
September 25 & 26
November 6 & 7
December 4 & 5
12:00 PM – 2:00 PM Eastern
Online via Zoom
Purchase tickets HERE
General Admission for all six sessions: $25
General Admission + CE credits (12 hours): $200
Current NSSR/NYU Postdoc students: Free (email NSSRFerencziCenter@gmail.com with your student N# to reserve a spot; limited number of seats available)
CE Credits (12 hours) available for
New York Social Workers and MHCs
APA CE credits available for Psychologists
**NOTE FOR PSYCHOLOGISTS: The New School for Social Research Clinical Psychology Department is approved by the American Psychological Association (APA) to sponsor continuing education for psychologists. Please confirm with your state licensing board that APA CE credits are accepted in your state. (Approval from the New York State Board of Education to provide CE credits to licensed Psychologists in New York is pending.)
For students and practitioners of all levels 
After the successful 13th International Sándor Ferenczi Conference in Florence, Italy, the ISFN had planned to host the next International Ferenczi Conference in São Paulo, Brazil, in May of 2021. However, when the COVID-19 pandemic hit, our plans for in-person meetings had to be postponed. Despite these challenges, our desire to bring clinicians, scholars, researchers, students and colleagues together for stimulating and interdisciplinary discussions had not diminished. As a result, the ISFN decided to develop and offer a new 2021 Webinar series that will make use of Ferenczi's work to examine the many social, personal, political, environmental and clinical disruptions we have all had to endure recently.
 
Ferenczi, more so than Freud, was interested in understanding how environmental stimuli impacted the self and, conversely, how aspects of the self could be projected onto the external environment. He perceived the developing self as being influenced by the dynamic interaction of introjective and projective processes, and he saw how one's projections could also influence one's external environment. More broadly, Ferenczi's vision of this mutual influence could be applied to societal events in the sense that these events are able to influence self development, and in turn, an individual can also influence society. Today we are facing many of the same challenges that our psychoanalytic forebears faced over a century ago: war, pandemic, authoritarianism, racism, sexism, abuse, and conspiracies of silence and oppression. Ferenczi has provided us with many tools to explore the dynamic forces that affect our psyches, our society, and our culture. Perhaps applying his principles to our analysis of these crises may lead us to a more enlightened navigation of the inevitable catastrophes confronting our species.
 
This new Webinar series will explore such contemporary issues as the authoritarian personality, the phenomenon of authoritarian leaders and mass hypnosis, the collusion of silence and socio-political denial, how a pandemic impacts clinical work, trauma theory in traumatic times, and gender theory during the #MeToo movement.
* * * 

SEPTEMBER 25TH & 26TH
Session 1: The Leader's Hypnotic Influence and the Creation of an Alternate Reality
Presenters: Endre Koritar, MD and Robert Prince, PhD, ABPP
Moderator: Ian Miller, PhD
Session 2: Leaning Towards Authoritarianism
Presenters: Jay Frankel, PhD and Samir Gandesha, PhD
Moderator: Christopher Fortune, EdD

NOVEMBER 6TH & 7TH
Session 3: Gender Matters/Thalassa
Presenters: Adrienne Harris, PhD and Jô Gondar, PhD
Moderator: Aleksandra Wagner, PhD
Session 4: Disavowal, Confusion of Tongues and Social-Political Denial
Presenters: Daniel Kupermann, PhD and Raluca Soreanu, PhD
Moderator: Clara Mucci, PhD

DECEMBER 4TH & 5TH
Session 5: Theories for Traumatic Times
Presenters: Eugênio Canesin Dal Molin, PhD and Judit Mészáros, PhD
Moderator: Antal Bókay, PhD
Session 6: Elasticity Today
Presenters: Judit Szekacs, PhD and Giselle Galdi, PhD
Moderator: Kathleen Kelley Lainé, MA
 
* * *
For more information, including descriptions for each webinar and presenter bios, visit ferencziconference.com
---
Learning Objectives
At the end of each webinar, participants will be able to:
Session 1
1. Understand the underlying dynamics of Donald Trump's influence on the populace.
2. Discuss what techniques Trump uses in his hypnotic suggestions to the populace.
Session 2
1. Describe the dynamics through which particular social traumas foster the development of authoritarian movements.
2. Elaborate on the narcissistic structure of authoritarian movements.
Session 3
1. Describe and analyze the creative contributions of Ferenczi to better understand sexuality and development.
2. Compare and contrast models of sexuality and gender in which biology, social phenomena, and developmental process may all contribute to developmental outcomes.
Session 4
1. Understand the relational, social and political dimension of the Ferenczian theory of trauma.
2. Recognize the potential of Ferenczian thought to understand contemporary forms of social bonds.
Session 5
1. Discuss and compare the main characteristics of different trauma theories in psychoanalysis and related fields of knowledge.
2. Discuss how acceptance of reality and living with uncertainty are central to understand a traumatic situation.
3. Differentiate between challenging situations and trauma.
Session 6
1. Identify key aspects of the Ferenczian method of "elasticity."
2. Discuss effective uses of telepsychology.
---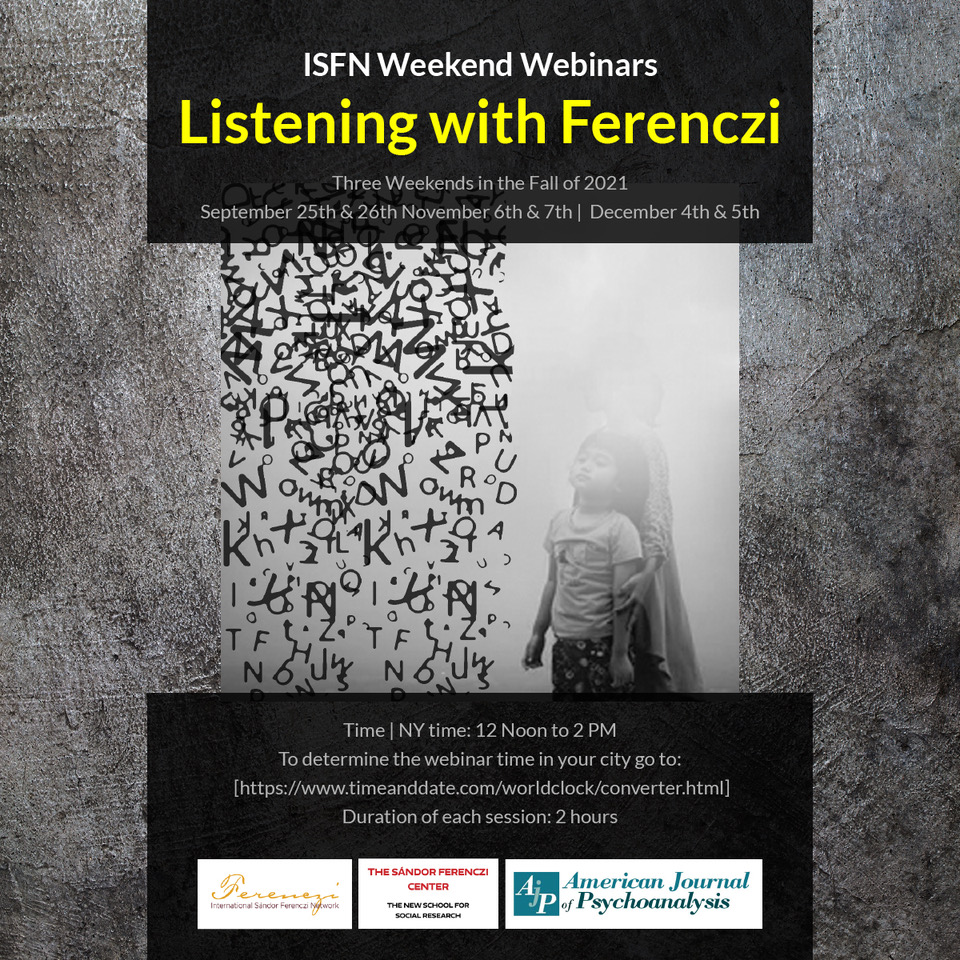 ---
Participants who wish to receive CE credits must attend the event (each seminar meeting) in its entirety; attendance will be recorded to track each participant's entry and exit time.

Participants with physical or sensory disabilities are encouraged to contact the CE committee members at least 2 weeks in advance of the event to plan for appropriate accommodations. Please contact us via phone or email:
Nichelle Horlacher (Department Secretary) T 212.229.5727 x3223
aller454@newschool.edu (Richelle Allen, Ph.D.)
SteeleM@newschool.edu (Miriam Steele, Ph.D.)
LittL@newschool.edu (Lisa Litt, Ph.D.)

Participants may also contact CE committee members with any concerns. You may also share concerns when you receive your evaluation form after the event.

Tickets may be refunded up to 24 hours prior to the start of the event. Please email NSSRFerencziCenter@gmail.com to cancel your ticket and request a refund.
The New School for Social Research Clinical Psychology Department is approved by the American Psychological Association, the New York State Education Department's State Board for Social Work, and the New York State Education Department's State Board for Mental Health Practitioners to sponsor continuing education for psychologists, licensed social workers, and licensed mental health counselors, respectively. The New School for Social Research Clinical Psychology Department maintains responsibility for this program and its content.

The Sponsors of this event report no conflicts of interest or commercial support.