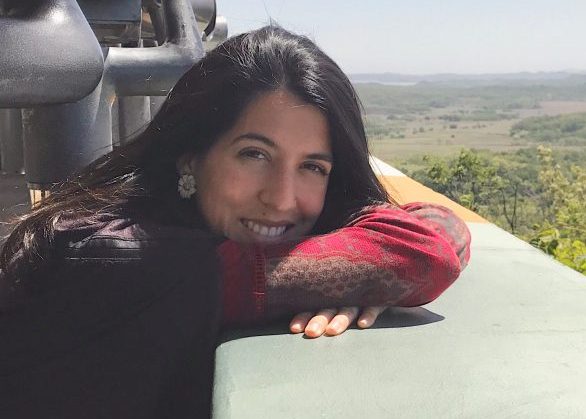 Alumni spotlight: Gabriela Beatriz Zayas del Rio
Gabriela Beatriz Zayas del Rio
Environmental Studies, Class of 2014
Current job:
Research Analyst, Environmental Defense Fund
Describe yourself in 3 words
Humanist, Conversationalist, Multipotentialite
What was your favorite course at The New School and why?
I majored in Environmental Studies and over time, narrowed my focus and interest to urban planning and its impact on food and environmental justice. The first (and favorite!) course that set me on that path was Urban Food Systems with Nevin Cohen. It was one of those courses where you couldn't set expectations for it because you didn't even know it was possible to study. My whole concept of what is right and wrong with our food system –and the role cities play in making it better or worse– was shifted and illuminated by the readings and discussions from this course. It taught me that nothing is as simple as it seems, not even "local," "sustainable," or "organic". Organic food still needs to be grown by humans and in working lands. That means workers' rights, humane treatment, fair pay, and adaptive management techniques must also be part of the equation when we choose what to consume and support. I have applied this integrated, interdisciplinary approach to many other aspects of my life, and I now think more critically and am more curious thanks to this course.
Tell us about your current job.
I am a Research Analyst at the Environmental Defense Fund, where I work on a wide variety of relevant and emerging scientific issues. I really enjoy that my role is not static. It has a lot of room for interpretation and is not limited to "theoretical science," which is helpful for being reactive and receptive to what's most important in the moment. I get to apply the research I conduct in the real world and work directly with impacted communities to give meaning to that research. My favorite aspect of being a Research Analyst is supporting EDF's air quality community outreach efforts in Oakland, CA, where we are measuring air pollution street-by-street and using the data to advance solutions sprung from and for communities. By measuring and analyzing air pollution in such a detailed manner, we have a better and more comprehensive understanding of how it varies in time and space. From there, we can be more targeted and effective in improving air quality in a place that has been burdened for far too long.
How did your studies at The New School prepare you for what you do now?
I really embraced the interdisciplinary approach unique to The New School. At first, it was daunting to not have a clear sense of direction or a single path laid out like in other traditional academic institutions. I came to college thinking I needed to have all my questions answered by the end of my time there, but The New School taught me that that is just one approach and it might not be the most effective one for going about life. An interdisciplinary education prepares you for uncertainty, and as a result, to be resourceful, adaptive, and well-versed in multiple topics. I have found these three skills to be essential to the wide variety of work I've done since graduating college. Also, at The New School, you'll be surrounded by some of the most creative, innovative, and forward-thinking people you'll ever encounter. Seek them, learn from them, and be inspired by them.
Where did you grow up and how did that affect the experience of attending college in NYC?
I'm from San Juan, Puerto Rico. Paradoxically, NYC, the biggest city in the US, was the perfect place to transition from life in a close-knit island community. For the first time, I was a minority, but NYC allowed me to explore and find micro-worlds in which I could fit and grow in all ways. I found many of these in the rich and vibrant Puerto Rican communities of the city. I enrolled in a community garden in the Lower East Side, I interned at a women-driven community nonprofit in the South Bronx, and I spent many hours deciphering which Puerto Rican song was being played from a car or small apartment. I was in a whole new place, being a whole new self, while still continuing to embrace and be part of my culture. That sense of comfort allowed me to be more confident in myself in a city that at times can feel very impersonal and menacing.
Walking outside and the simple decision of turning right or left meant encountering different worlds and cultures. You got to experience life differently each time. That was exciting and powerful and it keeps me going back to NYC (I've left three times, am currently living in San Francisco, and know I'll be back soon).
If you could be any animal, what would you be?
This might be a very New School response, but I'm sticking with Homo sapiens. There is still so much I want to experience in life as a human being that it's inhibiting me from coming up with a specific animal right this moment. Though I'll add that I love the ocean, so I'll take a modified human being who can breathe underwater.
What's one piece of advice you wish you would've gotten while you were in school?
In my experience, the first and easiest step is opening up to and encountering new opportunities (college is all about that!). The biggest challenge lies in believing in yourself to take on a new opportunity and remain committed to it. Don't doubt your capabilities. It's those new opportunities that will expand, reinforce, and hone them. Find places and people that make you feel safe and secure to take on these new opportunities.