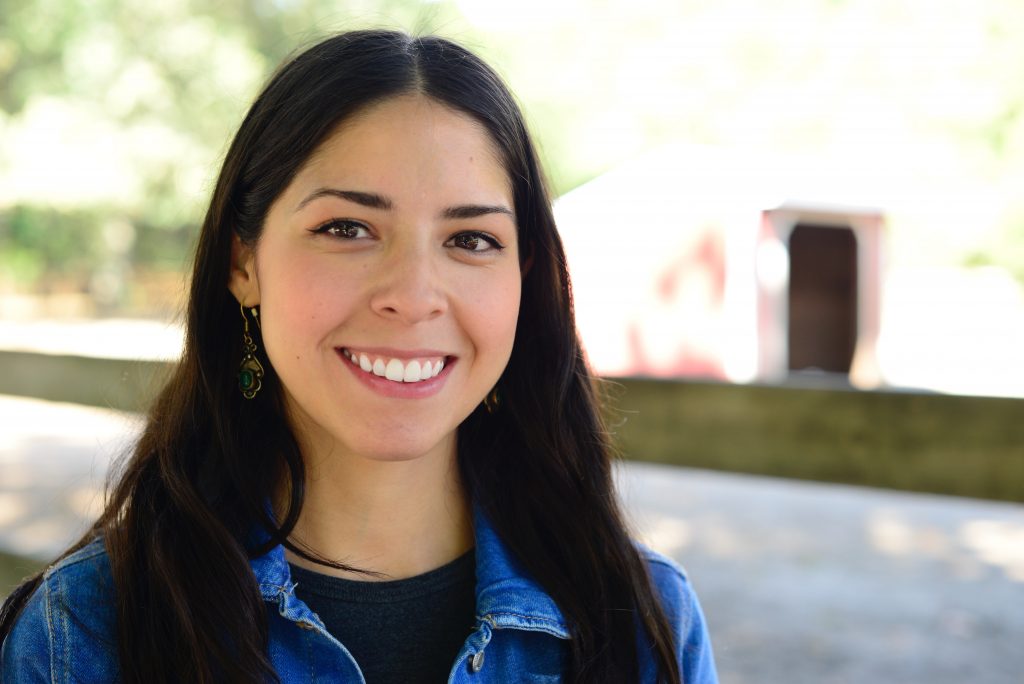 Alumni spotlight: Romina Giel
Romina Giel
Urban Studies, Class of 2015
Current job:
Philadelphia Grassroots Coordinator, The Humane League
Describe yourself in 3 words
Passionate, Activist, Vegan
What was your favorite course at The New School and why?
Though I found many classes inspiring, my favorite course was Public Speaking because I've learned that no matter what you decide to do in life, as long as you have that skill, it will take you places. I learned that there's a lot more to public speaking than just talking or reading in front of people. To not only be heard, but listened to by a crowd of individuals, is a more significant skill than most people may realize.
Tell us about your current job.
I work for an international animal protection organization called The Humane League. I am the Philadelphia Grassroots Coordinator leading THL's activist network and local program work in Philadelphia. The Humane League's mission is to reduce the suffering of as many animals as possible, as effectively as possible.

We work to reform the ways in which farm animals are treated, as well as inspire individuals to make more compassionate food choices. Currently, we are focused on our 88% Campaign which demands restaurants to commit to more meaningful welfare policies for chickens. Out of 100% of animals killed for food, 88% are chickens. We have had major victories, but will continue to campaign against major food companies that support extreme animal cruelty such as Darden, the parent company of Olive Garden and The Capital Grille.
How did your studies at The New School prepare you for what you do now?
I invested so much of my time, passion, and energy into my school work, especially my senior thesis. This taught me a lot about myself. I learned what I like, what I dislike, and it challenged me and trained me to become more organized, focused, self-motivated, and efficient. All of these traits are necessary in my current position.
Where did you grow up and how did that affect the experience of attending college in NYC?
Though I lived in various places before college, I was born and mainly raised in NYC on the Upper East Side (though not the swanky Upper East Side that may come to mind). Going to college in NYC was still a special experience. Growing up, I almost never went Downtown, or to Brooklyn, or to any of the other boroughs. Exploring the city later on in life was special because even though I always considered it home, I never knew how diverse, fun, and interesting it really was.
There is such a diversity of people, places, music, and food. You meet individuals from all walks of life, and can almost always relate to them in one way or another. Dancing, karaoke, basement shows — you name it, whatever you're into, NYC has it. And of course, the food is wonderful!
If you could be any animal, what would you be?
A cow! They're beautiful, intelligent animals that have best friends and love all the things I do: dogs, sleeping, eating, playing, and cuddling!

What's one piece of advice you wish you would've gotten while you were in school?
Before working in the animal rights movement, I worked at a media nonprofit that focuses on inspiring change in cities. This was the perfect job for a recent graduate, especially an urban studies major, but it left me feeling unfulfilled. I wish someone had told me that the most important thing you can do for yourself is do what you are passionate about and work in a field that will continue to inspire you and motivate you day by day. That said, I still consider urban studies a very relevant degree in my field. It gave me the skills and knowledge I need about community organizing, volunteering, social justice and so much more.