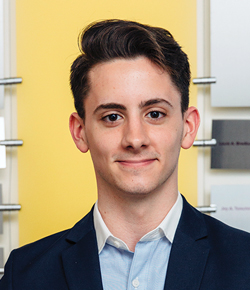 Alumni Spotlight: Storm Hurwitz
Storm Hurwitz
Global Studies, Class of 2016
Current job:
Health Campaigns Specialist,
The LGBT Community Center
Describe yourself in three words.
Resilient, Slytherin, Ravenclaw
What does your job with The LGBT Community Center entail?
At The LGBT Community Center I manage marketing and health campaigns for a coalition of 50+ LGBT organizations across New York State called The New York State LGBT Health & Human Services Network. Daily, my work ranges from leading the rebrand of The Network to conducting social media technical assistance training for the coalition members.
**UPDATE**
Beginning October 16, Hurwitz will hold the position of Analyst, Data & Analysis at DigitasLBi.
DigitasLBi is a global marketing and technology agency where Hurwitz will work on ecommerce and retail analytics to help Under Armour optimize its marketing campaigns.
What was your favorite course at The New School and why?
Visualizing Data. This was the first course that introduced me to what has now developed into a passion that I want to pursue in my career – analytics. The creative and design-centered approach warmed me up to data and guided me through learning that data are not just numbers or coded information, but lived experience.
The ability to apply design principles to sharing numbers ingrained the creative aspect in my mind and the course really opened my eyes to how the Journalism + Design coursework paired so well with my Global Studies courses to begin measuring and sharing how people affect systems from a quantifiable perspective that was appealing and digestible. Thinking about how people affect systems and not just the reverse is extremely important given the political climate.
What was the most beneficial thing you did during school that prepared you for your current career?
I took courses outside of Lang. I loved my coursework in Global Studies and other programs at Lang, but was often frustrated by all of the opinions I confronted at Parsons, which sometimes focused more on aesthetic than the 'search of a broader truth.' Now, in retrospect, I realize that this was a paradigm of the real world.
All of us approach work and issues with different priorities – Lang was an amazing space to develop my personal perspective and predisposition. Acknowledging this is a mass generalization, but courses at Parsons were a great place to learn how to translate all of those Lang learnings and communicate them to individuals who sometimes valued aesthetic over a broader truth. This is extremely important in my career – even non-profits care about making money. It is about learning how your values can subvert the systems that you might feel are oppressive. It is also about learning how those systems play into your life. For example, aesthetic matters a great deal – you can come up with the best political theory, but if you want to share it with the world, you have to center the theory in a way that humans will grasp and understand. Parsons students are geniuses at doing that.
Where did you grow up? How did that affect the experience of attending college in NYC?
I grew up in many places and I don't know I could say I've finished quite yet. I lived in Bucks County, PA, for much of my childhood and then went to an arts boarding school in Northwest Michigan. After that, I started college at a conservatory in Ohio and then ended up at The New School once I realized I couldn't live with the social injustice endemic to so much of the entertainment industry geared towards Broadway.
My experience growing up and focusing on the arts necessitated my centering why I came to NYC in the first place – to question oppression in systems such as the entertainment industry. And, let's be real, what better a place to question a system than The New School? What better a place to question a system than NYC?
What was the best part about going to school in NYC?
Access to the world. You're in New York City, but take the E express and go visit South Asia and South America cuisine and culture within five blocks of one another in Jackson Heights, Queens. There's no better a place to study Global Studies than NYC given its diversity and cultural enclaves.
If you could be any animal, what would it be and why?
Artic tern. They migrate more than 20,000 miles each year, which means they get to see a lot of the world and take it all in.
What's one piece of advice you wish you would've gotten while you were in school?
Test experiences methodically. I think it is easy to move to NYC and just do things because you can – an internship at "x" nonprofit and a part-time job at "y" bar.
Take some time to breathe, step back and think about what you're learning. Don't just do that in your head, but write it down. Keep track of it. You're not just in school to learn so that society will 'validate' your ability to have your dream job, your in school to learn what that dream job could be.
School tests you, right? It's time you test your life, too.