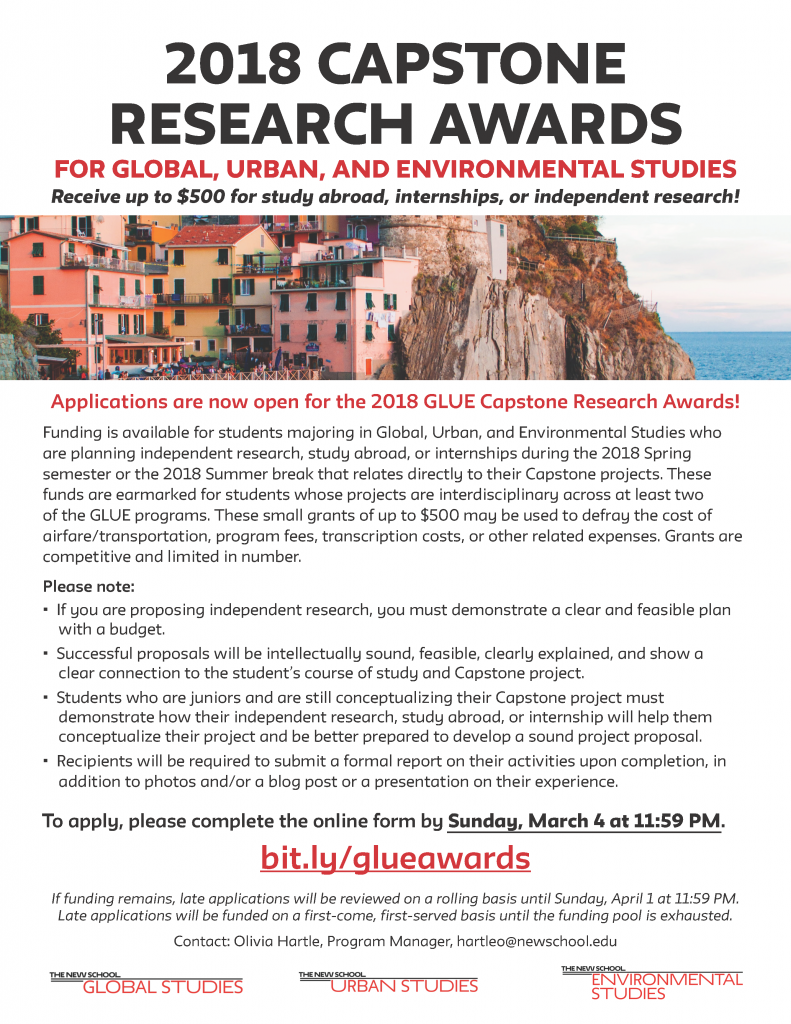 2018 GLUE Capstone Research Awards
Applications are now open for the 2018 GLUE Capstone Research Awards!
Funding is available for students majoring in Global, Urban, and Environmental Studies who are planning independent research, study abroad, or internships during the 2018 Spring semester or the 2018 Summer break that relates directly to their Capstone projects. These funds are earmarked for students whose projects are interdisciplinary across at least two of the GLUE programs. These small grants of up to $500 may be used to defray the cost of airfare/transportation, program fees, transcription costs, or other related expenses. Grants are competitive and limited in number.
Please note:
If you are proposing independent research, you must demonstrate a clear and feasible plan with a budget.
Successful proposals will be intellectually sound, feasible, clearly explained, and show a clear connection to the student's course of study and Capstone project.
Students who are still conceptualizing their Capstone project must demonstrate how their independent research, study abroad, or internship will help them conceptualize their project and be better prepared to develop a sound project proposal.
Recipients will be required to submit a formal report on their activities upon completion, in addition to photos and/or a blog post or a presentation on their experience.
To apply, please complete the online form by Sunday, March 4 at 11:59 PM.
Apply now!: bit.ly/glueawards
Note:  If funding remains, late applications will be reviewed on a rolling basis until Sunday, April 1 at 11:59 PM. Late applications will be funded on a first-come, first-served basis until the funding pool is exhausted.