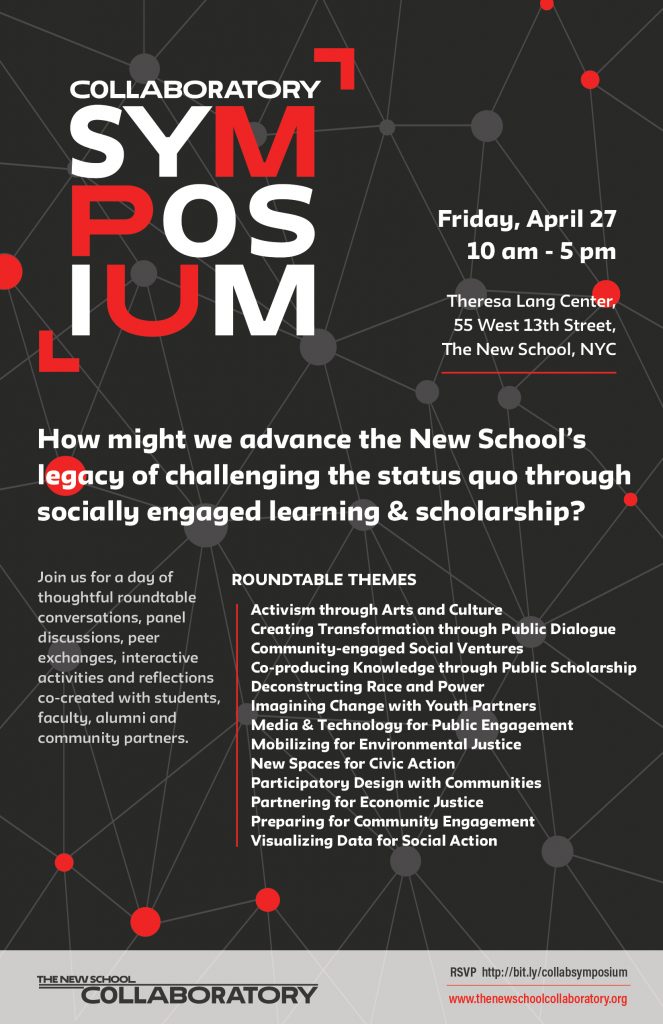 Paid opportunity: Students needed for the Collaboratory Symposium on 4/27/18
As part of the university's ongoing efforts to build a community of scholars and practitioners committed to excellence in collaborative and socially-engaged learning and scholarship, The New School Collaboratory (SPE) will be hosting the Collaboratory Symposium on Friday, April 27, 2018 (10 am – 5 pm) at the Theresa Lang Community and Student Center, 55 West 13th Street.
The organizing team is calling for Student Workers to help with coordination and facilitation during the event. This is a stipended, day-long engagement and will require students to be at the site from 9 am to 5 pm. Lunch and snacks will be included.
Potential Tasks-
– Setting up and wrapping up
– Checking participants in and orienting them
– Facilitating conversations through interactive community mapping exercises
– Coordinating food and refreshments
– Conducting surveys
– Helping with setting up and maintaining A/V and mics
– Notetaking
A poster with details and themes is attached here. Faculty, students, alumni and community partners across the university will be participating in roundtable discussions, panels and interactive activities as part of the event and examine new approaches to creating a more just, resilient and equitable society through public scholarship and project-based, engaged learning.
If interested, write to collaboratory@newschool.edu with 'Student Worker for Collaboratory Symposium'.