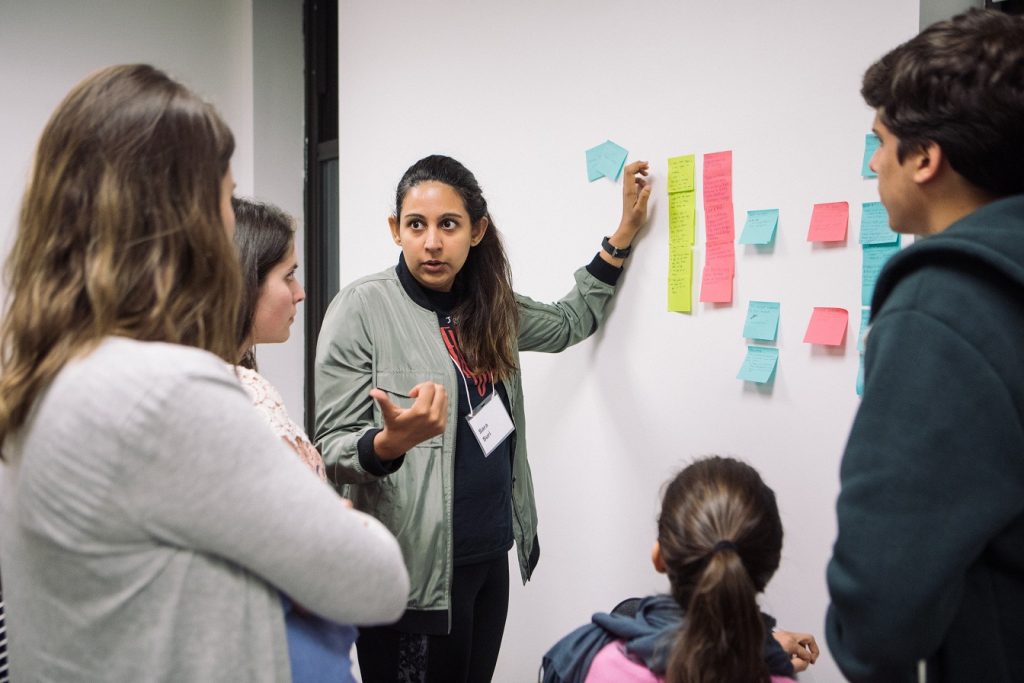 Fall '18 Civic Liberal Arts Student Fellowships
Announcing the Fall 2018 Civic Liberal Arts Student Fellowships! 
Apply here: https://form.jotformpro.com/mallinsj/CLAStudentApp
Applications are due April 9, 2018.
[hr]
What is a CLA Student Fellowship?
Thanks to a generous donation from the Andrew W. Mellon Foundation, each semester Lang offers a suite of Civic Liberal Arts courses that brings community partners, called Visiting Fellows, into Lang classrooms.  This program offers a rare opportunity to learn from distinguished non-faculty professionals in a variety of fields.  In addition, Civic Liberal Arts employs one paid Student Fellow per course, who supports the class through projects designed in conversation with the faculty and the Visiting Fellow. Work might include research assistance, assuming a leadership role in class discussions, documenting the course, and supporting class events.  Student fellowship positions are uniquely and creatively tailored to each particular course. This is an opportunity for undergraduate students to assume teaching assistant responsibilities while learning and receiving course credit.
Student fellows are compensated on the basis of the type of class they take:
4-credit courses: $2,000 (approx. 90 hours of work)
2-credit intensives: $1000 (approx. 45 hours of work)
**Please note: in addition to the Student Fellow positions, there is a CLA intern position available for the 1-credit course, Imagine Science Films.  The pay structure is slightly different for this internship position.  Rather than $500 per credit, the intern will be paid $15 per hour, and can expect to work 10-15 hours per week.
Fall 2018 CLA course descriptions can be found below.  Students may only apply to be a fellow for one course each semester.  Fellows must register for the course.  Please email Danielle Goldman with any questions.
[hr]
Fall 2018 Civic Liberal Arts Courses
Art and Activism in the Global City (UGLB 3724, CRN 7404)
Faculty: Laura Liu
Visiting Fellow: Betty Yu (The Chinatown Art Brigade)
This course, in partnership with Chinatown Art Brigade (CAB)—a cultural collective of artists, media makers and activists creating art and media to advance social justice—examines the role of place-based and place-engaged art-making in community struggles around the inequalities produced through globalization and processes of uneven urban development. The course will consider initiatives of community arts and culture organizations throughout the city, with particular emphasis on migrant neighborhoods such as Chinatowns, and other neighborhoods undergoing city-sponsored gentrification. How have artists and cultural workers addressed other issues related to gentrification—such as lack of housing, homelessness, joblessness, poverty, police brutality, environmental degradation, food scarcity, etc.—in an increasingly economically polarized city? This question is particularly pressing in neighborhoods where arts production and cultural institutions such as galleries and museums are used by urban developers as mechanisms of gentrification, and where the city is engaged in massive rezonings in disinvested and immigrant neighborhoods. In other words, how have artists countered urban redevelopment through what the NEA calls "creative place-making," a move which potentially coopts artists and cultural producers into the forces of gentrification? Through community collaboration and creative methodology, we will look at how artists and community-focused arts organizations like CAB have used the notion of "place-keeping" as a strategy against what they call "weapons of mass displacement."
The Blind Spots: A Walk Through NewYork City's Black Past (LSOC 3039, CRN 7065)
Faculty: Benoit Challand
Visiting Fellow: Kamau Ware (Black Gotham Experience)
This course is an experiment in applied historical sociology, offering a journey through the history of racial and class exclusion in New York City, from the colonial era to the end of the Civil War. The course is co-taught by a leading artist and a professor of Sociology at NSSR. Having taught classes on the making of global capitalism through the history of sugar and cotton, Prof. Challand approached artist Kamau Ware, author of a graphic novel on the colonial period of NYC who also leads historical tours of the city, about locating the legacy of these commodities that played an important role in shaping the communitarian contours and the urban landscape of colonial New York. The class alternates walking tours in Lower Manhattan with classroom discussions, using a variety of historical sources and secondary literature on the period running between 1625 to 1880. This class, limited to 18 students, will confront the absence of slavery's memory in the New York City landscape, architecture and monuments, and reflects on the connection between class and race politics in the making of a leading trading city such as New York. Students will be asked to write two essays as part of the requirements, an argumentative essay on a political issue of the these times, and a narrative essay, helping us to recreate the contours of social life in historical NYC.
Bottom-Up Change for Climate Justice (UENV 3710, CRN 7709/ UURB 3710, CRN 7710)
Faculty: Elizabeth Cook
Visiting Fellow: James Burke (WE ACT for Environmental Justice)
"Empowering communities to empower change…communities and science are stronger together." (WEACT.org)
With increasing climate risks and injustices in cities, community participation in decision-making and planning is a key ingredient in successful sustainability and resilience initiatives. In this course, we will split our time in the classroom and in Northern Manhattan communities with WE ACT for Environmental Justice. We will explore how to improve climate justice in cities through the intersection of scientific research, community engagement, and activism. In the classroom, we will critically examine climate justice from interdisciplinary perspectives based in resilience, equity and vulnerability, urban ecology, environmental planning, and environmental justice. In the community, we will work closely with WE ACT for Environmental Justice to co-develop and conduct community-driven participatory projects in Northern Manhattan and West Harlem neighborhoods. This course will bring together students, faculty, and key community partners with diverse expertise and practices of engaging communities. Students will gain hands on experience in participatory approaches to trans-disciplinary research and community engagement, learning the benefits and challenges of each approach, and best practices for communication, stewardship, and empowering communities to create bottom-up change for climate justice.
Common Ground: Building an Art andScience Ecosystem (LINA 2051, CRN 7534) 2 credits
Victoria Abrash
Visiting Fellow: Kevin Duggan (Harvestworks)
Students in this Civic Liberal Arts course study and become active participants in a growing national movement that connects art and ecology. The course explores collaborations between artists and environmental and social scientistsùat field stations and other sites of place-based ecological studyùto support artistic creation that advances environmental stewardship and ecological literacy. Through practical research and engagement with people (artists, scientists, conservationists, and citizen scientists), places (parks and field stations), artwork and data, students consider the current state and future potential of this transdisciplinary field. This seminar+ course meets during the first half of the semester, and includes trips to sites, events and exhibits outside of regular class time.
Creating Solo Performance:Neuroscience/Body/Mind (LTHR 3013, CRN 7316)
Faculty: Zisan Ugurlu
Visiting Fellow: Shane Mayack (LIGO Project)
This course is an introduction to the research, writing, and performance techniques of solo performance. The course will present a safe environment that provides the students the tools and the courage necessary to stand-alone and perform their own material; to express their sense of truth that connects us all. For Fall 2018, course will focus on the specific theme of ""NEUROSCIENCE"". Students will use sources such as research materials, autobiographies, diaries, unsent letters, and stories as inspiration for their work to inquire into the role of neuroscience in our lives. This course will create a sustained community partnership with the nonprofit organization, LIGO PROJECT and DAN McCLOSKEY LAB. Ligo Project composed of multi-practice scientists and artists who explore the intersections between science and art. Dan McCloskey is a behavioral neuroscientist whose lab investigates how brain activity and organization are influenced by environmental factors and behavioral experience. No Prerequisite.
Feminist Avant-Garde Poetics (LLSW 3100, CRN 7473)
Faculty: Jennifer Firestone
Visiting Fellow: Marcella Durand, Belladonna* Collaborative
In this course students will work closely with the New York based avant-garde feminist collaborative, Belladonna* by reading, deconstructing and exploring what it means to be "feminist" and "avant-garde." Our readings will consist of such state-of-the-art/ ground breaking/ game changing texts as NY writer, vocalist and sound artist LaTasha N. Nevada Diggs' polyphonic book, TwERK, to the Quebecois French feminist collection Theory, A Sunday. Each text will result in active course discussions, presentations and class experiments. The class' Visiting Fellow, Belladonna board member and established poet, Marcella Durand, will take us through the history of Belladonna — how it came to exist as a feminist, avant-garde collective. Students will visit Belladonna's Brooklyn art studio and attend Belladonna readings and events. Because a significant emphasis of this course is to encourage students to form their own feminist avant-garde collectives and communities, students will be asked to curate a final event for the course. This final event will be in collaboration with Belladonna and will hope to exhibit the students' thoughtful and creative interpretation of avant-garde feminism. This course counts toward the Gender Studies minor.
Green Roof Ecology (UENV 3750, CRN 6974)
Faculty: Timon McPhearson
Visiting Fellow: Cecilia de Corral (Brooklyn Grange)
Green Roof Ecology is a field ecology and design course links urban ecology and urban design through a civic engagement project on a new green roof installation in Long Island City. Green roofs are examples of green infrastructure, often seen by policy makers and community members as a way to provide critical environmental benefits from increasing biodiversity in cities, to mitigating urban heat, and absorbing stormwater. Yet, there is less research-based evidence quantifying these ecological benefits in the context of a rooftop urban farm, and therefore limited information about how they can be enhanced to produce environmental benefits. In this course, we will work again with our close partners at Brooklyn Grange, a worldwide pioneer in rooftop farming with large-scale green roofs in Brooklyn and Queens, to bring design and ecology to the design, installation, and monitoring of a new large 15,000 sq. ft. roof being designed and built in fall 2018 and spring 2019 in Long Island City. The course will follow the design-build phase running consecutively over the academic year. We will examine specific ecological and environmental aspects of urban green roofs and learn urban field ecology and participatory research design techniques including work on our form GRE course site at Vice Media headquarters in Williamsburg and visits to the Javitz Center green roof. Our goal will be to connect scientific knowledge and awareness of New York City policy contexts with diverse design skills as we study and enhance urban rooftop ecology for both human and non-human species. We will meet at the project site and other green roofs several times throughout the semester.
Imagine Science Films: Science, Art & Culture (LSCI 2034, CRN 5596)
Faculty: TBA (1-credit)
Visiting Fellow: Nate Door (Imagine Science Films)
For this short on-site course students attend a set number of events (16 hours) as part of the Imagine Science Film Festival (Oct 13-21) hosted by Imagine Science Films whose mission is to promote the intersection of the arts, sciences, through provocative documentary, fiction, animation, feature and short films and associated panel discussion and competitions. In the past, salons of this nature were commonplace, but over the last 100 years, disciplinary silos promoted their separation. Today, these fields are exploring overlapping themes and methods, breaking boundaries, and creating new "contact zones." To share this renewed interest in the intersection of the arts and sciences, educators, researchers, and artists are communicating how breakthroughs in biochemistry, particle physics, climate change, and genetic research are radically changing our view of the world. Students will attend talks, presentations, participate in Science +Art + Design Lab workshops, and engage with the creation of various forms of cultural output for wider dissemination using formats such as Facebook Live Interviews, Twitter, Blogs, Response Papers, and articles for the New School Press. Students will have resources to review prior to the symposium to ground the experience and one class meeting to explore output possibilities; the time and format of that meeting will be established once students are registered. Students must commit to 4:00-10:00 PM on Friday, October 13. They will then attend other festival events between October 14-21 for a total of 16 hours. This course counts towards the Subject Requirement for the Journalism + Design Major. This course also counts as an elective for the Screen Studies track of the Culture and Media major.
**Imagine Science Film Festival: Science & Culture – Intern Position: This one-credit course will have three face-to-face sessions the first three weeks of fall classes and then students and the intern will attend film screenings and festival events Oct 13-20th, followed by one face-to-face meeting post-festival with debrief with Imagine Science Films. The intern will work with ISFF from end of August onward to assure smooth coordination of the course, the instructor, and with the outside organization (~8-10 hours a week). The intern will also have the opportunity to work more intimately with ISFF to determine how students can contribute to their blog, outreach, social media, and organize filmmaker and scientist conversations to be filmed.  The intern for this course will be paid based on their hours worked at $15/hour (not the typical $500 rate for a one credit course).