#ScholarStrike 2020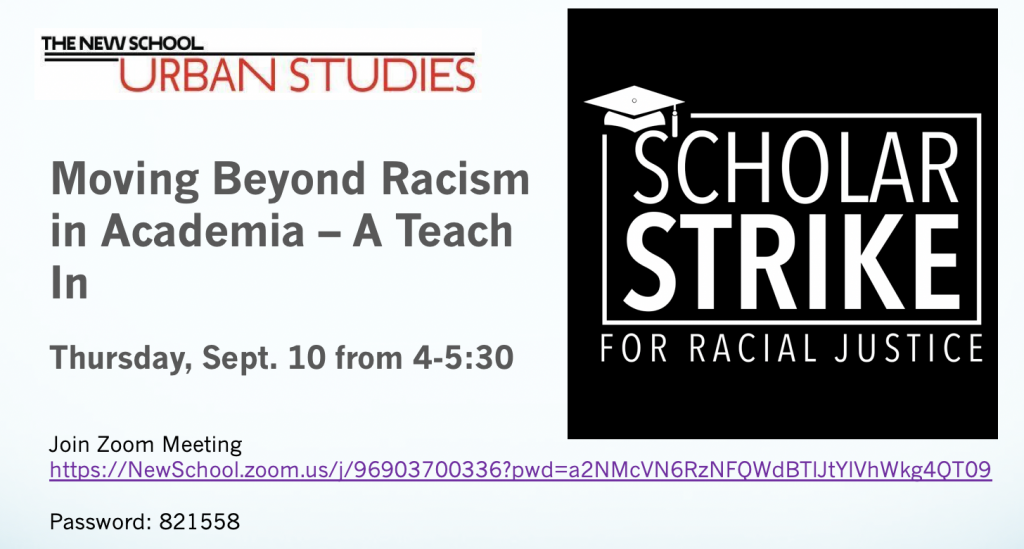 On Tuesday and Wednesday, September 8-9, 2020, the GLUE programs participated in the Scholar Strike for Racial Justice, a mass action of higher education professionals protesting racist policing, state violence against communities of color, mass incarceration and other manifestations of racism.
Scholar Strike is meant to disrupt the everyday routines of academia,
and to show solidarity with other workers striking for Black lives,
particularly the athletes of the WNBA and NBA. On these two days, in a
variety of ways, academic professionals are disrupting the status quo
and refusing to stand by while racism and violence devastate Black
Americans' lives and communities.
To reflect on this strike and discuss issues around racism in academia
and ways to create more egalitarian, anti-racist, and inclusive
spaces, Urban Studies chair Jurgen von Mahs organized a teach-in on Moving Beyond Racism in Academia on Thursday, Sept. 10 @ 4 pm encouraging New School and non-New School students to participate.