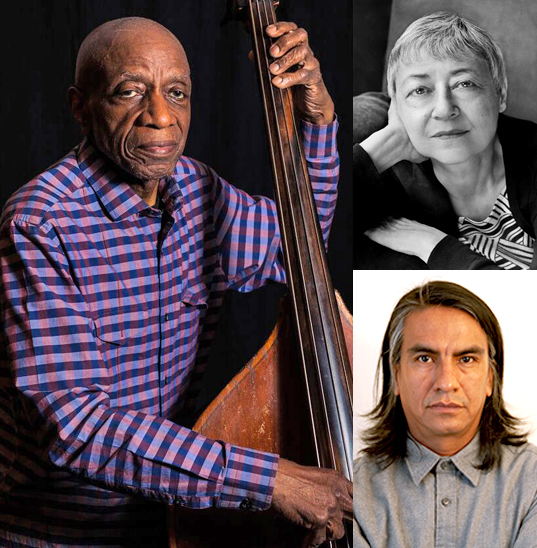 Three New School Professors Awarded 2020 Guggenheim Fellowships
Every year, Guggenheim Fellowships are awarded to individuals who have demonstrated an exceptional capacity for productive scholarship or exceptional creative ability in the arts. Last year, New School professors Helen Schulman and Alexandra Chasin were recognized.
This year, the prestigious organization recognized Reggie Workman, associate professor of Jazz in the College of Performing Arts' School of Jazz and Contemporary Music, Angel Nevarez, a faculty member in the School of Art, Media, and Technology at Parsons School of Design, and Sigrid Nunez, a faculty member in the Creative Writing program in the Schools of Public Engagement.
Workman, recognized for music composition, shares the fellowship with Maya Mileovic Workman for the project OPHELIA, to be created in 2020/21. Workman is renowned as one of the most technically gifted American avant-garde jazz and hard bop double bassist, and is a 2020 recipient for the National Endowment for the Arts Jazz Masters Fellowship. He is best known for his work with John Coltrane, Art Blakey Jazz Messengers, Eric Dolphy, and more. He leads Top Shelf, The Reggie Workman Ensemble, Groove Ship and Workman Workz.
"All of us at the School of Jazz & Contemporary Music and the College of Performing Arts are thrilled that Reggie has been awarded a Guggenheim Fellowship," said Keller Coker, Dean of School of Jazz and Contemporary Music. "This, coupled with his recent installation as a National Endowment for the Arts Jazz Master, recognizes that the incredible work he's been bringing to the world for decades continues to this very day. The New School community sees his dedication to the art each day in his deep and caring engagement with his students and colleagues, and we couldn't be happier as we now see these prestigious institutions bestow their honors upon him."
Angel Nevarez, recognized for fine arts, shares the fellowship with his partner Valerie Tevere. Their interdisciplinary practice spans projects that actuate music and sound, radio, dissent, and the cultural complexities of the public sphere. Their research interests lie in the intersection between music, civic action, and historical moments that resonate through distinct musical instrumentation and sonorous traditions. Their work has been exhibited and screened at the Museum of Modern Art, Guggenheim Museum, the New Museum in New York, Henie Onstad Art Centre, and elsewhere.
"The Fine Arts program is proud to count Angel Nevarez amongst our faculty," said Rit Premnath, BFA Fine Arts Director at Parsons. "We are thrilled that his collaborative work with Valerie Tevere has received the recognition and support of the Guggenheim Foundation, allowing them to delve deeper into the role of music and sound in giving voice to those who need it most."
Sigrid Nunez, recognized for fiction, has published seven novels, including "The Friend," a New York Times bestseller that won the 2018 National Book Award and was a finalist for the 2019 Simpson/Joyce Carol Oates Prize. She has contributed to the New York Times, the New York Times Book Review, the Wall Street Journal, The Paris Review, and more. Her work has also appeared in several anthologies, including four Pushcart Prize volumes and four anthologies of Asian-American literature.
"The Creative Writing Program is thrilled that long-time faculty member Sigrid Nunez has received this well-deserved recognition from the Guggenheim Foundation," said Luis Jamarillo, Director of the MFA Creative Writing program. "Sigrid is a writer of rare intelligence, warmth, and humor. She is a master prose stylist, and her novels and nonfiction show a stunning range of subject matter. Sigrid is a national treasure."