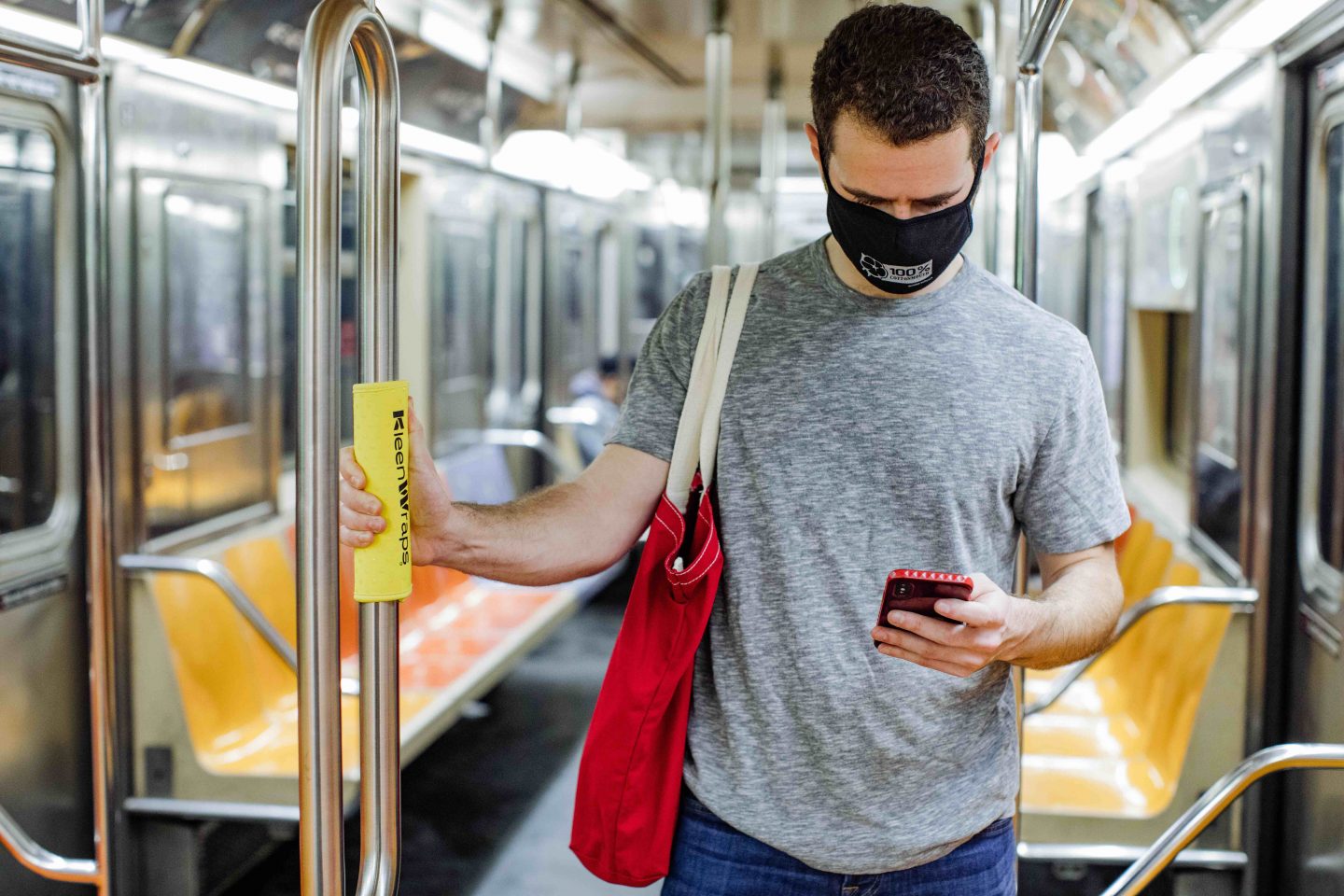 Chris Gelinas, Parsons '10, Designs Stylish Personal Protective Gear
Chris Gelinas, AAS Fashion Design '10, has dressed actors such as Cynthia Erivo, Millie Bobby Brown, Christina Ricci, and Susan Sarandon. He's shown his collection during New York Fashion Week, and was a finalist for the LVMH fashion prize in 2014 and the Vogue Fashion Fund in 2015.
Now, he's turned his experienced eye to essential design, a growing sector of the design industry that has grown quickly during the Covid-19 pandemic. As Director of Design for KleenWraps, a company that makes a patented range of antimicrobial grips, Gelinas oversees all aspects of design and product development as the young company looks to expand their reach.
"When I was contacted by KleenWraps, it was right when coronavirus hit the United States, so I was seeing the devastating situation unfold globally, along with the immediate impact it had on the fashion industry," says Gelinas. "In that moment, I really started to question the relevance of the type of aspirational design I had made my career on, so working with KleenWraps has provided me with an amazing opportunity to shift into essential design and feel a sense of purpose with my work right now."
The brand was initially started by a mom-and-son duo who wanted to avoid germs while working out. They created their antimicrobial grips to use at the gym, and marketed the product to the fitness industry. While initial reception was soft, the brand has been working non-stop due to the coronavirus, as consumers look for protective gear that will slow the spread of germs. The grips can be used on a number of surfaces, including subway poles and grocery carts, ensuring that people's daily lives can continue with an added layer of protection.
"I think this ongoing pandemic, the first of its kind for many generations, has made us realize the responsibility we have to protect our health and that of others," explains Gelinas. "Barriers to protect ourselves from the environment are now essential accessories in our daily lives, and KleenWraps offer simple smart design to achieve that level of protection."
Gelinas is just one member of the Parsons and wider New School community who has been putting his design skills to use in order to fight the coronavirus and its devastating impacts across a range of industries. Dr. Manuel Hernandez, MS Strategic Design and Management, Global Executive '18, is on the front lines as an emergency room physician, but is also using his design education to iterate new solutions in real time at his hospital. At the beginning of the crisis, Parsons donated a large supply of PPE to New York City hospitals, where first responders used the equipment in some of the hardest hit areas of the city.
The innovative Parsons curriculum is built upon a foundation of challenging designers to positively change the world through design. Gelinas praises the school for giving him a rigorous, interdisciplinary education that he still uses in his design approach to this day.
"Design in any discipline is meant to provide solutions to problems," he says. "I think in this moment, where urgency and necessity are primary concerns in the category of PPE and essential accessories there is less focus on aesthetics and more focus on function, but I do think there will be a shift at the right moment when fashion enters the conversation."