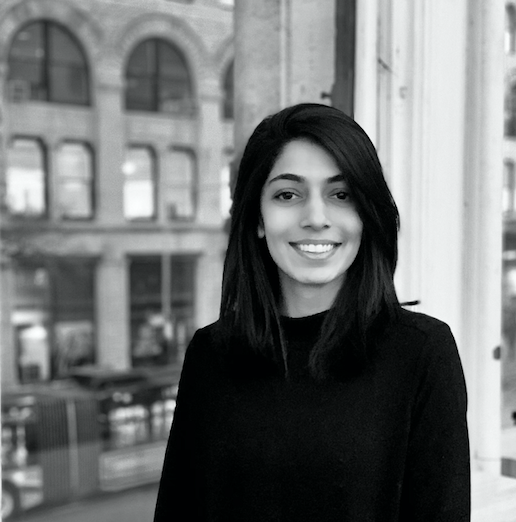 Trinetra Manickavasagam, MFA Lighting Design '20, Wins Awards from Illuminating Engineering Society
Trinetra Manickavasagam, MFA Lighting Design '20, describes herself as extremely passionate and always curious about light, which led her to explore a different realm of lighting with her thesis, the technical and perceptual aspects of color and dimming.
Manickavasagam's thesis focused on the potential color shifts in White LED's while dimming in order to understand the measured aspects of correlated color temperature (CCT) and other color metrics. The general assumption in the lighting industry is that LED's do not change in CCT when dimmed unless they are warm-dim technology, but Manickavasagam questioned that assumption with her thesis project, and her results recently won her a $2,000 grant from the New York City Section of the Illuminating Engineering Society. She is also the recipient of a Richard Kelly grant, which recognizes and encourages creative thought and activity in the use of light.
"I am honored, humbled, grateful, and thankful to the IESNYC for this recognition and everyone who has helped me through the process, even more so because it was in the time of a pandemic," said Manickavasagam. "My professors, Dr. Craig Bernecker, Francesca Bastianini and Rebecca Mintz, were extremely helpful in guiding me and helping me pivot and adapt my study to online learning, as were some very kind people in the lighting industry that went out of their way to help me, and to my family and friends for their constant support."
Manickavasagam discovered that information regarding CCT and other properties like SPD, CRI and CIE chromaticity, which coordinate values of LEDs when they are dimmed, is not readily available. This meant that her study focused on evaluating White LED's when dimmed by evaluating the measured changes in advanced metrics like the TM-30, CIE chromaticity and CRI for different sources.
Manickavasagam undertook this research because the color stability of LED's is highly desirable knowledge for the lighting industry, and has major implications for manufacturers and designers. There is a lack of readily available data when it comes to the color metrics of a lighting source when it is dimmed, which means manufacturers need to do additional testing for dimming with their products.
"Continuing a series of significant contributions by Parsons lighting design students conducting evidence-based design research, Trinetra has added to that trend, but under circumstances made more difficult by the pandemic," explained Craig Bernecker, MFA Lighting Design program director. "Planning for extensive work in our Light and Energy Lab and with human subjects, she had to make major adjustments when Parsons' classes went virtual mid-semester. She pivoted to manufacturers shipping luminaires to her apartment, where along with controls and instrumentation we were able to provide, she was able to creatively measure their performance. Despite this pivot her work stands out for the attention to detail and its contribution to our understanding of lighting technologies."
Since the Covid-19 pandemic began, many members of the Parsons and wider New School community have adapted their research and work as they shifted to remote learning, leading to new and innovative results. Graduates from the Parsons MFA Fashion Design and Society program recently debuted their thesis collections, completed during quarantine, while current students in the Parsons GEMS program designed a climate action campaign for the United Nations.
Once the pandemic is over, Manickavasagam plans to continue her research, complete the work she began before the coronavirus pandemic changed her plans, and pursue a career as a lighting designer.