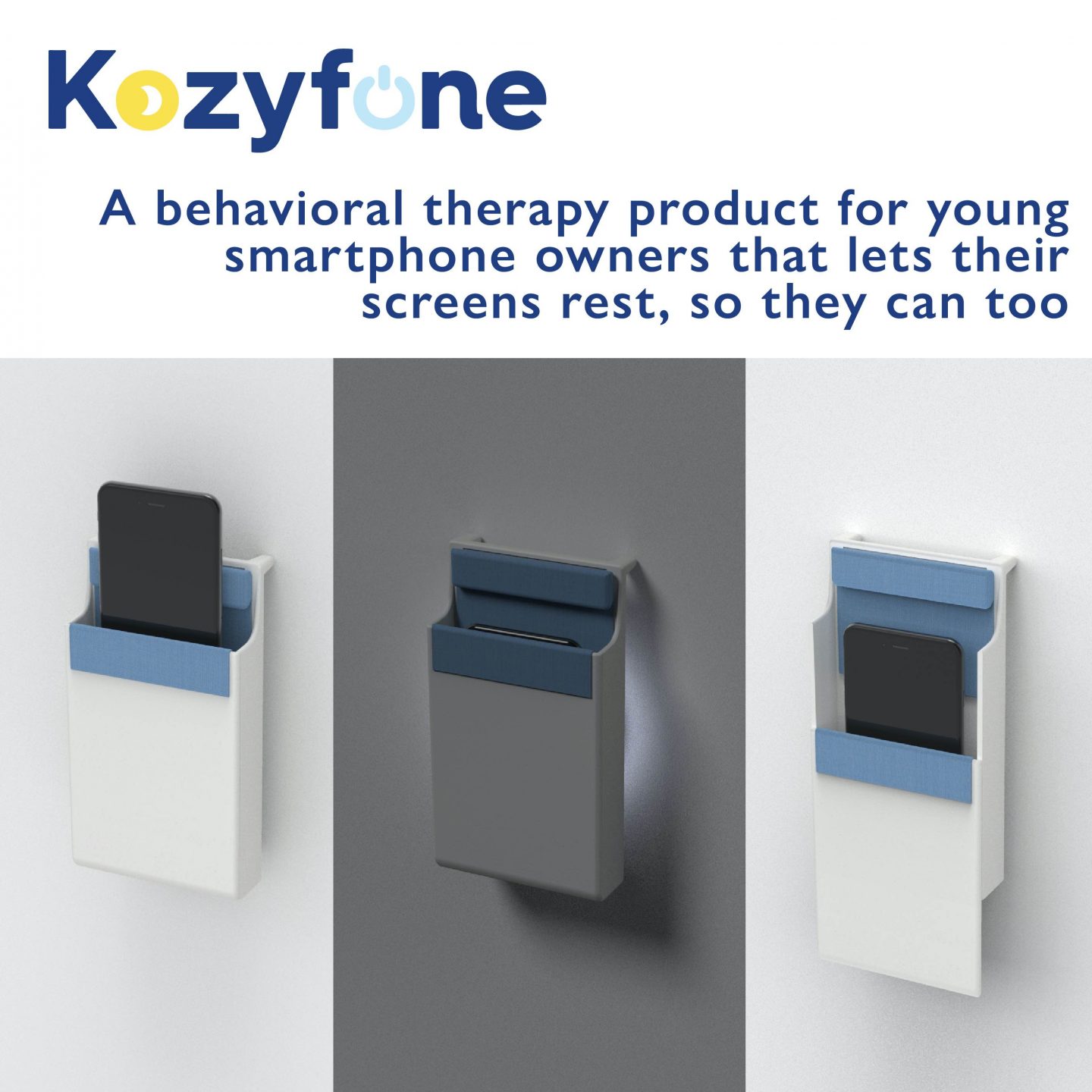 Evan Landau, MFA Industrial Design '20, Develops New Product to Encourage Better Phone Habits
If it seems like your weekly screen time report from Apple has increased since Covid-19 sent the world into lockdown, you are not alone. According to various surveys, screen time has also increased for younger smartphone owners to worrying levels, making KozyFone, a new product designed by Evan Landau, MFA IDD '20, all the more urgent and necessary.
Landau collaborated with Dr. Emily Klass, a child psychologist, to develop KozyFone, which addresses two contemporary issues: the drastic increase in average screen times as well as the declining age of new smartphone owners. The new behavioral therapy product will allow a child or teen to "put their phone to bed" outside of their bedroom for the night, allowing both user and phone to rest.
"KozyFone is designed on a foundation of psychological insights. We want to incorporate positive habits into nightly sleeping rituals," explains Landau. "Putting your phone to bed can be as natural as brushing your teeth, encouraging better 'sleep hygiene' and mental health."
Landau's work with Dr. Klass and KozyFone has required him to tap into the full scope of his industrial design skills, and this project has been a jumping-off point from which he developed his current freelance design practice. Landau initially began with concept development and form ideation, which was followed by many iterations, user research, mechanical engineering, and brand development.
Landau credits his time at Parsons with helping him focus on the intent behind his designs, and how the products he creates can make a positive difference in someone's life. Landau's work echoes that of other Parsons grads who are using design for social good, including Lucy Jones, Fashion Design '15, who started FFORA, an inclusive accessories brand, as well as Chris Gelinas, AAS Fashion Design '10, who is currently designing a collection of stylish PPE products for KleenWraps.
"Parsons provided an extremely helpful lens through which to consider how to make decisions about what every material, curve, feature, and reference communicates," he says. "Because getting enough sleep is so vitally important, especially for younger people whose brains and bodies are still developing, we felt that developing a product that aims to build positive, voluntary habits – as opposed to using enforcement and discipline – would be the best path."
As a designer, Landau loves collaborating with people in other fields, as the results often lead to discovering unexpected sources of creativity. He used to work as an ethnographic researcher, helping him to see the value in the crossover between industries and various schools of thought.
"As an industrial designer, it's my job to bring a design thinking perspective of identifying needs and solving problems to the range of industries I work in," he explained. "At the same time, I'm also able to learn a great deal from unpacking and applying all of the design-oriented insights from a practicing psychologist."

To keep up with the KozyFone project, stay up-to-date through their Kickstarter page.