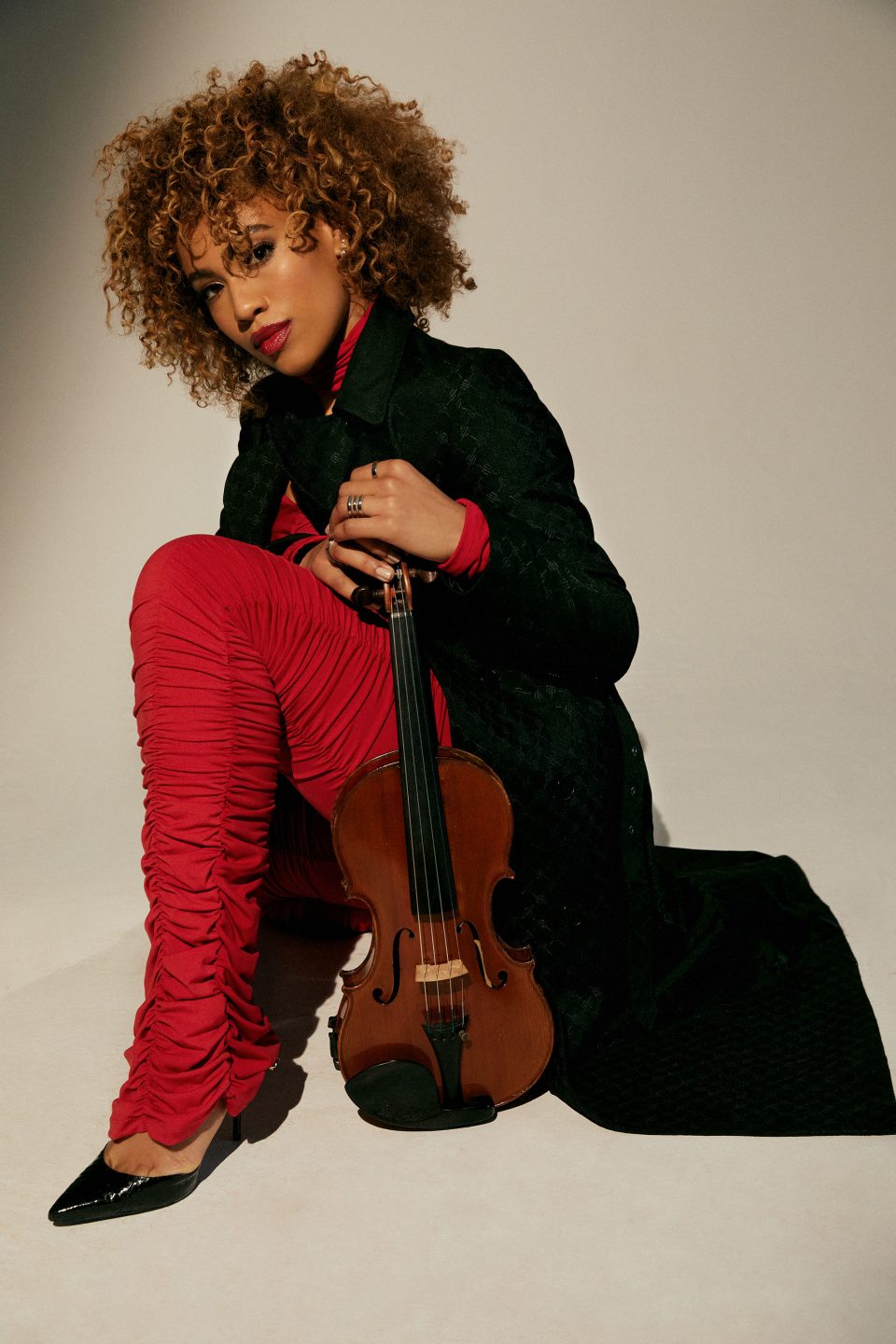 Ezinma, MM Mannes School of Music '14, Creates Genre-Transcending Music
As a classically trained violinist, Meredith Ramsay, known professionally as Ezinma, has performed at Carnegie Hall, Lincoln Center, Symphony Space, and more. Thanks to her covers of viral trap hits like "Gucci Gang" by Lil Pump and "Mask Off" by Future, she's also been able to perform with Beyoncé during her Formation world tour, as well as alongside her at her history-making Coachella concert.
Since then, Ezinma, MM Mannes School of Music '14, has worked with other leading artists including Stevie Wonder, Yo-Yo Ma, Kendrick Lamar, Sza, and more. Now, she's gearing up for the release of her debut EP, "Classical Bae," which blends "virtuosic melodies and orchestral soundscapes with hard hitting beats—a classical-fusion that is cinematic, orchestral and anthemic," she says.
"Honestly, I hope listeners find something in the music to connect with," says Ezinma. "Several of the songs on the EP were finished during the pandemic. With those tracks, I was focused on joy and transporting to a world with a little less pain and suffering. Other tracks (like 'Ode to Hustle') I faced the darkness head on. I just want people to feel, that's all."
Although Ezinma grew up playing the violin, and won scholarships and concerto competitions during her youth, she opted to pursue a career in medicine. While she was initially a double major at the University of Nebraska in biochemistry and violin performance, she realized that she wanted to pursue music full-time, and won a scholarship to complete her Master's at Mannes. At Mannes, Ezinma took production classes that introduced her to new methods of creating music, which is how she began to experiment with different genres and themes.
"I had no idea music could be made with a laptop," she explains. "After I graduated, I began to experiment. I love hip-hop, I love classical music. It just made sense to fuse these two things together. I never even questioned this combination; it just felt right."
Ezinma credits her time at Mannes with not only giving her a well-rounded education, but preparing her to be the multi-disciplinary, collaborative artist she is today. She was able to engage with Parsons School of Design on various projects, studied music production, and received a wide range of performance opportunities.
"Mannes was the perfect school for me," she says. "I got to study with Laurie Smukler Weller, I was in a fantastic string quartet, I loved playing in the operas. I think the best part for me was that the faculty, Ms. Smukler, and Dean Kessler, encouraged me to be fully ME. I don't think other conservatories would have done that for me."
In addition to her new EP, Ezinma founded Heartstrings last year, a music-based nonprofit organization and youth development program for children K-5 of diverse backgrounds. Every child in the program is equipped with a quality instrument, excellent music instruction, and access to community engagement activities, world-renowned concerts, and performance opportunities. As a woman of color, Ezinma is particularly attuned to the obstacles and challenges that people of color face in the performing arts, but with Heartstrings, she's able to increase access to quality music education for children of color.
"For me, visibility is so important," she shares. "Being a woman of color playing the violin is rare. I think I read somewhere that black people make up 2% of orchestras. That's a problem. I believe this education starts when kids are young. It's about access and opportunity for everyone regardless of background or circumstances."
Ezinma is not the only alumni from Mannes and the College of Performing Arts finding success as an artist. Recently, alumni and faculty from throughout CoPA and The New School were nominated for and won Grammy awards, while musicians like Carolyn Regula, Mannes PDPL '21, and Clifton Joey Guidry, Mannes PDPL Bassoon Performance '20 and Mannes PDPL Composition '22, are creating bold, original pieces that engage with contemporary issues.
In 2020, Ezinma released three singles, 'Beethoven Pleads the Fifth', 'Vivaldi Springs', and her Holiday track, 'Drummer Bae'. Her latest single, 'Ode To The Hustle,' was released in March 2021, and all of her singles will appear on her first full EP, "Classical Bae," out May 14, 2021.
Next up for Ezinma is the completion and release of her debut album, which will explore new sounds. She is also fascinated with film scores and how music can enhance visuals, and is continuing to write music for movies and commercials.