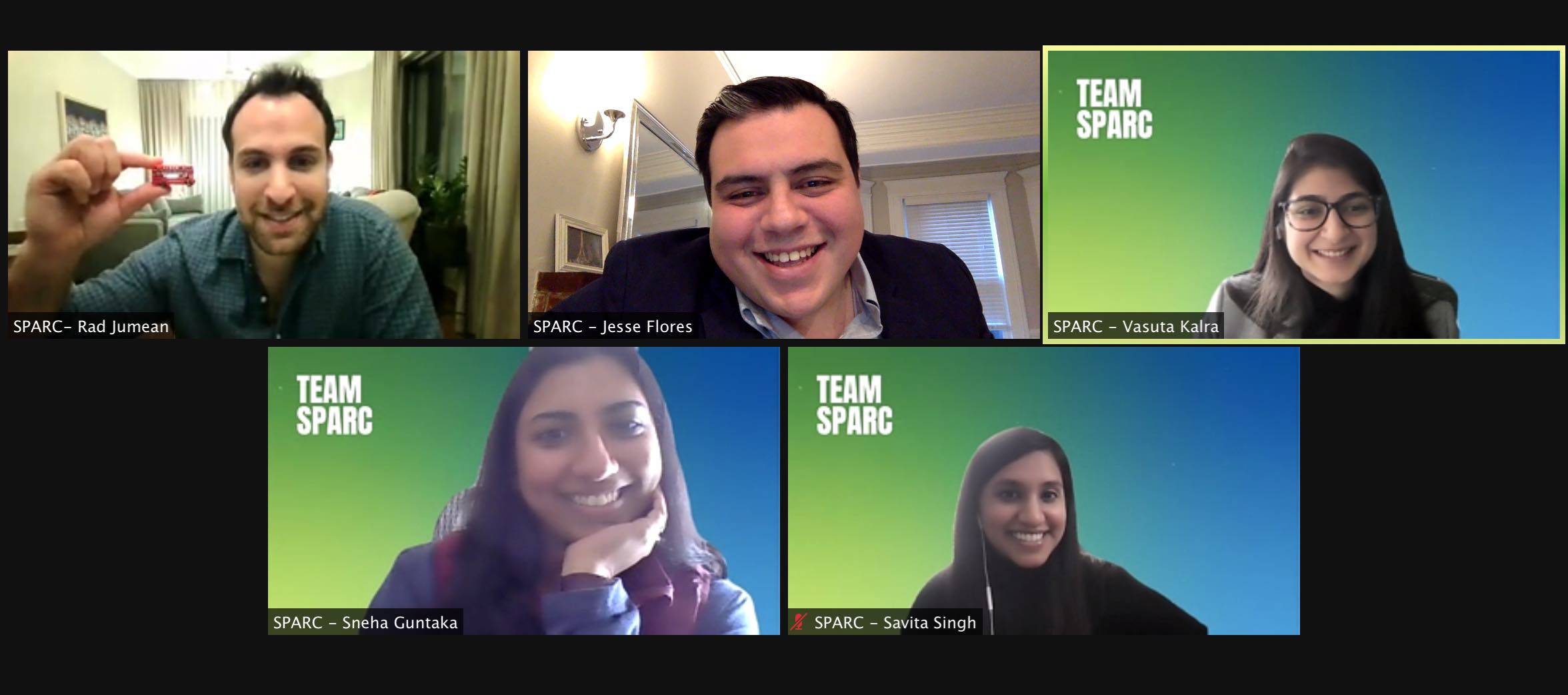 Parsons MS Strategic Design and Management Students Win Rotman Challenge Third Year in a Row
Founded almost a hundred years ago, Canadian Tire is a retail company in Canada that operates in the automotive, hardware, sports, and housewares sectors, in addition to other departments. The iconic Canadian retailer recently sponsored the Rotman Design Challenge, which brings together top talent from leading MBA and design schools from across the globe to propose solutions to a complex business challenge posed by an innovative company.
For the third year in a row, a team of students from the MS Strategic Design and Management program at Parsons won the challenge, which included a live virtual presentation, and a prize of CA$6,000. Jesse Flores, Ra'd Jumean, Rashina Bhula, Savita Singh, Sneha Guntaka, and Vasuta Kalra, who all have a variety of business, marketing, design, and leadership skills, created "Bridging the Gap: Embracing a Phygital World," a series of strategic recommendations that would help Canadian Tire bridge their physical and digital presences for a more streamlined shopping experience.
"I think everyone on the team will look at this as a highlight from our Masters experience!" shared Vasuta Kalra, MS SDM '21. "Our presentation had strong strategic recommendations grounded in an understanding of the client's business with a combination of relevant consumer insights and solutions derived from the strategic design process. We approached it as a project that should be ready for roll-out and covered the key aspects that Canadian Tire would need to think about if they decided to launch our recommended initiatives right away."
Highlighting the Parsons approach to design education, the winning effort was deeply collaborative, which meant each team member was assigned a role based on their prior experience and expertise, in addition to taking on new responsibilities as the competition came to its conclusion. The group even had an active virtual meeting room, so team members could pop in and out to work through problems and brainstorm ideas, similar to how a design studio operates in the real world.
"We started thinking about how to form this team almost a year ago and were intentional about mirroring the skill sets that any multidisciplinary strategic design team should include," explains Kalra. "During the messy process of design, though, we all wore different hats as needed."
Although Parsons has been remote for the past academic year due to the ongoing coronavirus pandemic, the MS SDM students were already well equipped to handle the virtual environment, as many of them were online students pre-COVID anyway. To address potential Zoom fatigue, the team took an organized approach to all of their tasks and research, which led to more productive and effective virtual meetings.
Students, faculty, and alumni from throughout Parsons have been showcasing their talents recently, earning recognition and awards from a variety of leading organizations and institutions. Bhavya Gupta, MFA Design and Technology '21, won the Schmidt Futures Reimagine Challenge for an app idea that supports migrant women in India, while Parsons Paris Fashion Design student Lara Gerlach won the "Savoy Faire" competition in collaboration with renowned Italian brand Borbonese.
Although Kalra and her teammate Sneha Guntaka were not designers before starting at Parsons, the MS SDM program has given them the opportunity to explore design thinking across a spectrum of industries and uses, and rounded out their professional skill sets.
"The program has given me the ability to identify and confidently push back when business assumptions might be incorrect or incomplete," says Guntaka. "I've also learned so much from my peers and I'm glad to have worked with them across not just the Rotman challenge but several projects."
"Beyond the methodologies, however, I think a huge part of the program's success lies in its ability to cultivate the design mindset and the foundations beneath why we would approach a problem in a certain way," echoes Kalra. "That training, of how to strategically think about any given problem, is really our core strength."