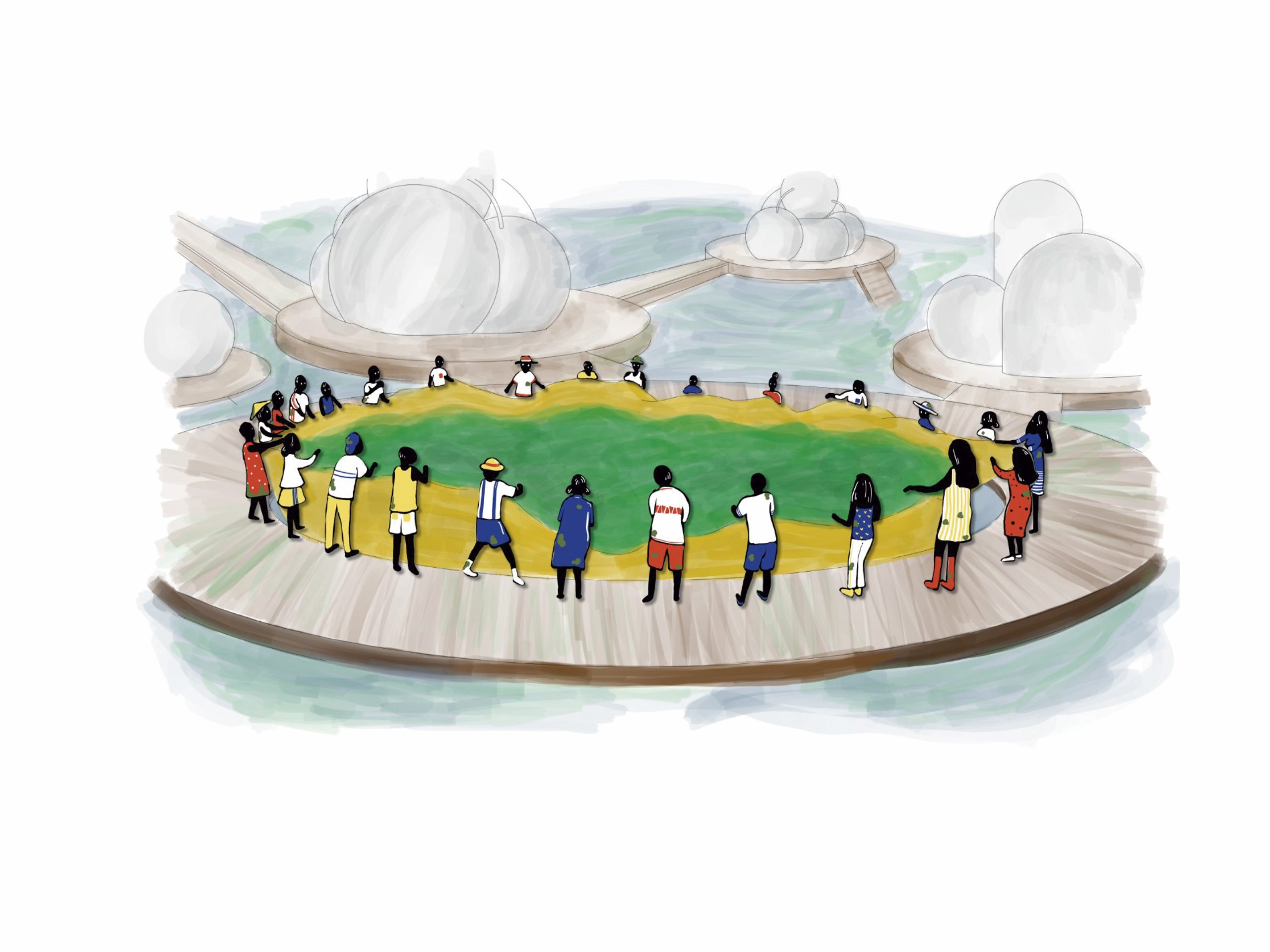 MFA Interior Design Students Research and Develop Solutions to New York City's Coastline Issues
In the media, the climate crisis is typically considered the purview of scientists, politicians, and activists, who are seen as the go-to experts on legislation, new initiatives aimed at combating the crisis, and more. Just as crucial in the fight to save our planet are the designers proposing innovative solutions and radical ways of thinking that go beyond simply fixing the effects of climate change, but rather envisioning new and exciting models for a healthier future.
At Parsons School of Design, sustainability education is a core component of the curriculum, which was evident this past semester in an MFA Interior Design studio class focused on the interiors of New York City's coastline. The students in the class researched the effects of climate change on the city's coastline, and developed proposals that expanded upon the traditional concepts of "green design" to achieve bold concepts that would promote new forms of relationality between humans and more-than-humans.
"One of the most challenging aspects of this course, as was discussed a number of times in class, was the tendency to research yourself into paralysis," according to Jonathan Escalante, MFA Interior Design '22. "Making that jump from information to intervention is quite challenging when dealing with something as complex and delicate as a global ecosystem."
Although the research phase of the course was intense and thorough, students also gained new understandings of the collaboration necessary for fighting the climate crisis, and the unique role an interior designer can play in the process.
"I think that the most interesting part about this course for me was exploring examples of how architecture and interior design might work with the environment, rather than against it," said Teah Brands, MFA Interior Design '22. "Interior designers play an integral role in shaping how we believe our environment should look and should function, so if we can redefine how 'inside' interacts with 'outside,' we can begin to reverse the negative effects of our existing built environment."
The projects created by the students moved beyond the considerations of coastal zones as boundaries between water and land so that they could be explored as spaces where communities negotiate their social, economic and environmental relations to the city's rivers and sea. Proposals include flood barriers that double as residences, new access to water that prioritizes safety, and greenhouses filled with animals and plants.
"The radical ideas proposed by our students were all very thoughtful and successful," said Maria Linares Trelles, who co-taught the course alongside Lluis Alexandre Casanovas Blanco. "Our students developed ideas that addressed issues related to humans, animals, plants, and other non-human entities through innovative ideas that focused on each group's relationships with each other, fostering new ways of living together."
Parsons students, alumni, and faculty regularly design and develop projects that address a pressing social concern. Jon Max Goh, Fashion Design '15, is tackling sustainability in the fashion industry with his new collection for Livingwear, while David Leven, Professor of Architecture, was recently named a New York State Firm of the Year from the American Institute of Architects for his work.
Escalante and Brands both emphasize that the class trained them to be better, more thoughtful designers, while also encouraging them to work collaboratively with other experts in order to achieve the most effective results, a practice they plan to continue in their professional lives as well.
"On a philosophical level, it challenged me to redefine what I considered an Interior in need of design thinking and where the skillset I'm developing would be considered valuable," shared Escalante. "It prompted me and my teammates to reconsider the lens through which we build, explicitly taking time to adjust our projects for more-than-human beings."
"Ideally, every good class changes you as a designer," said Brands. "This was no exception! More than before, I am inclined to consider non-human stakeholders in my designs, as well as the permanency of my creations. In some cases, perhaps the best footprint you can leave as a designer is no footprint at all."