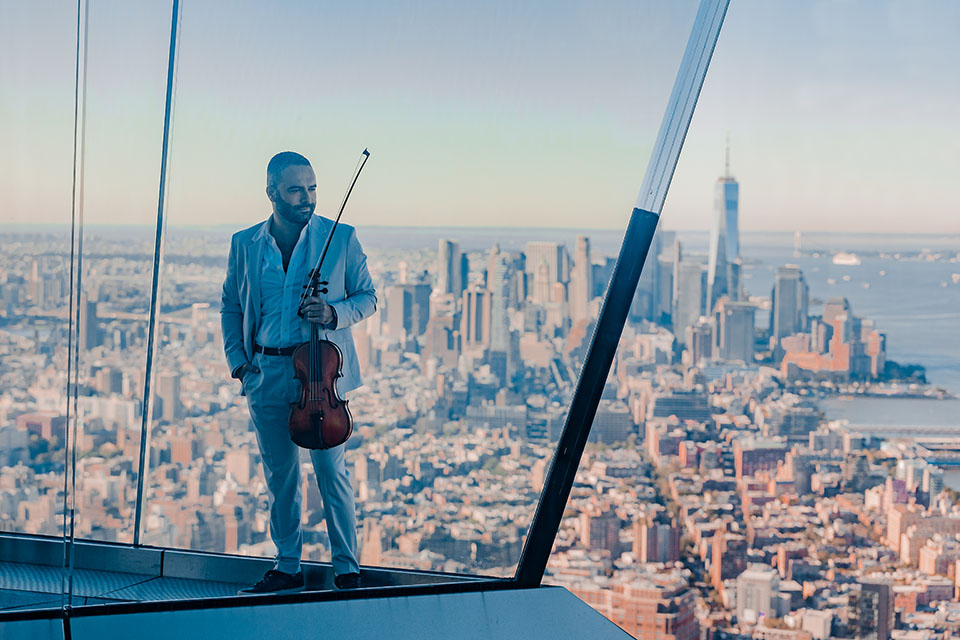 Jesus Rodolfo, Mannes MM '12, PDPL '14, Highlights the Power of Viola with New Album and Accolades
Since making his professional debut at the age of 12, Jesus Rodolfo, Mannes MM '12, PDPL '14, has performed globally with some of the world's best orchestras, in addition to releasing three critically acclaimed albums.
He recently released his third album, Remembering Russia, and was also selected as a New Artist of the Month by the classical music industry's leading publication, Musical America. Rodolfo, who was born in Spain, was inspired to record his newest album about Russia as he grew up listening to Russian music, and always felt captivated by the stories of the composers and their works.
"It is such a great honor to have my voice, music and the viola as an instrument showcased in Musical America, the oldest American magazine on classical music," he shared. "The composers selected for this record left their home country, just like I did, and came to the United States to find inspiration, develop their careers, and find their true self and place in Life. While I've had the project in mind for a few years, the pandemic felt like an appropriate moment to share this album — which presents a message of hope and optimism prevailing against mistrust and injustice."
Rodolfo created his newest album during the coronavirus pandemic, which presented a variety of challenges to the process, but his passion for the viola, and its often overlooked status, motivated him to share the best record he could with audiences.
"I feel that there is a synergy between me as a Spanish gay immigrant and my instrument, the viola, which has been historically overlooked as a solo instrument," he explains. "This new approach to the viola as a solo instrument also invites new ways of looking at old works, which is why the album is comprised of all transcriptions. For instance, one of the works of my new album is Prokofiev's Ballet "Romeo & Juliet,"the most famous love story told in a different way, without acting or dancing, only sounds.
Looking back on his time at Mannes, Rodolfo emphasizes that the school and his teachers and mentors helped him flourish, while embracing him as he was. He was particularly supported and encouraged by Richard Kessler, Dean of Mannes and Executive Dean of CoPA, as well as Dr. J.Y. Song and his viola teacher, Paul Neubauer.
"The New School and Mannes have the highest standards on the stage and in the classroom alike and the community helped me sculpt my skills and unique qualities as an artist," said Rodolfo. "So, being nurtured, understood, and pushed at that time helped me today to excel in the opportunities that I have had the fortune to receive."
Rodolfo is among a number of recent alumni and faculty from throughout the College of Performing Arts and Mannes that are making waves with new projects. Katie Kresek, Mannes '01, won a Tony Award for Best Orchestration for her work on the Broadway hit "Moulin Rouge," while Martín García García, Mannes '21, won the prestigious Cleveland Piano Competition this past summer.
Rodolfo is also keeping busy with a slate of exciting collaborations that will be released soon. He filmed a transcription of Stravinsky's "Suite Italienne" (1925 version) at Tarisio New York, and Kaija Saariaho's "Vent Nocturn"for viola and electronics at the High Line Nine Gallery, which includes a new exhibit by Daniela Astone titled "Sunrise."
"I am also working on an LGBTQ+ multidisciplinary reimagining of Prokofiev's ballet as Romeo & Julio and a viola and film music project, both of which I am especially excited about."