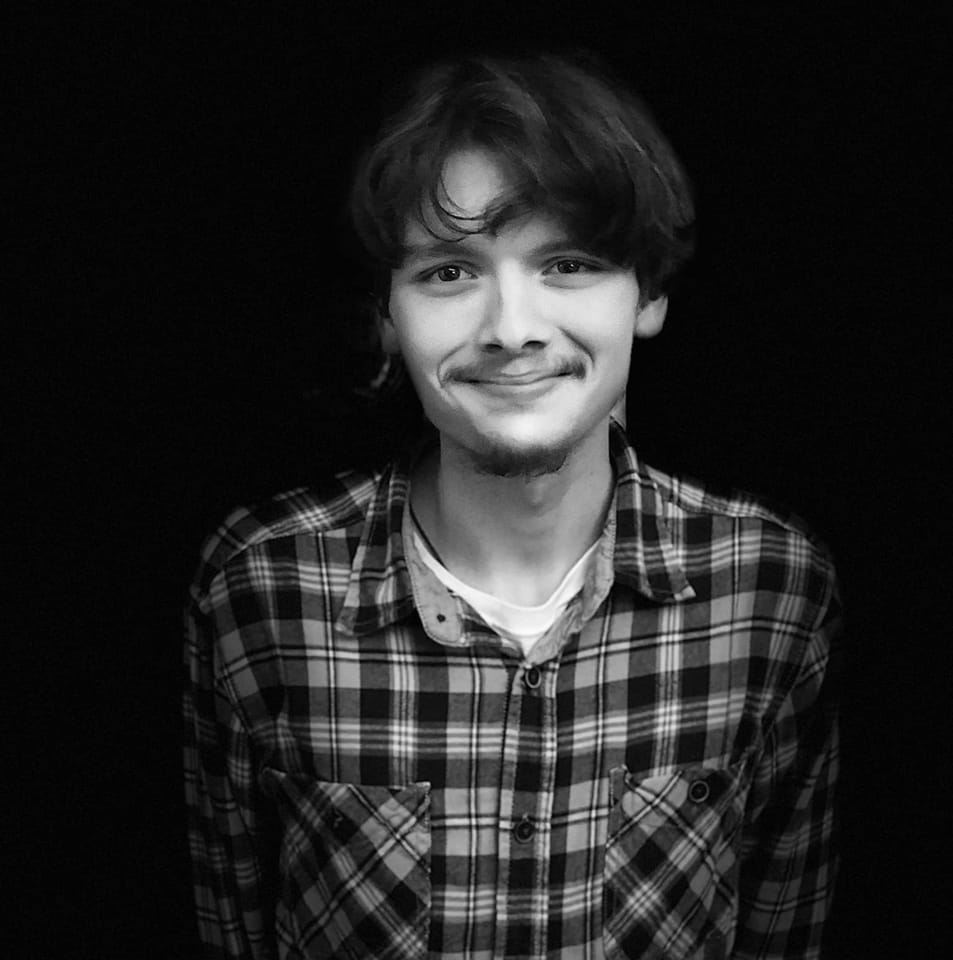 Alexander Trufanov, Mannes '23, Collaborates with Parsons, Lang, and Mannes Students for a Bold, Artistic Music Project
Stanislaw Lem, Herbert Wells, and the Strugatsky Brothers were all titans of science fiction writing throughout the 19th and 20th centuries, publishing enduring works that have been read by millions, and adapted into films, shows, and more.
Their works, in addition to other projects about space, helped inspire Alexander Trufanov, Mannes '23, who recently composed a new piece, "Samsara8" that's based on Gustav Holst's iconic orchestral suite "The Planets." Holst's piece, which Trufanov calls "cinematic," is a story about each of the planets, and allows listeners to engage with the suite of songs on a deeper level.
"For my cycle of pieces, I hope people can experience a bit of space and the beauty of our universe and to enjoy the peculiarity of a story that lies behind each planet," explains Trufanov. "This is a type of enhanced music story-telling, where you don't just experience harmonies and texture, but you also follow the plot, as if it was a book or a film, but abstract, since the music operates purely in our imagination."
Trufanov performed with a variety of Mannes students in order to record the piece, who he had met through other projects, in addition to working with Calvin Ryerse, Screen Studies '22, who filmed a documentary about the making of "Samsara8" and Sofie Grimstad, Parsons '22, who designed the poster for the project. Trufanov decided to create the documentary in order to give audiences more context for the piece, and illuminate the reasons for why he wrote a piece inspired by someone else's ideas.
"People are often interested in the making process of art, and so I saw it as an appropriate addition to the main piece," explains Trufanov. "Although we are all different majors, the synergy of arts can happen when people are united by the same idea, as it was in our case. We got inspired by the same idea and did something that would last and make a positive impact on our lives."
In true New School fashion, Trufanov's collaborations for the project span disciplines from across the university, where he was able to work with like-minded people eager to challenge themselves. For Ryerse, his time at Lang has allowed him to develop a meaningful community, while also creating art he cares about.
"I love making connections with people in unexpected ways and collaborating creatively, so I was excited to just throw myself into the project, make it up as we went along, and trust that the end project would come into form somewhere along the way," shares Ryerse, the Screen Studies student. "I've gotten the chance to really explore filmmaking and film as an art form not just from a conceptual/historical/theoretical lens but from a production perspective as well, so now as I get ready to graduate, I think I see myself approaching filmmaking from a space of rigorous technical knowledge and conceptual artistry."
Various alumni, students, and faculty from Mannes and The New School have been making their mark with their creative disciplines, including Jenny Huang, Mannes '22, who champions diversity, equity, and inclusion through music. Additionally, alumni including Jessica Kingdon, MA Media Studies '14, Elizabeth Mirzaei, BFA Photography '06, and Bradley Cooper, Drama '00, are all nominated for Academy Awards at this year's upcoming Oscar ceremony.
Trufanov is hopeful that between the music and the documentary, audiences will think about the future of our planet, and re-prioritize the ecology, resources, and land on earth over the profits of corporations. His time at Mannes has been instrumental in helping him learn how he can create change in society, as well as his development as an artist.
"My time in Mannes has been marvelous, as I have had the chance to study what I love and what I think will bring a positive change to society," he says. "I am very thankful for the supportive and robust environment that was created by the faculty and the university."