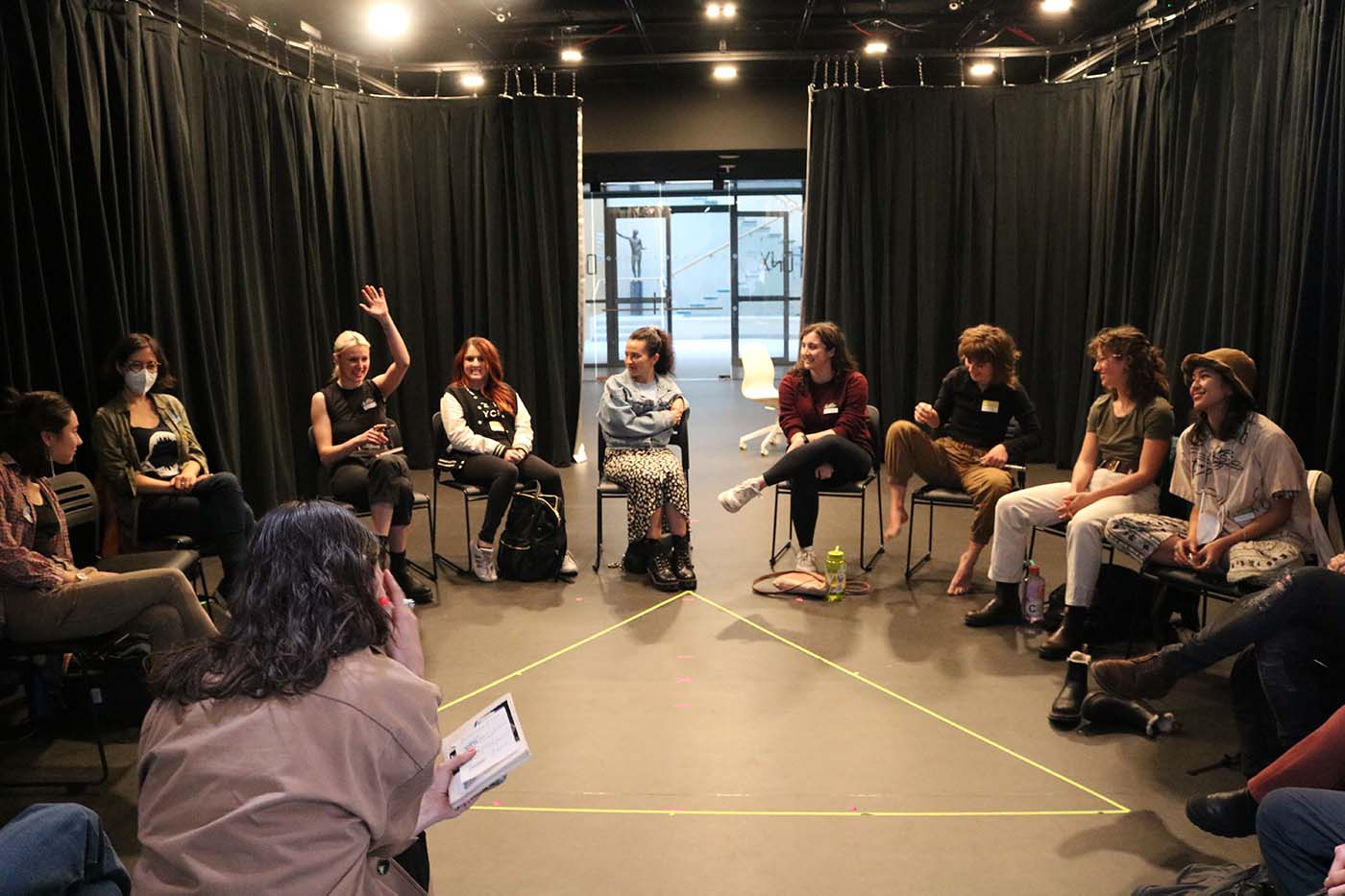 MA Arts Management and Entrepreneurship Cohort Debut Capstone Projects Centered on Social Engagement and Inclusivity
A multidisciplinary outdoor performance venue that bridges the gap between public space and public art. A one day conference centered on democratizing classical theater and mythology. An immersive podcast-video experience dedicated to women that dream, women who have felt trapped or have left something they love behind to reach for those dreams.
These projects and more are the creations of the 2022 graduating cohort from the MA Arts Management and Entrepreneurship program in the College of Performing Arts, where every year, students are given the opportunity to apply everything they've learned in the two-year program to develop and present a public-facing project that embodies their artistic vision and entrepreneurial spirit.
For Olivia Buntaine, her project's origins can be traced back to her time as a theater actress in Los Angeles, where, after feeling frustrated with the limited roles for women, BIPOC, and queer folks, she decided to create her own theater company, Project Nongenue, which reinterprets classical texts in order to combat the oppressive structures and roles for marginalized communities.
The idea for Buntaine's capstone project, "GRRRLS in the POLIS," originally came from a play Buntaine had in development called "Parthenos: Girls Like Us," a play about five dead (historical and mythological) teenage girls throwing a conference in the afterlife about all of their problems.
"After I wrote this play about teenage girls trying to run a conference, I thought – what if we actually hosted a conference based on the themes of this play?" explains Buntaine. "If we let the narrative of teenage girls run the room, to let the teenage girl be the expert at the conference, and to engage the whole audience in art-making that serves their inner parthenos? And so, digging into the ancient Greek roots of democracy and theater, we came up with "GRRRLS in the POLIS: a performance/conference/symposium for democratized theater-making and reclaimed narratives."
The MA AME program is geared towards giving students the tools to build a successful arts career in an ever evolving performing arts landscape. Students learn how arts function in both the non-profit and for-profit sector, how to research, develop, and implement projects in the real world, how to build and sustain collaborations, and how to pursue and gain support for one's artistic vision.
"Capstone projects are deeply transformative and educational for many reasons," shares Pablo Helguera, MA AME Program Director. "Because students are asked to work outside of the protective bubble of the university, they must learn how to adapt to the realities that any artist faces in getting any art project off the ground. There are so many important aspects in the legal, organizational, budgetary, and human sense, aside of course from the artistic product. Having to problem-solve and confront the challenges presented by real-life situations constitutes, in my view, the most important component of the capstone experience."
The MA AME program at CoPA stands apart from other similar programs because of its emphasis on helping students understand the cultural and economic context surrounding the performing arts. Additionally, students are asked to make work that directly engages with and contributes to that context, and generate excitement around their ideas and projects.
"This year's capstones do just that: they not only engage a wide range of members of the performing arts community, but also the public in general, and they are not only experimental but also highly creative and engaging," says Helguera.
In addition to the MA AME cohort, students, faculty, and alumni from throughout CoPA have recently created and engaged in socially conscious artistic projects that span a variety of disciplines and mediums. Alexander Trufanov, Mannes '23, composed a new piece, "Samsara8" and collaborated with students from Mannes, Parsons, and Lang to bring the project to life, while Armen Donelian, School of Jazz and Contemporary Music faculty member, was selected as a Fulbright Specialist for Romania.
Buntaine's time in the MA AME program exemplifies the CoPA and New School approach to teaching and training students through innovative and interdisciplinary methods, which have allowed her to push herself and her career forward.
"My time in the MA AME program has continued to push me to interrogate the ethics of making art in an industry that is primarily unethical," she shares. "It has helped me gain business frameworks for a process which, in my heart, couldn't be farther from business. It has only strengthened my personal opinion that if you're not making art to chase justice, in some way, then you shouldn't be making it at all (and it's okay that others disagree with that!) I hope, in the future, what I have learned here will help me prevent burn out for myself and my team, because I have built structures into my art-making that create equity and safety for all involved."
After she graduates, Buntaine plans to continue working with her theater company Project Nongenue. Her time at CoPA has given her the skills necessary to be a multi-hyphenate, and she hopes to expand Project Nongenue into new and exciting fields.