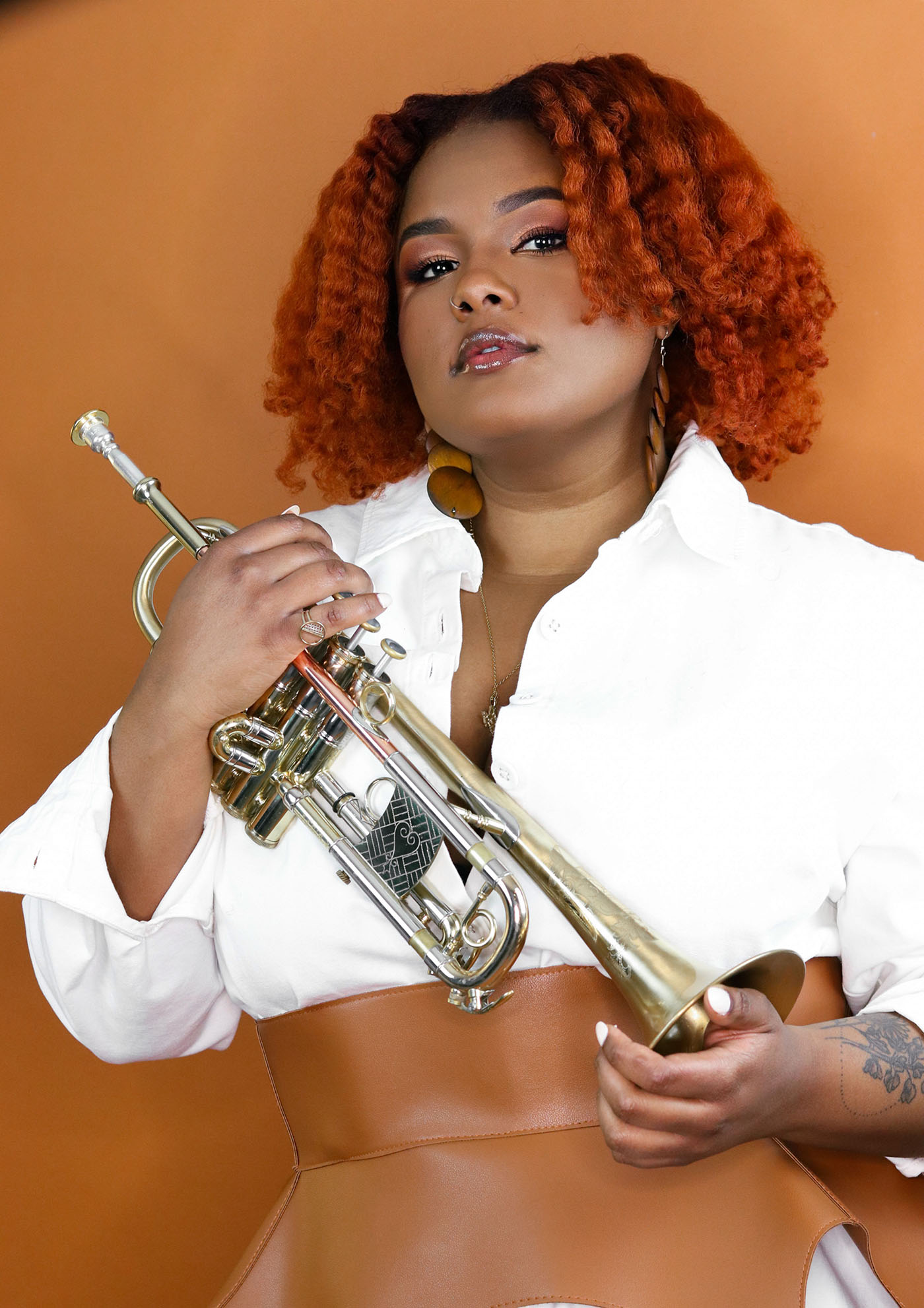 Lessie Vonner, Jazz '15, is Changing the World of Trumpet
Beyoncé and Lizzo have each released acclaimed albums this summer that have dominated the charts and streaming services and re-centered the musical spotlight on Black women. That's not the only thing the two celebrated artists have in common though.
Lessie Vonner, Jazz '15, has performed with both Beyoncé and Lizzo, as well as Black Women Rock: Daughters of Betty, the Fugees, D-Nice, Jennifer Hudson, Jon Batiste, Ari Lennox, and many more. Vonner plays the trumpet, and in addition to her work as a performer, is also a teacher, mentor, and leader of the Lessie Vonner Quintet, which performs in venues around New York City.
Growing up, Vonner was initially advised to play the cornet, and found herself constantly being told what not to do, as opposed to receiving guidance on what she could do. Now, she finds herself inspired by the fact that she's comfortable enough to pursue what she wants with her music and relishes the opportunity to perform and record a variety of musical styles.
"I realized I did not have to accept these rules, and if I put in the work, I would be able to go in any direction I chose," she shares. "Once I adopted this mindset, my world blossomed with new opportunities, and I still haven't reached my prime. Today, I celebrate my ability to perform and record many styles of music however I choose – it brings me joy."
Since moving to New York to attend the School of Jazz and Contemporary Music, Vonner has pursued work as a music educator, which she was first introduced to thanks to a pedagogy course that gave her the opportunity to teach group lessons at a Queens high school. Now, in addition to performing and recording, she teaches privately and publicly across New York City, including Upbeat NYC, which offers no-cost music education and instruments to the youth of the South Bronx.
"I love the passing of tradition involved in teaching – jazz has a deep culture of mentorship, and I am proud to be doing my part in making sure that the next generation can be the best they can be through music," she shares. "I also enjoy that magical moment when a student achieves a goal that they've set for themselves. Music related or not – once they realize that with hard work and dedication that they can accomplish anything they set their mind to, the world becomes their oyster. It is truly a gift to help them come to that realization."
Studying under jazz luminaries like Cecil Bridgewater, Jimmy Owens, Tanya Darby, Ingrid Jensen, and more, provided Vonner with the foundation she needed to start her career, as well as the connections with like-minded peers that continue to help her thrive. She also worked closely with Reggie Workman during her time at Jazz as his personal copyist, where she received invaluable advice and mentorship.
As a performer, Vonner has worked with some of music's biggest names and groups, which gives her insight that she applies to her own practice. Working with Black women artists has also exposed her to a variety of Black women working in the music industry, an experience she credits with helping her build her own sisterhood.
"Seeing in action the work ethic and dedication to their craft that these artists have is always an eye-opening experience," she says. "Coming up as a Black woman trumpet player, I was often not accustomed to seeing too many people who looked like me in music spaces. Now, I am a part of a wide network of amazing Black woman musicians, performers, producers, and music directors – all of whom are breaking barriers in their fields, inspiring countless others, and showing just how capable Black women are."
Vonner isn't the only New School alumni making an impact in her field. Recently, Daniela Magura, Mannes BM '18, MM '20, made her debut with the Opera Theatre of St. Louis, while JAZSALYN, Design and Technology '21, curated an XR exhibition at the Kellen Gallery and Ricky Tucker, Riggio Honors Program '14, wrote a book about New York's legendary ballroom scene.
Currently, Vonner can be seen performing throughout New York with the Lessie Vonner Quintet, where she also performs often with Fever and PureSoul Presents at their various Candlelight Jazz shows. She will also be bringing the Quintet back to The New School this fall as part of the Festival of New Trumpet Music, where they will be celebrating the life and musical legacy of Cynthia Robinson, a Black woman trumpeter and co-founder of Sly and the Family Stone. The show will take place the evening of Sept. 11th in Stiefel Hall.