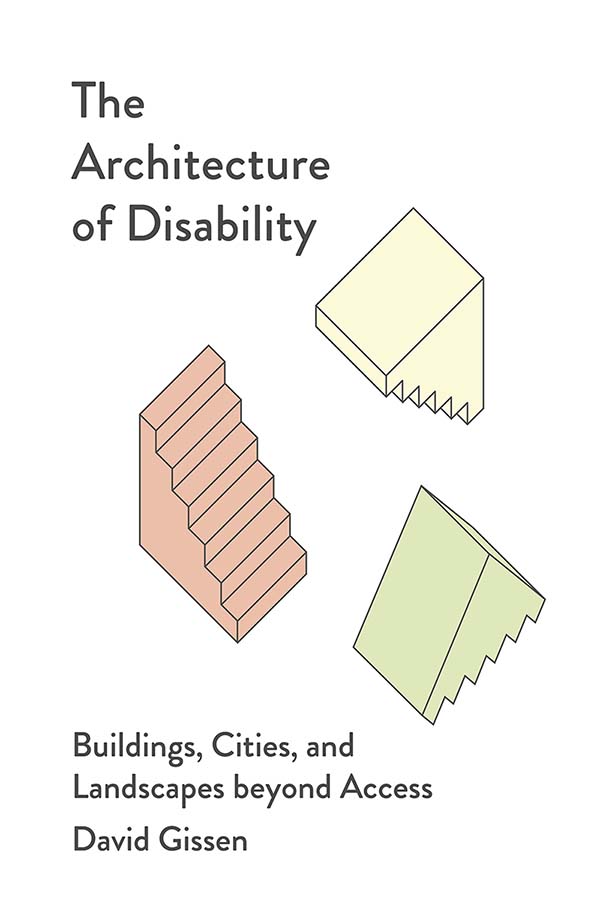 David Gissen, Professor of Architecture at Parsons, Debuts New Book about Disability in Design
Designers have always sought to address issues and challenges with their creations, developing solutions and ideas for products that ultimately help people live better, fuller lives.
For David Gissen, Professor of Architecture in the School of Constructed Environments at Parsons, and the author of the recently published book "The Architecture of Disability," designing from the perspective of disability is integral to his practice, as he has spent his entire career in architecture as a disabled person.
"I've never seen the perspective of disability and impairment adequately discussed in my field," shares Gissen. "Architects often view disability as a problem of access and increasing accessibility. That is extraordinarily important, of course, but I believe that ideas about impairment, incapacity, and disability are everywhere within my discipline."
Gissen's new book offers a theory of architecture centered around the idea that human weakness, incapacity, and frailty are in fact meaningful ways of conceptualizing, creating, and occupying the built world. He explores 150 years of modernist architectural thinking that has promoted an exceedingly narrow vision of human physicality and health.
"The book examines how architectural histories, concepts about nature, urbanism, theories of form, environmentalism and construction can all be informed by disability," explains Gissen. "In many ways, I think architecture is a field that revolves around the idea of physical capacity — from the presumed acuity and dexterity of the architects who draw buildings to the people who construct them."
Ideas and practices around adaptive and inclusive design have been around forever, but in recent years have become more pressing, and thanks to the recent Covid-19 pandemic, are now at the forefront in all aspects of design. Gissen's new book is one of many recent books that aim to center marginalized voices within architecture, and offer people a future agenda and set of ideas that can change the field. As Gissen has been out promoting the book, he's noticed that it's not just architects and students who appreciate his work, but a broader audience made up of many diverse readers and stakeholders.
"Readers with a less professional interest in architecture have written to me, and told me that they see themselves in this book and its message," says Gissen. "It's given them a language to use that represents what they experience and see around them. Planners who work for institutions or city governments have told me that they want to incorporate ideas from the book into their work. And a few deans of architecture schools have approached me to explore how 'The Architecture of Disability' can help them revisit ideas about architectural education. Today, due to the pandemic, more Americans see themselves as disabled people, and so the audience for this book has grown in other ways."
A variety of recent projects and initiatives from the Parsons community are working to address larger societal issues, which is part of the school's educational mission and vision. The MS Strategic Design and Management program hosted the "Good Interventions" exhibit last Fall to highlight the work of designers who are deploying design, arts, and social sciences to tackle pressing problems, while the MFA Textiles program recently collaborated with Aquafil for a sustainable project centered around nylon.
While working on his book, Gissen was careful to develop research and writing methods that upheld the values he espouses, which led him to reconsider traditional ideas about writing, and move beyond the celebration of how intense and challenging the process can be.
"Such writing suggests that the value of research lies in the extremes under which it is taken," explains Gissen. "My book required a lot of work, but I wanted to avoid these sentiments. By comparison, my book is about the knowledge that I gain about my discipline and its history when I embrace my own incapacities."
As a working designer, author, and professor, Gissen's roles inform each other, which often lead to unique, innovative classes for his work at Parsons. Last semester, he taught a course called "The One-Story City," that explored the usage of one-story buildings in New York City, and how beneficial they are for communities.
"Such buildings are inherently accessible and usable, and very easy and safe to build," shares Gissen. "The studio explored the history of this one-story city, the threats it faces today from development and gentrification, and how it could be preserved and extended."
Now that Gissen's book is out in the world, he's exploring ways in which his ideas can relate to future curatorial work, fine arts exhibitions, and the study and screening of films.
"The interdisciplinary interest in the book and my perspectives has been a welcome surprise," says Gissen. "Inspired by this, I am outlining a new book project that considers disability and culture more broadly."