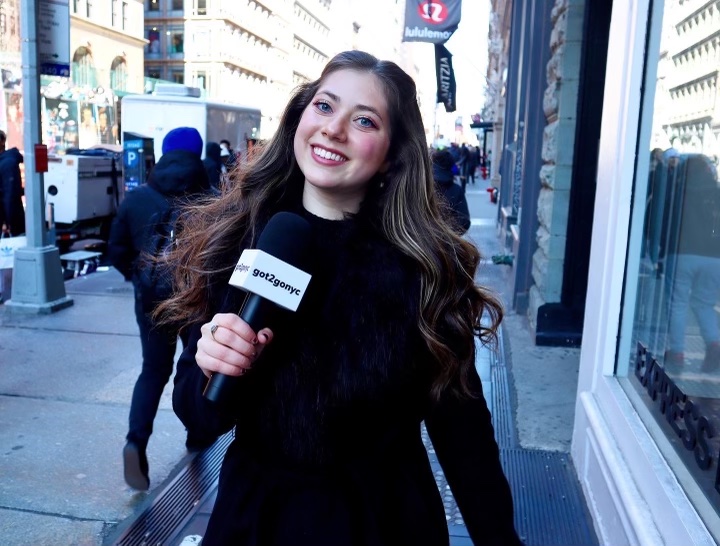 Teddy Siegel, MM Opera '23, Blends Musical Career with Activism for Unique Results
After running around the city and ending up in Times Square during the summer of 2021, Teddy Siegel, MM Opera '23, desperately needed to use the bathroom. The arduous process of finding and accessing a public restroom inspired her to create @got2gonyc, which has since amassed hundreds of thousands of followers on social media platforms, including TikTok and Instagram, and allowed Siegel to write an Op-Ed for The New York Times, as well as speak to other publications about her advocacy work.
"I created my account to publicly catalog accessible New York City bathrooms in hopes that it would make at least one person's day a little bit easier," she explains. "I have since learned from my followers that New York City's lack of public bathrooms is not only a public health issue, but an equity crisis. Already marginalized groups have been bearing the brunt of the city's failures. I hope that my efforts will one day make New York City a place where everyone has a place to go when they need to."
As a member of Gen Z, Siegel has always been aware of the power of social media, and how it can be utilized to reach large audiences, especially for important issues that people might not think about all the time. In less than a year, she has reached millions of people with her videos that feature sanitary, accessible, and public restroom locations throughout New York City.
"Social media has allowed me to reach people in ways I could never have imagined and consequentially, build a community," shares Siegel. "I have learned so much through the stories my followers share with me and I have made the @got2gonyc community a place where everyone is welcome."
At first glance, Siegel's advocacy work wouldn't seem to have much in common with her pursuit of a Master's in Music at Mannes School of Music, but the strong sense of community she's built as both a student and on social media often go hand in hand. She was also drawn to Mannes because of its central New York City location, and for the opportunity to study with Arthur Levy.
"Collaborating with the other interesting and bright artists at Mannes has allowed me to grow into the best possible version of myself as an artist and musician over the past year and a half," she says. "From debuting in Califra's chamber opera Echoes from the Darkness, to performing in Grace McLean's new musical In the Green and Cavalli's La Calisto, Mannes has given me incredible and diverse performing opportunities in venues all over New York City. The unwavering support and guidance from my Mannes mentors Emma Griffin and Arthur Levy has been absolutely invaluable."
Siegel credits the success of her platform with the work ethic and mindset she has developed through her years as a musician, which has influenced her professional approach in all aspects of her life. She has also found her training as a performer to be a tremendous help as she takes on more public speaking engagements, including her appearance on the steps of City Hall, where she spoke in support of "The Bathroom Bill," which passed in October, 2022.
In recent years, the College of Performing Arts has trained a variety of musicians and artists to integrate activism into their work, which has led to exciting results. Lessie Vonner, Jazz '15, is a performer and educator actively working to create new models of representations for Trumpeters and Black women in music, while last year's MA Arts Management and Entrepreneurship cohort created capstone projects that were centered around themes of social justice and inclusivity.
Next up for Siegel will be graduation in May, where she plans on having her Master's recital in a bathroom, as well as new opportunities to blend her work as a musician and activist.