Parsons Paris Coming Together Online with Community Groups
As 2020 is coming to an end, there is a lot to reflect on. At the risk of sharing an unpopular opinion, this year has had a few silver linings! One such positive twist that the year gave us was the challenge to rethink our activities and how to engage our community remotely, which led to our creation of 6 weekly community groups!
What were the groups offered?
Each group met on a weekly basis on the same day and time and was led by a member of Student Success. The idea was to identify interests and themes which students could meet around and access support from each other and Student Success.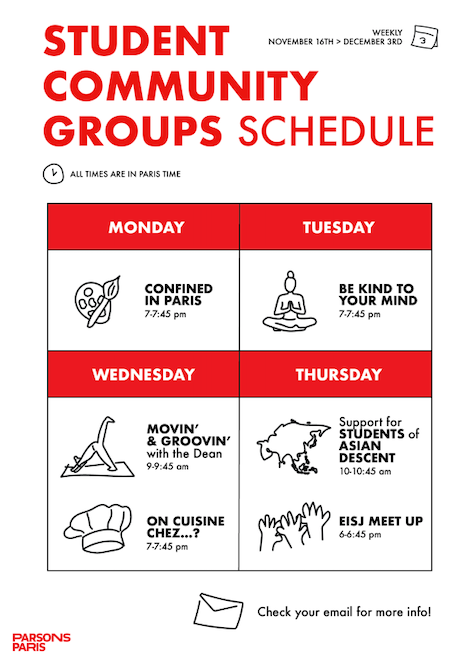 Confined in Paris
Be Kind to Your Mind
Movin' and Groovin' with The Dean
Support for Students of Asian Descent
On Cuisine Chez…?
EISJ Meet up
Spotlight: Be Kind to Your Mind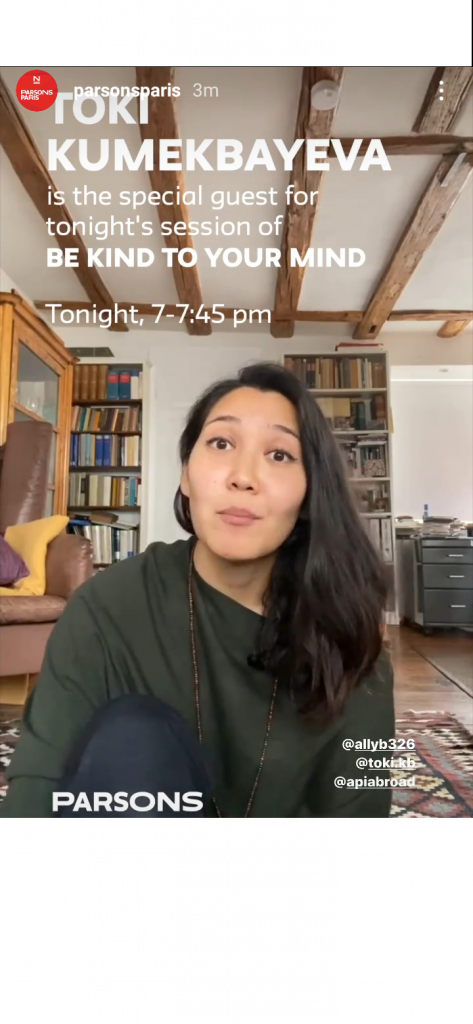 One of our most attended events was our Tuesday Be Kind to Your Mind sessions, where Life Coach Toki led us in an evening wind down. This was a moment dedicated to holistically checking in with our minds and bodies and developing positive responses to any stress and anxiety which might come our way. We ended on a zen note with a meditation at the end!
Looking forward to Spring 2021
This first round of Community Groups was a great start to an idea that we hope to continue next semester, but we need student feedback! We want to hear what groups you want and your time preferences so we can have a meaningful participation.
We invite any students with feedback on our current group offerings or ideas for new groups to email Allison at allison.brown@apiabroad.com – all ideas and thoughts are welcome!