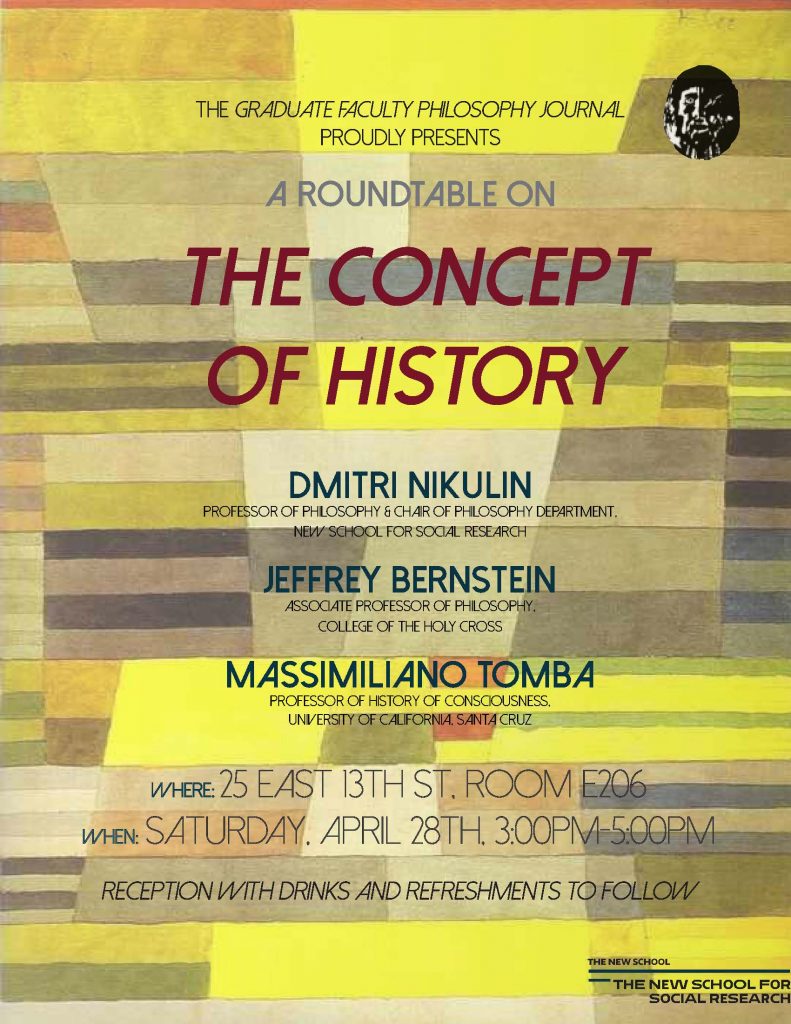 A Roundtable on The Concept of History
It has been common in modernity to think of history as singular and universal, progressively moving forward to a particular end. Although few contemporary philosophers and historians maintain the view that there is strict universality and teleology in history, according to Professor Dmitri Nikulin in his most recent work, The Concept of History (Bloomsbury, 2017), the remnants of these positions still affect our understanding of history. In the account he gives, which he traces back to antiquity, Nikulin interrogates what we mean when we talk of history and the philosophical problems we get into by conceiving of it in certain ways. If we jettison the idea of an objective universal end to history, are we left in a morass of relativism? Can we embrace a view of history as an amalgam of genealogies and geographies while still doing justice to constituents of our accounts of history that seem to be historically invariant?
On Saturday, April 28th from 3:00-5:00pm, the Graduate Faculty Philosophy Journal will host a roundtable discussion of Professor Nikulin's latest book and the philosophy of history, more generally. Professor Nikulin (who is currently serving as Chair of the Philosophy Department, NSSR) will be joined for the roundtable discussion by Jeffrey Bernstein (Professor of Philosophy, College of the Holy Cross), and Massimiliano Tomba (Professor of History of Consciousness, University of California, Santa Cruz, and former Visiting Professor at the Department of Philosophy, NSSR).
Please join us for the roundtable event, which will take place in Room E206, 25 East 13th St. ("The Glass Corner") on Saturday, April 28th, from 3:00pm-5:00pm. A reception with drinks and light refreshments will follow. During the reception, the GFPJ will also be selling recent books from their stacks along with copies of its most recent issue (38:2), which includes papers from the Hilary Putnam memorial conference held at The New School in 2016.
The Graduate Faculty Philosophy Journal is a professional biannual journal of the history of philosophy with a distinguished tradition of publishing high-quality scholarly work. In our more than 45 years' existence, we have published original essays by, among others, Hans-Georg Gadamer, Paul Ricoeur, Judith Butler, Robert Pippin, Giorgio Agamben, Alphonso Lingis, and Julia Kristeva.