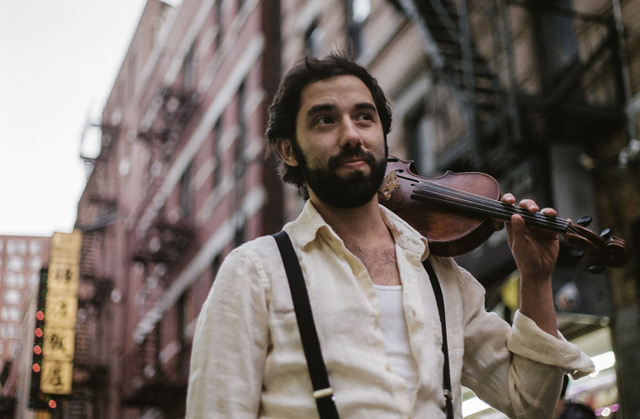 College of Performing Arts Students, Alumni, and Faculty Excel in Prestigious Competitions
Mannes School of Music, School of Jazz and Contemporary Music, and School of Drama are the training grounds for some of the world's most talented and acclaimed artists. The three schools, which comprise the College of Performing Arts, are also filled with award-winning faculty members at the top of their field, which helps keep the school at the forefront of music education.
Recently, a number of faculty members, students, and alumni have been nominated for celebrated awards, or won the top prize in their respective competitions.
School of Drama faculty member Christopher Shinn was nominated in the Outstanding Adaptation category by the Drama Desk Awards for his work adapting Judgement Day. The play, by Ödön von Horváth, blends theatrical genres, and is equal parts moral fable, sociopolitical commentary, and noirish thriller. Shinn was approached to adapt the play after the director, Richard Jones, had seen one of his shows in London, and felt that he'd be a good match for the material. 
"It's always a thrill to be recognized for one's work," said Shinn. "And this nomination is a special thrill as I felt a tremendous responsibility to bring Horváth's work greater awareness here."
A pair of recent graduates from CoPA, Judette Elliston, Jazz '20, and Cloe SanAntonio, Mannes '20, are the new recipients of the Richard F. Gold Career Grant, which is awarded annually by the Shoshana Foundation to young singers.
Emma Griffin, Mannes Opera Artistic Director, noted that "The transition from conservatory to a professional life is challenging for a young singer, and the Richard F. Gold Career Award assists in that transition with financial support and – even more importantly – a vote of confidence."
"It's a strange time to graduate, and it means a lot to have this support from The Shoshana Foundation and The New School," said Elliston. "I'm just trying to stay in New York and keep composing, performing, and collaborating in whatever way possible. I'm going to continue to write music for my band and I have a duo project in the works with cellist and recent grad Lucas Saur."

Since graduating, Omer Ashano, Jazz '18, has been touring internationally with several different bands, and released his debut E.P. album "Alive in New York." He also played on jazz guitarist Dennis Pol's album "New York City," as well as Ryan Luce's album "California Gold."
Recently, he became a semi-finalist for the Seifert Competition, which recognizes performers who play with bowed instruments, and is one of the most acclaimed contests in the world. The competition will award a 10,000 Euro prize, and normally takes place during a ceremony in Luslawice, Poland, but will now take place virtually due to the Covid-19 pandemic.
"I've been anticipating for several years to have the opportunity to sign up for this competition again and I'm super excited that now after I graduated from The New School, my time and schedule allowed me to commit to such an event and get accepted to the semi-finals," he shares. "I'm honored to be the first to represent The New School and my home country Israel in an international jazz violin competition."
Lora Al-Ahmad, Mannes '21, is no stranger to winning awards, and performing in famed concert halls. In 2019, the last concert for the "Musical Treasures in Bulgaria" series, which took place at Carnegie Hall's Weill Recital Hall, was dedicated to her as a pianist and a composer. She has also won a variety of prizes in her home country of Bulgaria, and is a Scholar of the Ministry of Culture.
Al-Ahmad came to Mannes to study piano, but after starting at the school, added composition to her growing list of talents as well. Recently, her "Two Skazkas," published by Theodore Presser Company, won in the solo flute category in the newly published music competition by the National Flute Association.
"I feel incredibly grateful for this award, especially considering the fact I am an international student and this type of validation in a country, other than my homeland really means the world to me," she said.