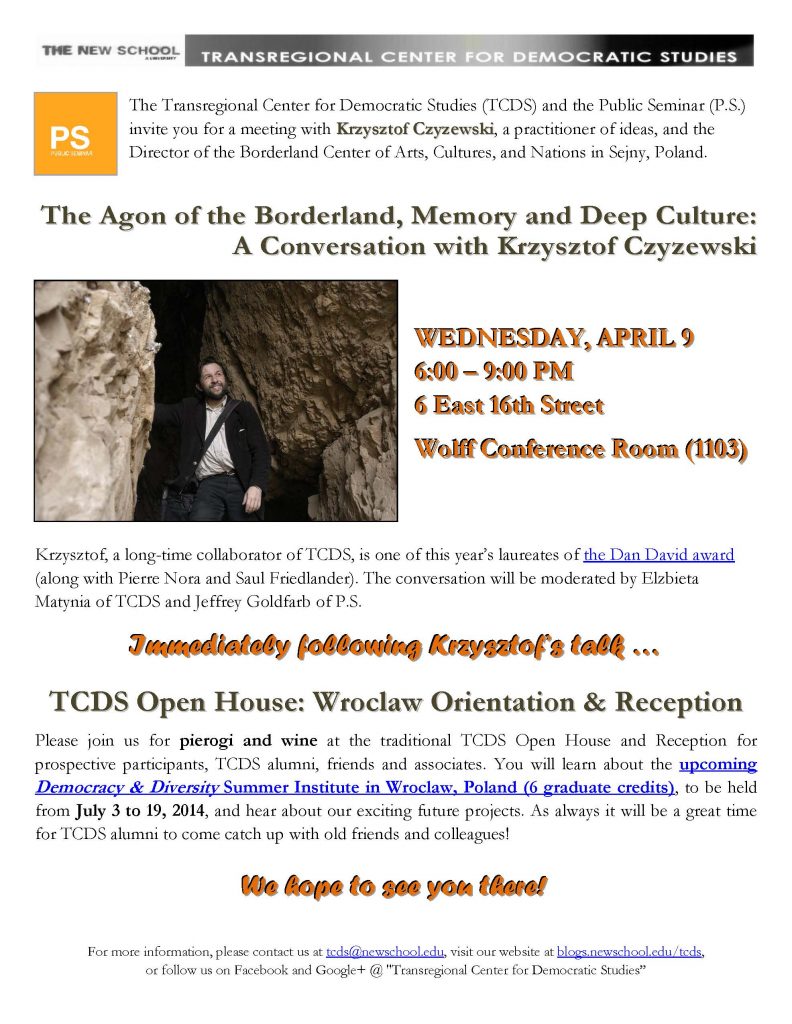 This Wednesday! A Conversation with Krzysztof Czyzewski & TCDS Open House
The Transregional Center for Democratic Studies (TCDS) and the Public Seminar (P.S.) invite you for a meeting with Krzysztof Czyzewski, a practitioner of ideas, and the Director of the Borderland Center of Arts, Cultures, and Nations in Sejny, Poland.
Krzysztof, a long-time collaborator of TCDS, is one of this year's laureates of the Dan David award (along with Pierre Nora and Saul Friedlander). The conversation will be moderated by Elzbieta Matynia of TCDS and Jeffrey Goldfarb of P.S.
Immediately Following Krzysztof's talk…
TCDS Open House: Wroclaw Orientation & Reception
Please join us for pierogi and wine at the traditional TCDS Open House and Reception for prospective participants, TCDS alumni, friends and associates. You will learn about the upcoming Democracy & Diversity Summer Institute in Wroclaw, Poland (6 graduate credits), to be held from July 3 to 19, 2014, and hear about our exciting future projects. As always it will be a great time for TCDS alumni to come catch up with old friends and colleagues!
The full event lasts from 6pm until 9pm.  If you'd like to come to Krzysztof's talk (more info here) come at 6pm, otherwise, come at 7:30.
Location:
6 East 16th Street, Wolff Conference Room (1103)

We Hope to see you there!